Largest, Single Gift in UK History Focused on Enhancing Student Experience, Honors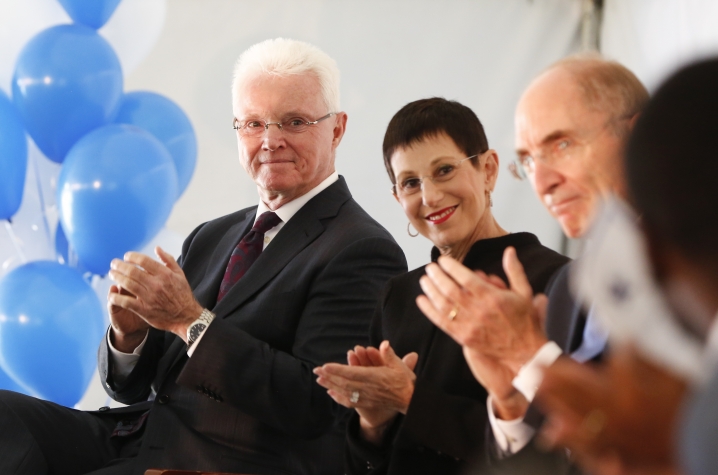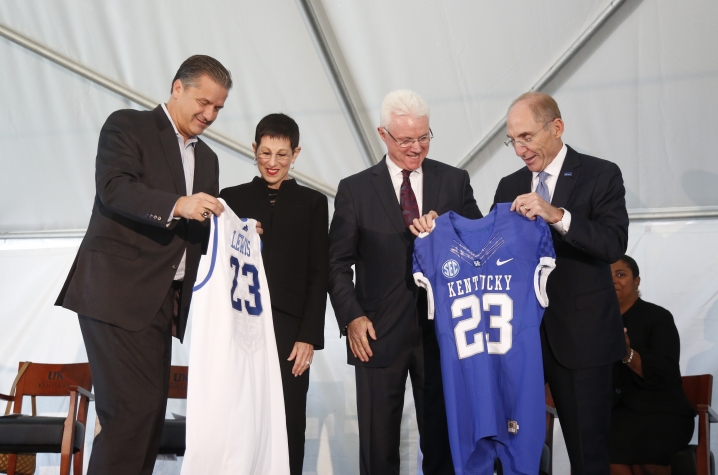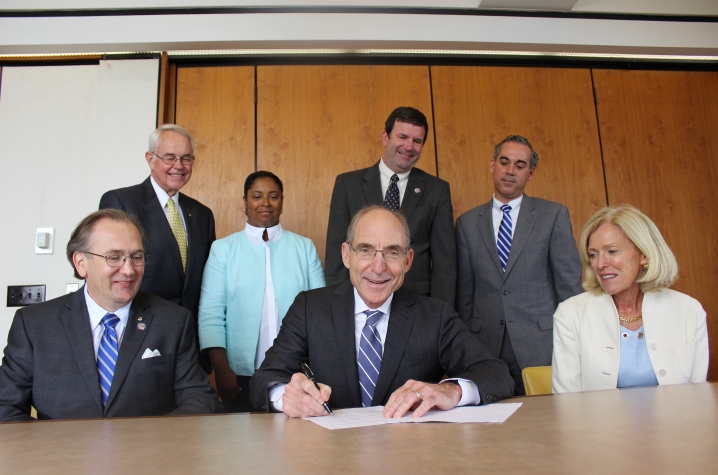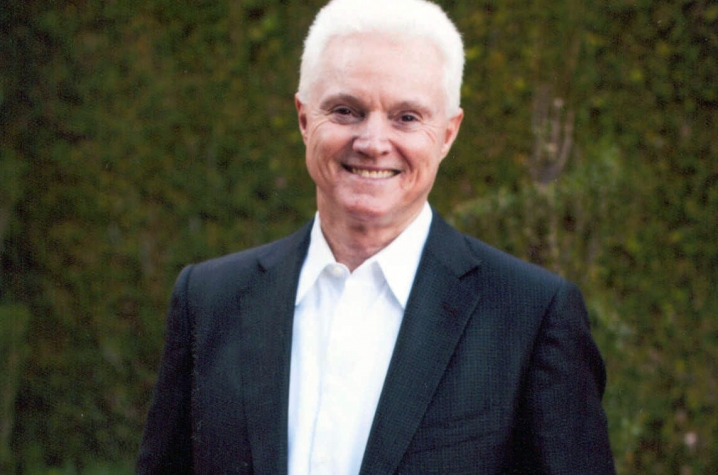 Video Produced by UK Public Relations & Marketing. To view captions for this video, push play and click on the CC icon in the bottom right hand corner of the screen.  If using a mobile device, click on the "thought bubble" in the same area.
LEXINGTON, Ky. (Oct. 22, 2015) — Further underscoring the commitment to create the best possible academic experience for students, University of Kentucky President Eli Capilouto Thursday announced the single largest gift in UK's history — $23 million to create one of the country's leading Honors programs.
The gift, from UK alum and long-time donor Thomas W. Lewis and his wife Jan, of Paradise Valley, Arizona, will establish an Honors College at the University of Kentucky. The establishment of a new college will be subject to faculty review and endorsement through the University Senate next year.
Video Produced by UK Public Relations & Marketing. To view captions for this video, push play and click on the CC icon in the bottom right hand corner of the screen.  If using a mobile device, click on the "thought bubble" in the same area.
"This gift, by a remarkable person and leader so committed to his alma mater and to education, reflects our mission to place the success of students first in everything that we do," Capilouto said Thursday in announcing the donation. "Tom Lewis is investing in, and helping enhance, a vision we have to be the finest residential, public research university in America.
"This incredible gift will help us open the doors of UK even wider — not simply to students with outstanding academic achievement, but also those with different backgrounds, identities, perspectives and financial means, who will benefit enormously from the focused and excellent educational experience offered by an Honors College that will be among the finest in the country."
"I have a strong belief in the value of education and helping young people become the best they can be," said Lewis. "This gift is our way of helping University of Kentucky honors students reach their full potential as leaders who will create, shape and influence people, ideas and discoveries for this and generations yet to come."
Lewis, a native of Lexington and 1971 engineering graduate of UK, is a seventh generation Kentuckian, tracing his direct ancestry back to Squire Boone, the father of legendary frontiersman Daniel Boone. After UK, Lewis attended the University of North Carolina at Chapel Hill where he earned an MBA.
Lewis entered the home building business after graduate school and over the next 18 years was employed by a series of large firms where he gained practical experience at all work levels. In 1991, he began his own business, T.W. Lewis Company, in Phoenix, Arizona, which became one of the nation's most successful home building enterprises, receiving numerous awards including America's Best Builder, the National Housing Quality Silver and Gold Awards and America's Best Design Center Award.
In the last five years, at the direction of Capilouto and the Board of Trustees, participation in the university's Honors Program has nearly doubled, growing from 750 students to 1,400, part of an effort to enhance the undergraduate educational experience, while also improving retention and graduation rates.
"Four years ago, our Board of Trustees, along with President Capilouto, set forth an ambitious agenda to enhance the undergraduate educational experience as part of a focus on improving the education we provide to tomorrow's leaders as well as accelerating our progress in retention and graduation of more students," said Trustee Angela Edwards, who chairs the board's Academic and Student Affairs Committee. "Today, we mark another important step, a milestone of progress, on our path toward reaching that goal of being among the finest universities in America."
Many aspects of the proposed college have been modeled on best practices at Honors Colleges across the country and extensive review of some of the leading programs at places such as the University of South Carolina and Arizona State University.
"Our institution is focused on students and serving Kentucky," Capilouto said. "That vision and that mission are attracting dedicated donors and alums, who share that sense of service to the university and to the Commonwealth, as evidenced by the fact that this gift is focused on the success and future of our students.
"We place our students first; so, too, do our donors and alums who believe those students represent a bright future for Kentucky and our world."
MEDIA CONTACT:  Jay Blanton, 859-257-6605; jay.blanton@uky.edu