University Health Service Sponsors Love Your Body Week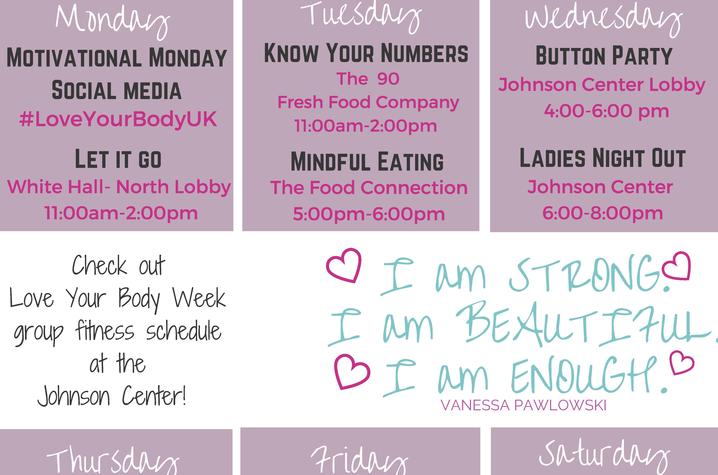 LEXINGTON, Ky. (Feb. 18, 2016) – With Spring Break less than a month away, thoughts are turning to sun, sand and swim suits. Before fad diets and unhealthy exercise habits have the chance to make their way into the lives of students, University Health Service wants to encourage them to eat healthy, begin an exercise routine and "Love Your Body."
Love Your Body Week provides students with opportunities to participate in activities to focus on different aspects of health and their "unique selves." The National Eating Disorders Association reports, "35 percent of 'normal dieters' progress to pathological dieting. Of those, 20 to 25 percent progress to partial or full-syndrome eating disorders." Love Your Body events, like the Mindful Eating class, will teach students to have a better relationship with food and themselves to prevent issues, like eating disorders, from arising.
For the second year, the event will be held in partnership with the UK Panhellenic Association, falling during 2016 Panhellenic Pride Week. These events are open to all UK students. Shelby Stinson, a sophomore and member of Kappa Kappa Gamma, has participated in previous events, and is looking forward to being involved for a second year. "I want people to realize that they are beautiful individuals and need to learn to accept themselves for who they are," she said
A similar sentiment was shared by Dietitian and Health Educator Emily Gimm who said the goal of the event is to "cultivate an environment in which (students) feel good about themselves." Participants are encouraged to share positive self-talk using the hashtag #loveyourbodyUK on Twitter, Instagram and Facebook.
Activities through Love Your Body Week include:
Monday
·         Let It Go, 11 a.m.to 2 p.m. in Whitehall North Lobby - students will learn about handling negative thoughts.
Tuesday
·         Know Your Numbers, 11 a.m. to 2 p.m. at The 90 - students can have blood pressure, cholesterol and glucose screenings.
·         Mindful Eating, 5 p.m. at the Food Connection - during this one hour session, students will learn about foods role in the body.
Wednesday
·         Button Party, 4-6 p.m. at the Johnson Center Lobby - this crafting activity gives students the opportunity to create motivational buttons.
·         Ladies Night Out, 6-8 p.m. at the Johnson Center - personal trainers will assist students in navigating the intimidating muscle pit.
Thursday
·         Tranquility Jars 9 a.m. to 5 p.m. in the VIP Center - Students can make-and-take a tranquility jars that will help manage stress and negative thoughts.
·         Design Your Mirror, 9 a.m. to 5 p.m. in the VIP Center - This mirror-creating exercise promotes positive self-images in students and supplies are provided.
Friday
·         Flatter Your Friends Friday - share kind words about your friends on social media using the hashtag #FlatterFriendsFriday
Saturday
·         Love Your Mind Love Your Body Yoga Class noon to 2 p.m. at the Johnson Center
Media contact: Olivia McCoy, olivia.mccoy1@uky.edu, 859-257-1076