Diverse Experiences Land Artistic Student on Center Stage in the College of Engineering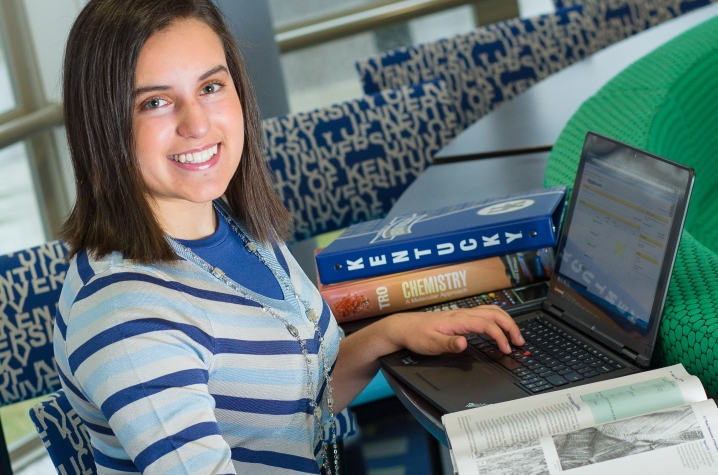 LEXINGTON, KY. (May 12, 2015) - Szofia Komaromy-Hiller, in addition to having a name that is delightfully fun to say, is a 19-year old package of artistic zest and cultured wisdom. How many other college freshmen do you know who has/is:
·       Won 11 national writing awards
·       Taken part in the Scripps National Spelling Bee
·       Fluent in Hungarian and Spanish
·       Traveled extensively in Europe and South America
·       Written plays and pieces of historical fiction about historical figures…for fun
·       A love for public speaking
She plays 11 instruments! Can you even name 11 instruments?
So why is this writer, musician and orator studying chemical engineering in the College of Engineering instead of endearing herself to professors and fellow students in the College of Arts & Sciences?
"I love writing lab reports," she insists, aware that such an admission is not considered normal. "I am passionate about the role of numbers in communicating discoveries. Lab reports appeal to my inner scientist and trigger in me a desire to share with others my findings through writing."
As a young girl living in Los Angeles, Szofia's father—a chemist and longtime lab denizen—would take her and her brother to the botanical gardens in Pasadena. Upon noticing the buildings on the California Institute of Technology (Caltech) campus, she inquired what went on there. Her father explained that it was a school for scientists who wanted to become engineers. At that exact moment, Szofia determined her future: she would go to Caltech, spend lunches eating sandwiches in the botanical gardens every day and graduate as an engineer.
It didn't quite work out like that (Caltech wasn't among the 15 universities to which Szofia applied during her senior year of high school), but she did maintain her interest in engineering. Then again, Szofia seems genuinely interested in almost everything.
"I am a visual learner, so figuring out a page of music was a fascinating challenge," she says, describing how she became enthralled with music. "Also, there is math connected with musical notation so I found that even more intriguing."
While she plays the piano, flute, saxophone, trombone, guitar, ukulele, trumpet, oboe, drums and organ, Szofia says her favorite instrument is the diminutive piccolo.
"Everybody respects the piccolo; it is the smallest instrument, but also the only one that can be heard through a giant crowd of cheering fans. When the band director realized I played the piccolo, my life as the boss of the marching band began. It is sheer musical power."
In a way, Szofia's writing functions as an outlet for her immense attraction to U.S. history. In 2012, she wrote a piece titled "In that Case, I'll Stick to Politics," penned from the viewpoint of Thomas Jefferson, and submitted to the Scholastic Art and Writing Awards program in the "Humor" category. Amid the 250,000 entries, Szofia's earned her a trip to attend the awards ceremony at Carnegie Hall in New York City. While the judges doled out approximately 1,000 medals, only Szofia's entry received medals in three categories: Scholastic National Gold Medal, National Best-in-Grade Medal and the American Voices Medal. As a bonus, she got to meet actress Meryl Streep.
Diverse experiences have always been structurally built into Szofia's education. Her father, who is from Hungary, and her mother, who is from Ecuador, both have Ph.D.s. In addition to traditional academics, Szofia's parents have sought to broaden her and her brother's understanding of the world through international travel.
"While we visit the typical tourist attractions, we also like to experience new places as the local residents do," she explains. "My parents wanted my brother and me to be environmental learners—to experience the world as it is."
It is possible Szofia does not have a so-called "comfort zone." She enjoys public speaking and is "very comfortable with people who are hanging on every word I say." She hopes to one day use her communication skills to inspire girls to pursue an engineering education.
When it came time to apply to college herself, Szofia, living in the northern Kentucky city of Edgewood, applied to 15 schools. She was offered considerable financial packages, but settled on a university in Boston that offered her its top scholarship (a six-month stint researching astrophysics at MIT had given her a love for the city). However, the more she talked with faculty and staff members at UK—who had offered her a Singletary Scholarship—the more she realized that the culture at UK might be more amenable to her success.
"UK struck me as a place that does not shape its students as individualists because the community is about taking care of each other and celebrating each other as one big blue nation," she reflects. "The people I met at UK were the best I dealt with throughout my search for the right engineering setting to shape my professional aspirations. Of all the high-caliber institutions I considered nationwide, UK was the most supportive."
Thankfully, Szofia is with us for a few more years. In the meantime, award presenters will want to become familiar with how to say her name, since she has a history of garnering accolades and honors. While she may not be in the UK marching band, as a student, communicator, artist and ambassador for the college, she certainly wields the charm—and power—of the piccolo.