'BBNunited' Campaign Garners CASE Circle of Excellence Award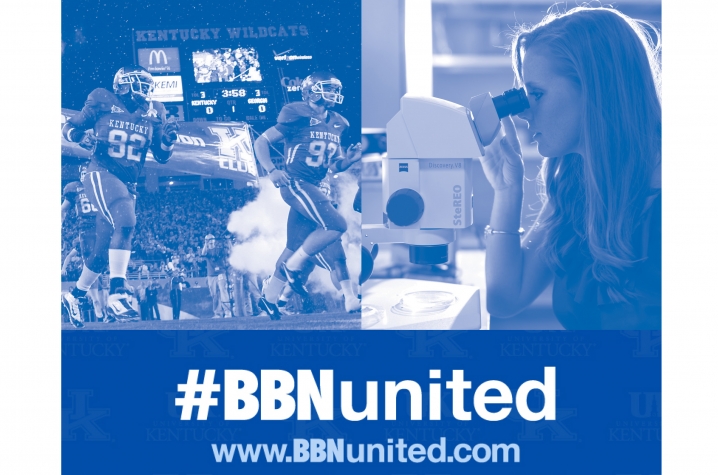 LEXINGTON, Ky. (June 9, 2014) — The University of Kentucky's "BBNunited" campaign not only garnered support from the state legislature for self-financing three facilities projects on campus, but has gained national recognition from the Council for Advancement and Support of Education (CASE). "BBNunited" was awarded the Silver Award in the advocacy campaigns category of CASE's Circle of Excellence program.
"BBNunited" was launched as a campaign to gain support from the state legislature and the Big Blue Nation to self-finance renovation and expansion of the Gatton College of Business and Economics Building and Commonwealth Stadium and the E.J. Nutter Training Facility, and construction of a new academic science building.
The campaign involves a website dedicated to the initiative, www.BBNunited.com, which allows visitors to voice their support, stay informed, and learn facts from fiction, plans for the new facilities, and updates on those efforts. The campaign also utilizes social media outlets, www.facebook.com/BBNunited and @BBNunited on Twitter.
The campaign also recently won a public affairs award from the Bluegrass chapter of the Public Relations Society of America.
In January of 2013, Gov. Steve Beshear and more than 30 legislators announced their support for UK's self-financed projects and in February of the same year, legislation was filed to authorize UK to move forward with self-financing of $275 million in those three facilities.
Based on its success reaching and motivating the state legislature and other external constituencies, "BBNunited" won the Silver Award in the advocacy category of CASE's Circle of Excellence awards program. Advocacy campaigns were judged on:
· solid objectives and how they support the institution's mission;
· effective planning;
· need for the campaign/project;
· understanding of the target audiences(s);
· innovative and creative ideas;
· use of available resources; and
· results and impact of the project on the institution.
Circle of Excellence awards acknowledge superior accomplishments that have lasting impact, demonstrate the highest level of professionalism and deliver exceptional results, according to CASE's website.
CASE, an international membership association, advances and supports educational institutions by providing knowledge, standards, advocacy and training designed to strengthen the combined efforts of alumni relations, communications, fundraising, marketing and allied professionals.