Community of Concern Awarded for Creative Collaboration and Institutional Impact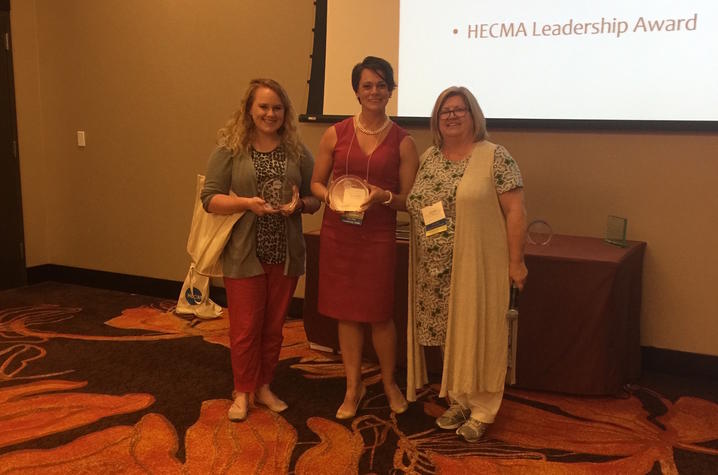 LEXINGTON, Ky. (July 14, 2017) — Last month at the annual Roundtable of the Higher Education Case Managers Association (HECMA) held in Denver, Colorado, the University of Kentucky and University of Louisville (UofL) won an award for Creative Collaboration and Institutional Impact.
The award was accepted by Therese Smith, director of UK's Community of Concern, and Samantha MacKenzie, Student Advocate in UofL's Dean of Students Office.
The award was presented to UK and UofL for their ongoing collaboration in training higher education case managers, who serve their university and students by coordinating prevention intervention and support efforts to assist at risk students and students in crisis (HECMA 2013).
For the past two years, the UK Community of Concern and UofL Student Care Team have jointly hosted a regional drive-in conference that has worked to improve practices within Kentucky and the South Region. The conference location switches between UK and UofL annually.
Presentations at this year's conference in Louisville included a session led by UK concerning assessment within the field of case management and a panel with UK and UofL staff and students discussing recent issues regarding immigration.
On winning the award, Smith said, "While we may compete in athletics, we collaborate in keeping our students safe and successful."
For more information on UK's Community of Concern and dedication to students in crisis, please visit www.uky.edu/concern.