'For True Beginners' Cooking Class Offered for UK Employees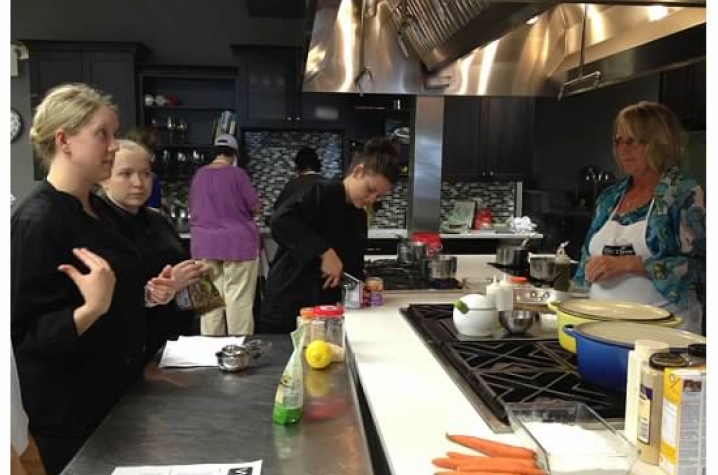 LEXINGTON, Ky. (April 7, 2014) — If your idea of a good dinner involves opening a box of frozen pizza or putting something in the microwave, an upcoming class presented by UK Health and Wellness can help you start to find your way around the kitchen.
Offered in partnership with Wild Thyme Cooking School and under the instruction of chef and owner Allison Davis, "For True Beginners" will walk the culinary confounded through basic kitchen skills, such as reading recipes and operating simple utensils and appliances, during the two-hour course. 
The class, which will be held from 6-8 p.m. April 16, is open to 20 participants, who will learn cooking fundamentals while using a number of Wild Thyme's modern, open kitchen stations. Davis opened the instructional cooking facility and event space in the fall of 2011; the upcoming class offered through UK Wellness is fashioned after a course Davis has offered previously.
Along with learning to be more confident with items like knives and food processors, the class will also introduce participants to healthy ingredients they can use to make their meals more appetizing.
"You will learn to be able to add more flavor to your food without using as much salt," said Vanessa Oliver, a wellness specialist and registered dietitian with UK Health and Wellness, who helped organize the class. "You'll learn to use herbs, spices and natural flavors to enhance the taste of your food."
The format of the class will allow for ample time for questions and answers throughout the duration, as well as lots of one-on-one instruction.
"And you do get to eat afterwards," Oliver said.
UK Health and Wellness offers a cooking class twice a year, once in the spring and the fall. In the summer, the organization offers a course for children. See the UK Health and Wellness Pinterest page for recipe ideas from previous sessions, as well as for other tips and information on developing and maintaining a healthy lifestyle.
Register for the cooking class online at http://www.uky.edu/hr/event/cooking-class-for-true-beginners. Oliver said the class usually sells out and that a waiting list is available if all the spots are taken.
Wild Thyme Cooking School is located at 1060 Chinoe, No. 108. For more information, visit www.wildthymecooking.com.