Engineering's Harik Recipient of 2018 SEC Faculty Achievement Award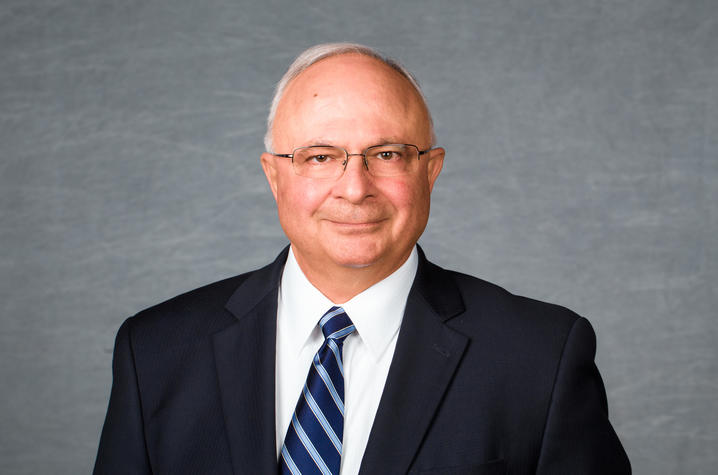 BIRMINGHAM, Ala. (March 29, 2018) — Faculty members from each Southeastern Conference university have been named recipients of the 2018 SEC Faculty Achievement Award, SEC Commissioner Greg Sankey announced Wednesday. University of Kentucky Professor Issam Harik with the College of Engineering is UK's recipient.
The awards, now in their seventh year, honor one individual from each SEC university who has excelled in teaching and research. To be eligible for consideration, the individual must be a teacher or scholar at an SEC university; have achieved the rank of full professor; have a record of extraordinary teaching; and have a record of research that is recognized nationally and/or internationally.
"The SEC Faculty Achievement Awards continue to provide us with a unique opportunity to celebrate faculty from our conference who have demonstrated a commitment to our students while also making meaningful contributions in their fields," said Sankey. "Although we have chosen to honor 14, we know they are truly representative of all SEC faculty members."
Harik is the Raymond‐Blythe Professor of Civil Engineering and manager of the Structures Program at the Kentucky Transportation Center at UK. He received his doctorate from Wayne State University in 1982 and came to UK the same year. His research interests are in the areas of fiber reinforced polymer composite components and structures; structural evaluation and retrofit of bridges; natural and man‐made hazard management of highway structures; field testing of bridges; and structural health monitoring and remote sensing of highway structures.
He has directed or co‐directed research on more than 100 funded projects, including 16 that are on‐going, and he has worked with more than 50 visiting professors, postdoctoral researchers and scholars, while also mentoring graduate, undergraduate and high school students. Harik is a member of nearly 20 societies and committees, and he holds offices in several of them. He has organized and chaired national and international conferences, workshops and technical sessions, and he has authored or co‐authored more than 330 technical publications.
Each SEC Faculty Achievement Award winner will receive a $5,000 honorarium from the SEC and will become his or her university's nominee for the SEC Professor of the Year Award. The SEC Professor of the Year, to be named in April, receives an additional $15,000 honorarium.
"The SEC is home to 14 of the finest universities in the nation, and our faculty are some of the most accomplished individuals in academia," said Mark E. Keenum, president of Mississippi State University and president of the Southeastern Conference. "We are delighted to have a way to recognize their achievements, and along with the other SEC presidents and chancellors, I offer each of them my sincere congratulations."
The SEC Faculty Achievement Awards and the SEC Professor of the Year Award are both selected by the SEC provosts, and they are two foundational programs designed by the SEC to support and promote the academic endeavors and achievements of its students, faculty and administrators.
There are approximately 14,000 full-time, tenured faculty in the SEC, and below is a list of the 2018 SEC Faculty Achievement Award recipients.
University of Alabama, Trudier Harris, University Distinguished Research Professor of English
University of Arkansas, Peter Ungar, Distinguished Professor of Anthropology
Auburn University, David Ketchen, Harbert Eminent Scholar and Professor of Management
University of Florida, Scott Powers, UAA Endowed Professor and Distinguished Professor
University of Georgia, Mary Ann Moran, Distinguished Research Professor
University of Kentucky, Issam Harik, Raymond-Blythe Professor of Civil Engineering
Louisiana State University, Ward Plummer, Boyd Professor of Physics
University of Mississippi, Jane Reckelhoff, Billy S. Guyton Distinguished Professor
Mississippi State University, James Fowler, Billie J. Ball Professor of Electrical and Computer Engineering
University of Missouri, Inder Khurana, Geraldine Trulaske Chair in Accountancy
University of South Carolina, Julius Fridriksson, Carolina Distinguished Professor
University of Tennessee, Louis Gross, Alvin and Sally Beaman Distinguished Professor
Texas A&M University, Marcetta Darensbourg, Distinguished Professor of Chemistry
Vanderbilt University, Kathleen Gould, Louise B. McGavock Endowed Professor