Markey Cancer Foundation's Delzotti honored with NACCDO service award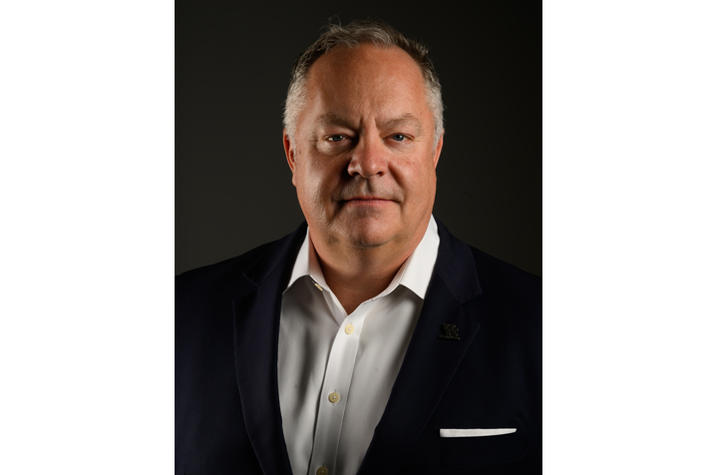 LEXINGTON, Ky. (May 8, 2023) — University of Kentucky Markey Cancer Foundation President and Chief Executive Officer Michael Delzotti has been awarded the 2023 Lisa Considine Service Award by the National Association of Cancer Center Development Officers (NACCDO).
The award is presented each year at the NACCDO annual meeting to a NACCDO member for their commitment to collaborating with and mentoring colleagues from other cancer institutions across the country.
Since 2015, Delzotti has served as president and CEO of the UK Markey Cancer Foundation. This organization is the fundraising arm for the UK Markey Cancer Center, one of only 71 National Cancer Institute-designated cancer centers in the country and the only one in Kentucky.
In this role, Delzotti also serves as the foundation's chief development officer, focusing on major gift development and corporate and foundation grants, as well as overseeing capital campaign initiatives and all other aspects of the foundation.
Under his direction, the Markey Foundation has raised millions of dollars to fund research and clinical trials, provide patient support services, and enhance education and training programs for Markey Cancer Center.
"Philanthropy is a crucial component of the ability to provide top-notch care," said B. Mark Evers, M.D., director of the UK Markey Cancer Center. "During his time at Markey, Mike Delzotti and the Markey Cancer Foundation have been there to bolster our cancer prevention efforts, our groundbreaking research, and the ways we provide compassionate patient care to the Commonwealth and beyond. His collaborative work with NACCDO is a benefit to our center, and I congratulate him on this well-deserved honor."
Prior to his tenure at the Markey Foundation, Delzotti served as senior director of philanthropic resources at the University of Texas MD Anderson Cancer Center in Houston. Delzotti has been an active member of the NACCDO board since 2016, serving in various leadership roles including NACCDO-PAMN conference host, vice chair and chair. Delzotti currently serves as immediate past chair of the NACCDO board. 
NACCDO is a cooperative venture of academically based comprehensive, clinical, basic, and consortium cancer centers that are designated by the National Cancer Institute (NCI), or who have investigators that receive NCI grant funds. The network was created to share information and resources among the development programs of the cancer centers and to address collectively critical development issues of common concern.
Lisa Considine, a founding member of NACCDO to whom this award pays tribute, was recognized as a leading collaborator who greatly assisted the NACCDO organization in its formative years through her collegial leadership. Considine succumbed to cancer herself at an early age in 2013.
UK HealthCare is the hospitals and clinics of the University of Kentucky. But it is so much more. It is more than 10,000 dedicated health care professionals committed to providing advanced subspecialty care for the most critically injured and ill patients from the Commonwealth and beyond. It also is the home of the state's only National Cancer Institute (NCI)-designated cancer center, a Level IV Neonatal Intensive Care Unit that cares for the tiniest and sickest newborns, the region's only Level 1 trauma center and Kentucky's top hospital ranked by U.S. News & World Report.  
As an academic research institution, we are continuously pursuing the next generation of cures, treatments, protocols and policies. Our discoveries have the potential to change what's medically possible within our lifetimes. Our educators and thought leaders are transforming the health care landscape as our six health professions colleges teach the next generation of doctors, nurses, pharmacists and other health care professionals, spreading the highest standards of care. UK HealthCare is the power of advanced medicine committed to creating a healthier Kentucky, now and for generations to come.