Pharmacy Alums Share Love of International Travel and Giving Back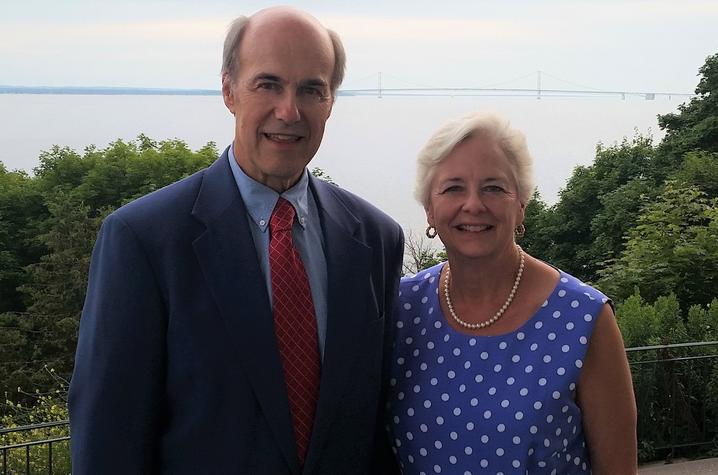 LEXINGTON, Ky. (Nov. 13, 2020) — When Duane Kirking, then a pharmacy student at the University of Wisconsin, and Marilyn Howard, a UK pharmacy student from Harlan, Kentucky, met at a national student pharmacy convention in 1973, neither of them knew at the time that they would one day meet again at the University of Kentucky and eventually marry. Nor did they know the impact their love of world travel would have on their pharmacy careers and their desire to provide similar opportunities to future pharmacy students.
The University of Kentucky played a major role in the Kirkings' pharmacy education, and they have remained connected to their alma mater since they launched their careers at the University of Michigan from which they retired in the mid-2000s.
If you ask Duane Kirking, they really haven't retired at all. In addition to providing care for their elderly parents, they remain actively involved with their work in various professional pharmacy organizations, their philanthropic work, and volunteer work including in Costa Rica where they lead teams to work on building a Methodist Children's Home. They are also part of the UK College of Pharmacy's Capital Campaign Committee.
After graduating in 1974 with a bachelor's degree in pharmacy from the University of Wisconsin, Duane decided to pursue his Pharm.D. degree and residency at UK from 1974-1977. At UK, Duane was a member of a small cohort of 10 residents.
"UK was the best clinical pharmacy program in the country, and it made an impact on me beyond patient care. The program was small and demanding, and we all helped one another," said Duane Kirking, who just last year attended the 50th anniversary of the founding of the residency program.
As fate would have it, Duane and Marilyn, who was finishing up her five-year pharmacy program at the time, met once again, although both of them quickly add that they remembered each other from the earlier meeting.
Marilyn Kirking was drawn to UK even before she graduated from Harlan High School. Her love of science, desire to help others and the influence of her next-door neighbor, a respected pharmacist in the community, led to her decision to pursue the profession. She was such a good student that she attended pre-requisite college classes at UK between her junior and senior year in high school
After graduating with a B.S. in pharmacy from UK in 1976, she was hired by St. Claire Regional Medical Center in Morehead, Kentucky, where she was instrumental in the development of its first pharmacy department.
"St. Claire and UK had a strong working relationship and frequently residents like Duane came here to have practice experiences outside of Chandler Medical Center," Marilyn Kirking said. "Because UK was at the forefront of where pharmacy clinical practice was going, they not only provided a good education, they became pioneers in the development of the field."
Finally together, Duane and Marilyn were married in Columbus, Ohio, where Duane was pursuing his master's degree in public administration followed by a doctorate in administrative and social sciences at Ohio State University and Marilyn practiced at Riverside Methodist Hospital.
Throughout their pharmacy careers, Duane and Marilyn have visited more than 40 countries, and they value the perspectives international experiences can bring to health care and in the role of pharmacists. It is because international travel is so near and dear to their hearts, and how they feel their international experiences have enriched their lives, that the Kirkings endowed a travel scholarship to offer pharmacy students the same types of opportunities they've had to travel and learn.
"The international travel experiences enabled by the generosity of people like the Kirkings are invaluable to our students," said Kip Guy, dean of the UK College of Pharmacy. "Opportunities to study abroad while in pharmacy school help students gain an appreciation for and understanding of diverse cultures and health care systems, ensuring they're able to take that new understanding and apply it directly to their work here at home."
Duane Kirking said that he and Marilyn enjoy giving back to others.
"We're lifetime UK Alumni Association members and we've been donors since we married. We have concentrated our giving on providing students international travel opportunities. While travel is on hold due to COVID-19, we've requested the money go toward providing ad hoc support to students in need, but we hope the international travel experiences can resume soon."
The Kirkings met Melody Ryan, a professor in the UK College of Pharmacy and director of International Student Education, through their volunteer work. They have worked with Ryan to establish the travel awards endowment. Ryan says the college has a broad international program ranging from faculty-led education abroad to study other health care systems in Japan, the United Kingdom and Germany, to short-term (10-day) experiences in global health, to six-week experiences that place students in international settings during their final year of education. The Kirkings' awards support those six-week experiences. They are called Advanced Pharmacy Practice Experiences and offer nine sites including Ecuador, the United Kingdom, Poland, Thailand and China. 
"While we aren't going abroad this year, we have set up two virtual six-week experiences in Ecuador that we will have students participating in soon," Ryan said. "We also completed a virtual short-term experience in global health a few weeks ago. We will have a global health hack-a-thon next month and we will have a virtual global health case competition in January." 
Duane and Marilyn Kirking said they feel a responsibility to pay it forward to help advance the profession of pharmacy and help provide better trained pharmacists. 
"Students will have a broader perspective of the world when they come to UK — a leader in growth, a leader in development," Duane Kirking said. "It strengthens their leadership abilities by seeing other ways of doing things in different cultures. International work helps people realize how small our world really is."
Marilyn Kirking added, "Pharmacists are often leaders in their communities. The international experience teaches them to think outside the box and problem solve."
"Gifts such as the Kirking's have made these students' dreams of studying abroad come true," Ryan said. "The extra bonus is that the students return with an appreciation for other cultures and health systems, which improves their ability to provide care to diverse patients and to advocate for the best health care in the United States." 
Kentucky Can: The 21st Century Campaign is a comprehensive campaign focused on increasing opportunities for student success, funding innovative research, improving health care, strengthening our alumni network, and supporting our athletic programs. For more information about Kentucky Can, visit kentuckycan.uky.edu.