UK Advising Network Now Accepting Applications for Ken Freedman Outstanding Advisor Award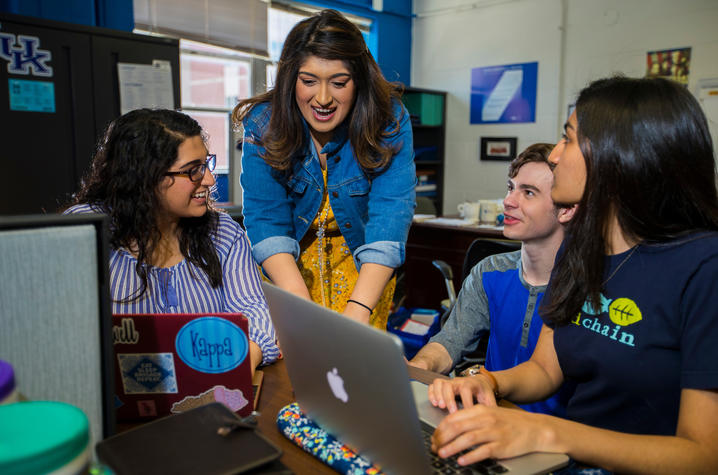 LEXINGTON, Ky. (March 18, 2018) — The University of Kentucky Advising Network is now accepting nominations for the Ken Freedman Outstanding Advisor Award. This award recognizes outstanding service in the field of undergraduate academic advising for both faculty and professional advisors. 
The Ken Freedman Awards have been awarded annually since 1995. Named after UK advisor Ken Freedman, a founder of the UK Advising Network in 1986, the award helps to shine a light on the hardworking faculty and staff who help students navigate at the university, ensuring that all students have the tools they need to succeed at UK and beyond. 
"Ken Freedman was a mentor and friend to many advisors, and his legacy is a constant reminder about the importance of providing high quality service and support to both students and the advising community at UK," said Alycia Tidrick, communications coordinator for the Advising Network. "The Ken Freedman Awards provide an opportunity to celebrate outstanding advising on campus, build camaraderie within the advising community and showcase the important role that advising plays in student success."
At UK, academic advising plays an integral role in overall student success, guiding students toward their personal and educational goals.   
"Students begin working with UK advisors before they even step foot on campus, and advisors support their academic journey every step along the way until they reach graduation," Tidrick said. "Advisors serve as advocates and allies for students throughout their academic journey, and the many different types of advisors and support services available at UK help ensure that students are being provided with holistic support."
Nominations for the Ken Freedman Outstanding Advisor Awards are due Friday, March 29. 
Two award recipients are selected for the Ken Freedman Outstanding Advisor Award, one professional advisor and one faculty advisor. All students, faculty and staff are encouraged to participate in the nominating process. Nominees are not limited to colleges; any faculty or staff member who plays a role in advising is eligible. 
This year, the UK Advising Network became an institutional member of the National Academic Advising Association (NACADA) and expanded the awards to align with their national awards. 
In addition to the Ken Freedman Outstanding Advisor Awards, four new awards will be presented this year. New awards will include:
Outstanding New Advisor
Empowering Leadership in Administration
Innovative Advising Award
Advocate in Advising- Friend to the Community 
The recipients of the Ken Freedman Outstanding Advisor Awards will be recognized at the Ken Freedman Day of Recognition in May 2019.  Recipients will also be nominated by the UK Advising Network for the NACADA Region 3 Excellence in Advising Award and National Academic Advising Association Outstanding Advisor Award.
To see the full list of previous Ken Freedman awardees, click here.