UK College of Law Dean Appointed to Leadership of Prestigious Organizations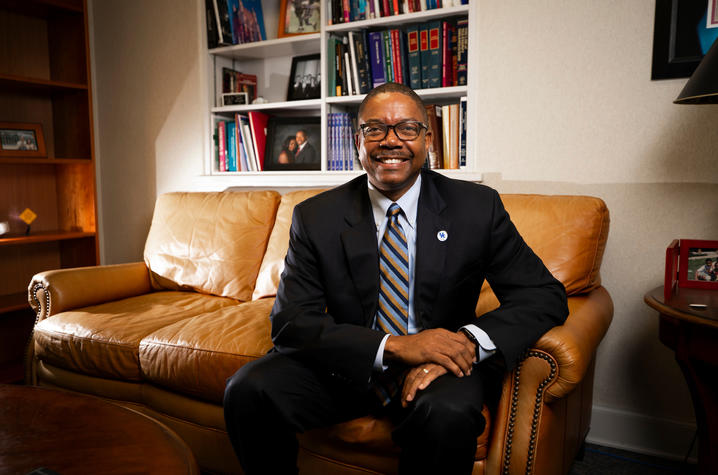 LEXINGTON, Ky. (Sept. 27, 2019) — David A. Brennen, dean of the University of Kentucky College of Law, has been elected vice president/president-elect of the Southeast Association of Law Schools (SEALS) as well as formally installed as a general member of the Council of the American Bar Association (ABA) Section on Legal Education and Admission to the Bar. Brennen's terms in both roles began in August. Brennen will assume the presidency of SEALS in one calendar year.
SEALS is a regional association of law schools that hosts an annual meeting of professors at its member and affiliate law schools in late July or early August. University of Kentucky faculty have previously held the position, most recently from 2009-2010, as well as 1965-1966.
"As a longtime participant in SEALS activities for decades and knowing how active UK Law faculty are with SEALS, I am honored to serve in a leadership role with the organization," Brennen said.
The annual meeting also offers legal educator panels and discussion groups that focus on pedagogy, thus offering law professors an opportunity to enhance their classroom teaching. Finally, the meeting provides numerous panels and discussion groups on a host of cutting-edge topics that will prove important for both scholarly works and teaching, covering the breadth of legal issues.
The American Bar Association's Section of Legal Education and Admission to the Bar provides leadership and services to those involved in legal education and admissions to the bar. The Section's Council is the national accrediting body for American legal education and the governing body for the section. 
"As one who has long been active in professional accreditation for law schools, and in regional accreditation in higher education generally, I am honored to serve the legal profession and the broader higher education community in this special way," Brennen said.
The mission of the section, which is the ABA's first section, is to be a creative national force in providing leadership and services to those responsible for and those who benefit from a sound program of legal education and bar admissions, to provide a fair, effective and efficient accrediting system for American law schools that promotes quality legal education, and to continue to serve, through the council, as the nationally recognized accrediting body for American law schools.
Earlier this year, Dean Brennen was selected to participate in the American Council on Education's (ACE) Fellows Program, the longest-running leadership development program in the United States. Mary J. Davis has been named the interim dean of the College of Law while Brennen completes his ACE Fellowship.