UK Honors Development with Mobley Awards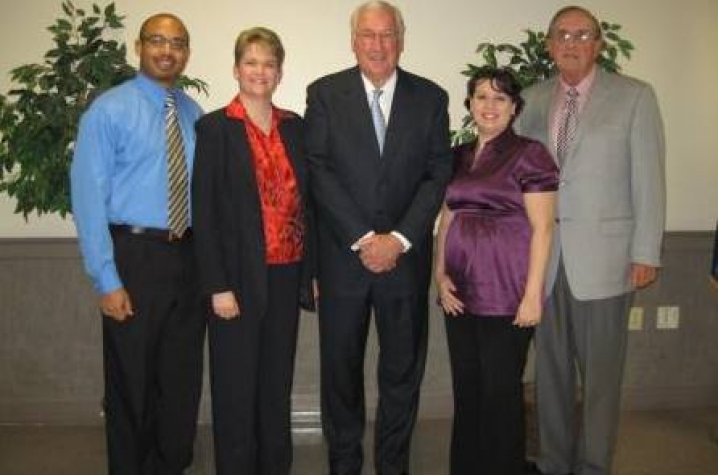 LEXINGTON, Ky. (Nov. 23, 2010) - On Friday, Nov. 19, the University of Kentucky recognized development professionals from across campus at the annual Terry B. Mobley awards ceremony.
Recipients were nominated by faculty and staff for outstanding effort in furthering UK's development.
This year's award recipients include: Richard W. Furst, dean emeritus, Gatton College of Business & Economics; Aimeé Baston, annual giving stewardship, Kentucky Children's Hospital; Daniel Pierre, tech support specialist for the Office of Development; and Veronica Whittaker, staff support, College of Agricultural Advancement Office.
Furst is the 2010 Development Service Award winner, an award presented to UK development professionals, administrators, faculty or staff who have demonstrated extraordinary support for the development effort at UK and are a strong advocate for UK through their service to local, state or national service organizations.
The Office of Development presented one Central Development Professional Achievement Award and two "Front Line" Awards (one for a central development support staff member, one for a college development support staff member) this year as well.
Baston is the 2010 Development Professional Achievement winner, while Pierre and Whittaker took home the Development Front Line Award for Central Development and College Development, respectively.
The Mobley awards are designed to honor the extraordinary development career of Terry B. Mobley, by recognizing and rewarding staff who have demonstrated outstanding performance and professional achievement.
Recipients are awarded a plaque, as well as a monetary gift generated by the Terry B. Mobley Award Endowment. Recipients' names will be added to a recognition wall located in the Sturgill Building, and they will be guests at the annual Development Council Meeting.