UK's Barnhart Named Chair of SEC Athletics Directors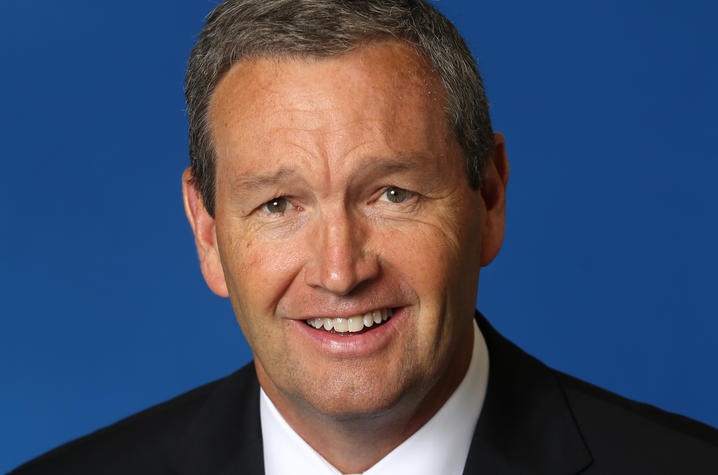 BIRMINGHAM, Ala. (Dec. 14, 2017) — University of Kentucky Director of Athletics Mitch Barnhart has been named chair of the Southeastern Conference Athletics Directors, it was announced on Wednesday by SEC Commissioner Greg Sankey.
"Mitch's experience as a proven leader makes him uniquely qualified to head our group of athletics directors during this particularly important time in the history of intercollegiate athletics," Sankey said. "He commands the ability to identify solutions to problems and to navigate complex issues with a diverse group of strong leaders from our various institutions. I look forward to working with Mitch in his new role."
Barnhart, who is in his 16th year as Kentucky athletics director, was selected by a unanimous vote of his fellow SEC athletics directors during a meeting on Tuesday in Birmingham.
In his new role, Barnhart will chair all meetings of the league's athletics directors. He succeeds the retiring Auburn University athletics director, Jay Jacobs, who served as chair of the SEC ADs since 2012.
"Jay Jacobs has been a tremendous leader for our AD group for the last five years due to the respect of his colleagues throughout the conference," Sankey said. "Jay has been a steadying influence during a time of significant growth for our league and the SEC will always be indebted to his service and generosity of his time and talents."
Barnhart — the longest-tenured athletics director in the conference — has been active in numerous SEC projects. Of recent note is his work with the SEC Compliance Committee and the SEC Network Content Committee, which helped produce the most successful launch of a new cable channel in television history.
Voted the NCAA Division I Athletics Director of the Year by his peers in 2015, Barnhart's leadership extends to the national level. Already having served on numerous committees and boards for the NCAA and the National Association of Collegiate Directors of Athletics (NACDA), Barnhart completed his first year as a member of the NCAA Division I Men's Basketball Committee in 2017.
Other national leadership experience includes membership on the NCAA Division I Council, chair of the NCAA Competition Oversight Committee and membership on the NCAA Division I Baseball Committee.
At Kentucky, the Wildcat athletic program has grown in every area under Barnhart's leadership. Inheriting a program that finished 50th nationally in the NACDA Directors' Cup all-sports standings during his first year at the school, Barnhart has steadily improved teams across the board, leading to a school-record 10th place Directors' Cup national finish in the 2016-17 school year. Barnhart has developed and channeled financial resources to improve facilities and student-athlete support systems. Academically, UK athletes have tied or broken the school record for graduation rate every year since the NCAA began charting that statistic in 2005 and all 22 Wildcat teams have maintained a perfect record during the 13-year history of the NCAA Academic Progress Rate. 
Barnhart's legacy at UK includes helping develop administrators who have gone on to become athletics directors at nationally prominent universities, including Greg Byrne of University of Alabama, Mark Coyle at University of Minnesota, Rob Mullens at University of Oregon, Scott Stricklin at University of  Florida and John Cohen at Mississippi State University.
Barnhart arrived at UK from Oregon State, where he served four successful years (1998-2002) as athletics director. Before OSU, he worked in athletics administration posts at University of Tennessee (1986-98), Southern Methodist University (1983-86), Oregon (1983) and San Diego State University (1982-83).
Barnhart is a native of Kansas City, Kansas. He earned his bachelor's degree from Ottawa University (Kansas) in 1981 and a master's degree in sports administration from Ohio University.