UK Scholar's Fight Toward Justice for All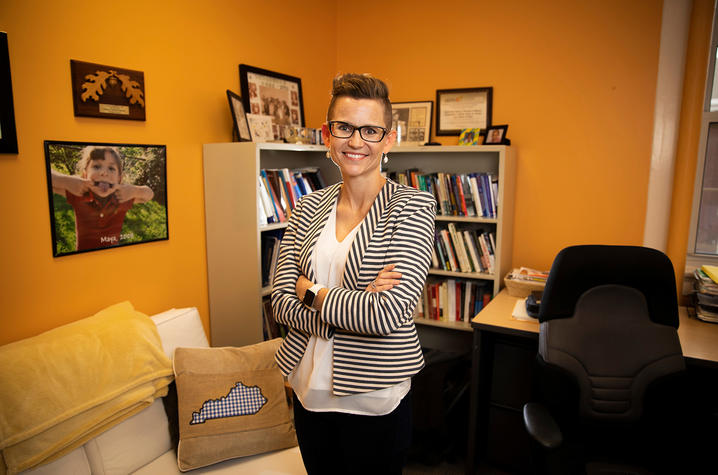 LEXINGTON, Ky. (Feb. 20, 2019) — Martin Luther King Jr. once famously said, "injustice anywhere is a threat to justice everywhere." Nearly 60 years later, his words are still a source of inspiration for those who seek justice — including Christia Spears Brown. As a professor in the Department of Psychology at the University of Kentucky, she strives to help society understand we are all connected, and spreading that message starts with educating the younger generation.
"I'm passionate about ensuring that all children, regardless of the social group they were born into, are treated fairly and equitably. This is a matter of fundamental human rights."
Spears Brown's professional roles as a researcher, teacher and advocate for public policy issues are integrated around her interests in issues of diversity and equality. More specifically, she uses social science research to document how stereotypes and discrimination facing marginalized children limits their academic success and psychological health. Spears Brown also studies why and how children develop stereotypes, in hopes of creating preventive measures.
"Regardless of whether they are rich or poor, boys or girls, cisgender or transgender, gay or straight, black, white, Latino, or whether they are born in this country or come to this country as refugees or without legal documentation, every child deserves to be treated fairly by their teachers and classmates, every child needs to see themselves represented in media and in their leaders and every child needs to be valued as an individual," said Spears Brown, who believes our society can only succeed when its youngest members are allowed to reach their highest potential.
The Center for Equality and Social Justice (CESJ), housed in the College of Arts and Sciences, is an extension of Spears Brown's remarkable work. Established in 2016, the CESJ is an interdisciplinary research center that promotes equality and social justice through collaborative scholarship and education.
Faculty members — from a broad range of disciplines — are affiliates of the CESJ, while Spears Brown serves as the director. "We have many, many folks at UK who, through their expertise, scholarship, teaching and service, work for equality every day. But we often don't know one another because we are so busy doing our individual jobs. The CESJ helps give a collective voice to all of those individual voices."
The specific goals of the CESJ are threefold as stated on its website:
to better understand social inequality, and how to promote and ensure social justice, through collaborative scholarship and education;
to empower scholars, students and the community to advocate for greater social justice; and
to help shape policies and practices to reduce existing inequality and ensure social justice.
"I work hard to shape public policies, and I speak regularly within my communities about stereotypes and discrimination," Spears Brown said.
This is a time when institutions across the country are debating issues of diversity, equality and inclusion. Spears Brown, through CESJ, is not only aiding in those discussions, but ultimately, turning those words into actions.
"Dr.  Spears Brown is someone whom I highly respect and value. She is a servant-leader, and it is evident that her life-work is to make this world a better place for all of us to live, work and enjoy," Sonja Feist-Price, vice president for institutional diversity, said. "Not only is Dr. Spears Brown a well-respected and prolific scholar, she truly 'walks the talk' of equity and inclusion. She has had an indelible impact on our students, and she works tirelessly to create a community of belonging where all of our constituents — students, faculty and staff, feel a sense of belonging. Dr. Spears Brown is truly a bridge-builder."
In March, CESJ is hosting its 2nd Annual Social Justice Book Club. This year, they are bringing Ijeoma Oluo, author of, "So You Want to Talk About Race," to campus. She will moderate the book discussion with students and give a campus-wide address.
The upcoming event is just one example of how CESJ is encouraging faculty, staff and students to contribute to the national conversation about equality. "The goal of this Social Justice Book Club is to have an explicit discussion about the uncomfortable, but necessary, work we all have to do to move toward a more inclusive society," Spears Brown said.
While too modest to admit it — Spears Brown's tremendous contributions and unfailing dedication have helped elevate CESJ to success. In the three years since its inception, the center has grown to nearly 80 affiliates.
"Our goal is to have a society — whether our focus is international, national, state, community or campus — in which all people are valued and respected as individuals, free from bias and discrimination," Spears Brown explained. "Ultimately, I hope that one day the CESJ is not necessary and I need to find a new line of research. The goal is to render ourselves obsolete."
In the meantime, Spears Brown is willing to be among those who lead the charge for social justice — no matter how long it may take. "Just on this campus, just like all other campuses, students face racial and ethnic bias, transphobia and sexual harassment. We still have a lot of work to do at home."
UK is the University for Kentucky. At UK, we are educating more students, treating more patients with complex illnesses and conducting more research and service than at any time in our 150-year history. To read more about the UK story and how you can support continued investment in your university and the Commonwealth, go to: uky.edu/uk4ky. #uk4ky #seeblue