UK Undergrads to Present Research at the Gallery Hop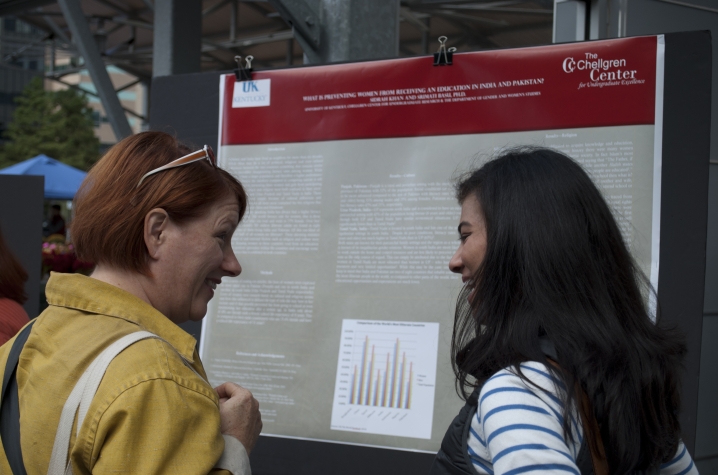 LEXINGTON, Ky. (Nov. 17, 2011) — A group of nine University of Kentucky undergraduates will bring their research to the Lexington Gallery Hop Friday at the first "Posters at the Gallery Hop."  Presented by the Chellgren Center for Undergraduate Excellence, the Office of Undergraduate Research and Society for the Promotion of Undergraduate Research (SPUR), the event will be held from 5 to 8 p. m. Friday, Nov. 18, at the Lexington-Fayette Government Building downtown.
"While the work of our undergraduate researchers is well known among faculty and peers at UK, it is less well known among members of our local community," said Diane Snow, director of the UK Office of Undergraduate Research.   "For this reason, we're very excited that our hard-working students will get the opportunity to tell folks about the meaningful research they're doing at UK."
The students presenting represent six different colleges at UK, and will present posters describing their undergraduate research projects. These projects were completed under the mentorship of some UK's outstanding research faculty, and reflect the importance of research for citizens of Lexington, and the nation. Many of the problems students examined in the posters to be displayed are directly relevant to human health and welfare and quality of life in central Kentucky.
"Undergraduate research is a wonderful opportunity for students to apply their studies to unique and challenging projects," said Taylor Lloyd, one of the student presenters. "The hands-on experience really solidifies our classroom learning. It is sometimes hard for students to communicate their learning and its value to others, but a poster presentation breaks down the barrier."
Working closely with faculty, graduate students, and post-doctoral fellows, undergraduates at UK have an extraordinary opportunity to go beyond the classroom. In contrast to typical course work in which students read and study what is known in various disciplines, the undergraduate research experience enables them to actually participate in the creation of knowledge.
The presenting students and their mentors are: 
Amber Gay, College of Engineering; Alan Male, College of Engineering
Courtney Ford, College of Arts and Sciences; Rebecca Dutch, College of Medicine
Sidrah Kahn, College of Education; Srimati Basu, College of Arts and Sciences
Jonathan Finnie, College of Arts and Sciences; Richard Schein, College of Arts and Sciences
Catherine Brereton, College of Arts and Sciences; Susan Bordo, College of Arts and Sciences
Andrea Lowe, College of Communications and Information Studies; Donald Helme, College of Communications and Information Studies
Kristyn Mickley, College of Nursing; Patricia Burkhart, College of Nursing
Abigail Kerins, College of Arts and Sciences; Joanna Badagliacca, College of Arts and Sciences
Taylor Lloyd, College of Agriculture; Bruce Downie, College of Agriculture
"As a faculty member working with undergraduates on research projects, I feel I am engaged in my best and most enjoyable teaching, and students are engaged in some of the most productive learning they will experience," said Phil Kraemer, chair of the Chellgren Center for Undergraduate Excellence. "As a leading research university, UK's faculty are in the idea creation business, and by inviting undergraduates into the process of scholarly inquiry, the university is able to closely align its research mission with its teaching."
A similar undergraduate posters presentation took place on Sept. 17 at the Lexington Farmers Market.
"Presentations like the one at Gallery Hop this Friday provide students with an outlet for educating others on their hard work, but also provide the public with a glimpse at the good to be done by UK students after graduation," Lloyd said.
"One important purpose of these community events is to promote town-gown relations," Kraemer said. "By enabling some of UK's outstanding students to share with the Lexington public what they are learning at UK, we can celebrate the significance of having a research university within our community."
MEDIA CONTACT: Jenny Wells, (859) 257-5343; Jenny.Wells@uky.edu