Discover the Latest in Markey Cancer Research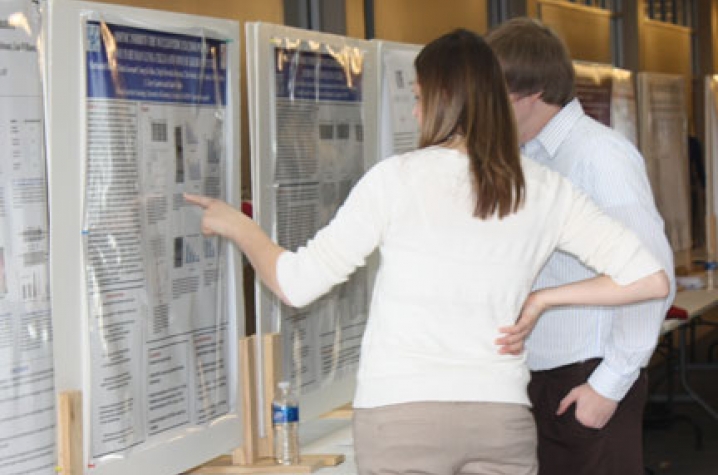 LEXINGTON, Ky. (April 9, 2010) – The Markey Cancer Center will showcase current cancer research projects at the University of Kentucky at its annual Markey Cancer Center Research Day on Wednesday, April 14, at the Singletary Center for the Arts. Advance registration is open until noon April 12. Interested students and faculty from all disciplines are encouraged to attend, as is the general public.  Walk-in registrants will be accepted at the event.
 
"We have some very talented, highly motivated researchers from a variety of different academic backgrounds, each working on their own piece of what is really one giant scientific puzzle," said Dr. Mark Evers, director of the Markey Cancer Center. "This event gives them a chance to share their work in an atmosphere of learning and collaboration.  It's also a great opportunity for students who have an interest in the life sciences to come and see the impressive breadth and depth of multidisciplinary cancer research taking place right here on our campus."
 
 
With a record number of participants, this year's event has outgrown the medical center campus and will take place at the Singletary Center for the Arts, where it will occupy nearly the entire venue.  The day begins with poster presentations by almost 100 UK researchers — faculty, graduate students and post-doctoral fellows — from 9 a.m. to noon in the Singletary Center lobby. Oral presentations will take place in the Recital Hall from 12:30-2 p.m., to be followed by a "State of the Cancer Center" address by Dr. Evers at 2 p.m.  
 
The day culminates with the Susan B. Lester Memorial Lecture, presented by Dr. Robert J. Coffey, Jr., Professor of Medicine and Cell and Developmental Biology at Vanderbilt University Medical Center, at 2:30 in the Recital Hall.  Dr. Coffey, who has authored 177 peer-reviewed manuscripts, is director of the Gastrointestinal Cancer Program within the Vanderbilt-Ingram Cancer Center and the newly-formed Epithelial Biology Center. He attended Princeton University and Georgetown Medical School, trained in internal medicine at Emory University, then received fellowship training in medical oncology at Georgetown and gastroenterology at the Mayo Clinic. He joined Vanderbilt University Medical Center in 1986. 
 
Dr. Coffey is also principal investigator of Vanderbilt's Special Program of Research Excellence in gastrointestinal cancer (GI-SPORE), funded by the National Cancer Institute. Only six cancer centers nationwide have earned the GI-SPORE designation. The Markey Cancer Center shares this elite distinction with Vanderbilt. 

 
The family and friends of Susan B. Lester endowed the lectureship in her honor, and it is this generous donation that makes Markey Cancer Research Day possible. Mrs. Lester left an indelible mark on her world, serving as a clinical dietitian for Eastern State Hospital and for nursing home patients in Eastern and Central Kentucky. This symposium benchmarks recent advances in cancer research and thus honors Mrs. Lester by underscoring both her generous life and the brave battle she fought against this disease.  The lecture will be followed by an awards ceremony at 3:30 and then a reception in the President's Room. 
 
 
Those interested in attending  may register online until noon April 12 at http://fs9.formsite.com/Markey-CEL/form220110720. Walk-in registrants will be accepted at the event.
For more information online, go to http://markey.uky.edu/cancerresearchday or contact the event coordinator via e-mail at Markey-CEL@lsv.uky.edu.