UK Researcher Developing Overdose Treatment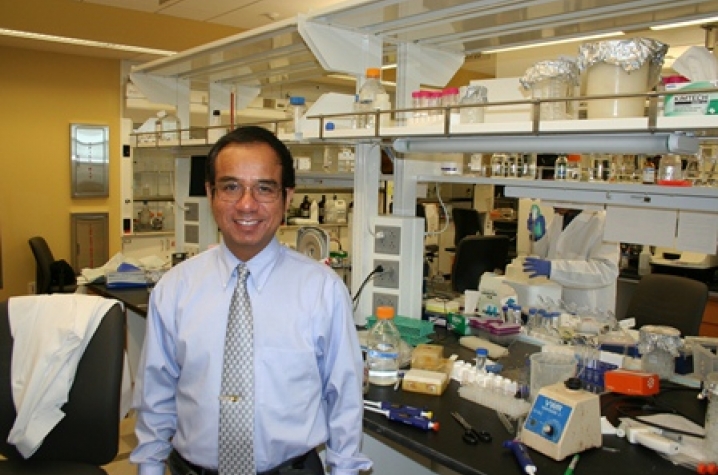 LEXINGTON, Ky. (Jan. 24, 2013) — Chang-Guo Zhan, professor in the University of Kentucky College of Pharmacy's Department of Pharmaceutical Sciences, received a three-year, $1.8 million National Institutes of Health (NIH) grant to develop a therapeutic treatment for cocaine overdose.
The development of an anti-cocaine medication for the treatment of cocaine overdose has challenged the scientific community for years. In fact, there is no current FDA-approved anti-cocaine overdose medication on the market.
"According to federal data, cocaine is the No. 1 illicit drug responsible for drug overdose related emergency department visits," Zhan said. "More than half a million people visit emergency rooms across the country each year due to cocaine overdose."
This new grant is the fourth in a series of investigator-initiated research project (R01) awards that Zhan has received from the NIH to continue to discover and develop a cocaine abuse therapy. In previous work, Zhan has developed unique computational design approaches to generate of high activity variants of butyrylcholinesterase (BChE), a naturally occurring human enzyme that rapidly transforms cocaine into biologically inactive metabolites.
Zhan and his collaborators have improved BChE catalytic activity specifically against cocaine by 4,000 times. The focus of this new grant is to optimize and stabilize these high-activity BChE variants. The hope is that at the end of this grant, this therapy will be ready for clinical development.
"Dr. Zhan's lab is at the leading-edge of cocaine overdose therapy," said Linda Dwoskin, associate dean for research at the UK College of Pharmacy. "This grant is the culmination of the pre-clinical, innovative and groundbreaking work that has been taking place in Dr. Zhan's laboratory for many years. The next step will be to move this potential therapy into clinical use and make it available to those who need it."
Zhan has been working on cocaine abuse therapy since 2000. He came to UK in 2003 from Columbia University and Pacific Northwest National Laboratory, where he has continued his passion for developing an effective therapy for cocaine overdose.
"When I decided upon a career in research, I wanted to conduct research that would directly benefit human health," Zhan said. "I wanted to develop solutions to problems and to fill a void in the market. This research is doing that, and all the research projects in my lab are driven by that purpose."
MEDIA CONTACT: Keith Hautala, (859) 323-2396; keith.hautala@uky.edu