College of Pharmacy to Host Drug Discovery Symposium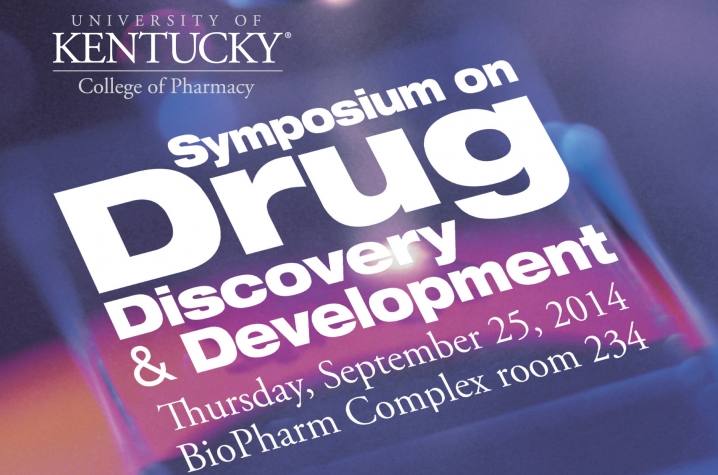 This year's symposium features recent advances in the treatment of Alzheimer's disease, cardiovascular disease and substance abuse in which biologics have been employed as therapeutic agents.
"In addition to outstanding investigators from the National Institutes of Health (NIH) and pharmaceutical industry, the program includes short talks by graduate students and postdoctoral fellows in pharmaceutical sciences and pharmacy practice," said Gregory Graf, associate professor in the Department of Pharmaceutical Sciences and this year's symposium chair. "We are particularly enthusiastic about advances in the treatment of cocaine overdose that will be highlighted during this year's symposium, as this agent was developed at the University of Kentucky in the laboratory of Dr. Chang-Guo Zhan." 
The 2014 Symposium invited speakers include:
Alan T. Remaley, senior investigator, Lipoprotein Metabolism Section, National Institutes of Health – "Recombinant LCAT in LCAT deficiency and Acute Coronary Syndromes"
Ronald B. DeMattos, research advisor, Discovery Neuroscience, Eli Lilly and Company – "Monoclonal Antibody Therapy in the Treatment of Alzheimer's Disease"
Azmi Nasser, associate director of clinical pharmacy, PK/PD, global clinical development director, Reckitt Benckiser Pharmaceutical, Inc. – "Recombinant Choline Esterases in the Treatment of Cocaine Overdose"
The symposium will also feature the college's 2013 Publication of the Year, "Association Between Pseudoephedrine Sales and Reported Clandestine Methamphetamine Laboratory Seizures in Kentucky," which was published in the Journal of American of the American Medical Association and has had a significant impact on discussions among pharmaceutical policy makers around the nation.  
New to this year's symposium is the final round of the College's Elevator Speech Competition in which graduate students must present their thesis project in fewer than three minutes.
The symposium showcases cutting-edge research to the local scientific community and encourages collaboration in basic and translational science as well as pharmacy practice and policy. By hosting renowned scientists working on distinct areas of diseases, but each employing biological agents in drug discovery and development, the college hopes the forum will bring together researchers at UK working to improve our understanding of, and advance the development of therapeutic approaches for, the unmet health care needs of the citizens of Kentucky and the nation.
Registration is open for the 2014 Symposium at the following website: http://www.ukalumni.net/s/1052/semi-blank-noimg.aspx?sid=1052&pgid=5756&gid=1&cid=10607&ecid=10607&post_id=0.