New $4.2 Million Grant Helps UK, Ky. Communities Battle Opioid Epidemic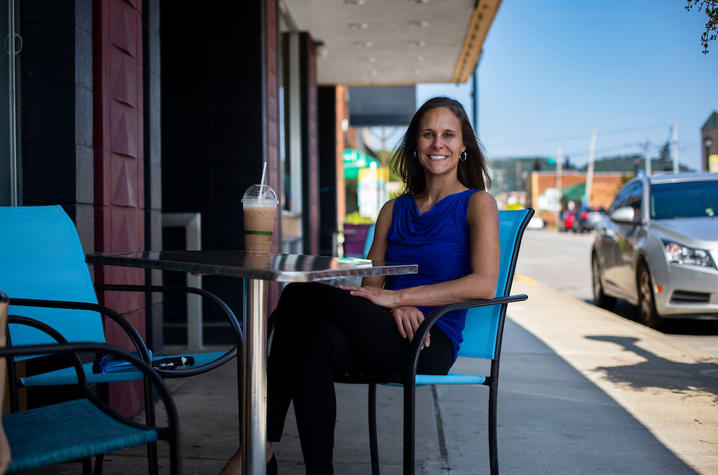 LEXINGTON, Ky. (Oct. 14, 2019) — For two years, University of Kentucky researcher April Young and her team have been onsite in Eastern Kentucky working with community members to assess and gather information on substance use in rural communities for a project known as Kentucky Communities and Researchers Engaging to Halt the Opioid Epidemic, or CARE2HOPE.
Now with an additional $4.2 million from the National Institute on Drug Abuse (NIDA) to continue their work, Young and her collaborators will take what they've learned from out in the field and focus the next three years on developing comprehensive approaches to prevent and treat consequences of opioid injection. The new grant brings CARE2HOPE's total funding to over $5.5 million.
Young, an associate professor of epidemiology in the UK College of Public Health and faculty member of UK's Center on Drug and Alcohol Research and Center for Health Equity Transformation, grew up in rural Georgia and understands the struggles smaller communities can face in addressing health crises.
"Growing up in a small town, I often felt like small towns were neglected in terms of health services and important assets that they needed to address their own health issues," Young said. "And in Kentucky, that's also the case. I felt like there was also a lot of resilience and potential in rural communities that was not being tapped."
For CARE2HOPE, Young and co-principal investigator Hannah Cooper from Emory University partnered with communities in the 12 Kentucky counties that make up the Gateway Health Department District and the Kentucky River Health Department District (Bath, Elliott, Knott, Lee, Leslie, Letcher, Menifee, Morgan, Owsley, Perry, Rowan and Wolfe). From the start, researchers knew that success of the project would rely on the involvement of the communities where the research was conducted. From the time Young and Cooper began to draft the proposal, they sought support from organizations who operate in the region, and leaders like U.S. Rep. Hal Rogers, who drafted a letter of support for the original grant application.
"It is critical that we find the best answers for intervention as we continue to combat the opioid abuse crisis in Kentucky. Thanks to UK's CARE2HOPE research-based initiative, we're learning how we can improve access to treatment and rehabilitation directly from individuals who suffer with substance use disorder. A vital part of this life-saving mission is to help our small communities expand effective programs and to fill in gaps where we can prevent relapse," said Congressman Hal Rogers, who serves as co-founding co-chair of the Congressional Caucus on Prescription Drug Abuse. "I commend the University of Kentucky for using its impressive research arsenal to raise awareness and lower the rate of deadly overdoses in our region."
With their initial $1.16 million in funding, the team conducted interviews and surveys with the community, collecting information on resources and factors that impact access to treatment for opioid use disorder as well as risks for related harms, such as overdose, hepatitis C and HIV.
A vital component of the project was receiving input from people who were actively using drugs, so researchers could better understand how their addictions began and the barriers they encountered trying to access treatment. The project has two field offices – one in Morehead and one in Hazard – and Young says they took an unusual tactic to build connections and trust in the community.
"I bought a grill and a tailgating tent, and we set it up in a parking lot," Young said. "We cooked hot dogs, brought drinks and just welcomed whoever wanted to stop by."
This approach first drew curious local residents, who eventually began spreading the word to people who were actively using drugs to join the study. From there, recruitment took off, particularly once the project had community-based staff on board to help with the effort. Young says that within nine months, they were able to enroll nearly 300 participants primarily from just one county alone.  
The input they received from community stakeholders and advisory boards composed of elected officials, health department staff, pastors, treatment providers, people in recovery, people who were actively using drugs, and people from many other walks of life – yielded some surprising information that Young says will need to be addressed in order to reduce harms from opioid use. For example, roughly one-third of participants indicated they had experienced homelessness in the past six months.
"That was important for our research, because it's hard enough to get people who have stable situations into treatment," Young said. "Then you add to that unstable housing and food insecurity, and you really have to provide some wraparound care for them."
But the assessment also revealed a lot of positives, Young says. Many Kentucky communities have local expertise and ongoing activities to mobilize people around substance use that researchers will be able to leverage, rather than creating something from the ground up.
"The people who are actively using drugs are as committed as anyone to seeing a change in their community," Young said. "And the people who come and meet with us as part of our advisory boards demonstrate that. They set aside their fears and come just to contribute to the project."
In the coalition meetings, members reviewed evidence and decided what intervention would best meet the communities' needs and build on local strengths. Together, the communities decided that they wanted an intervention that focused on reducing substance use and related risks among those re-entering the community from jail. In response, the CARE2HOPE team crafted and received funding to support and evaluate an intervention focused on people who are re-entering the community from jail. This transition time is particularly dangerous for people with opioid use disorder — they may lose their tolerance while incarcerated, and are at a much higher risk of overdose if they use the same amount of opioids again once released.   
To reduce this risk and substance use, CARE2HOPE staff will work with local health departments to do a transition plan and full workup of needs for people who are nearing release from jail. Once they're back in the community, staff will continue to meet with this intervention group via phone and in person.
"We're basically helping them navigate that really risky transition period into the community and linking them to the treatments and services they need," Young said.
This initiative should be ready to launch in four local jails before the end of the year; every six months, the project will add four more counties, and the team will continually evaluate the impact of the intervention group compared to a basic overdose education group.
A major strength of this initiative is the collaboration — not just with Young's fellow faculty from UK's Center on Drug and Alcohol Research and the UK colleges of Medicine, Public Health, Pharmacy and Arts and Sciences, and from Emory University and other institutions, as well as a team of dedicated and talented community-based staff. In addition to the Gateway and Kentucky River District Health Departments, this project includes partnership with the Kentucky Department for Public Health, Kentucky Justice and Public Safety Cabinet, Kentucky Opioid Response Effort, Northeast Area Health Education Center, local jails, and other state and community leaders and organizations.
All of CARE2HOPE's partners are working toward one end goal: to reduce harm from substance use by helping communities help themselves.
"When our grant ends, I don't want to see these programs end," Young said. "I want to see communities empowered to implement these interventions on their own."