UK Launches $15 Million KeY Treat Study in Perry County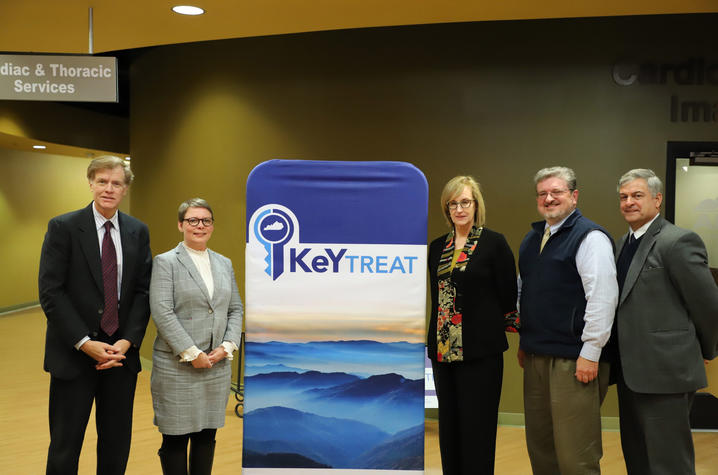 LEXINGTON, Ky. (Jan. 22, 2020) – Today, University of Kentucky officials provided updates on the recently launched Kentucky Viral Hepatitis Treatment Project (KeY Treat), a three-year, $15 million study co-funded by the National Cancer Institute (NCI) and National Institute on Drug Abuse (NIDA) with the ultimate goal of eradicating the hepatitis C virus (HCV) in Perry County, Kentucky.
Led by UK College of Medicine Professor Jennifer Havens, the study is examining whether removing barriers associated with accessing direct-acting antivirals for the treatment of HCV will impact the health of citizens in Perry County. Gilead Sciences, Inc. is providing free doses of the HCV drug – more than 900 doses for every HCV-positive person in the county, valued at $50 million – for the project.
HCV is a bloodborne viral infection that causes liver inflammation and liver damage. It is spread via contaminated blood and is commonly passed on through injection drug use. As a result of the opioid epidemic – Kentucky currently ranks fifth in the nation in overall deaths from opioid use – Kentucky's HCV infection rates are twice the national average.
Through the study, any person in Perry County over the age of 18 who tests positive for HCV with viral RNA will be given the treatment – a once-a-day pill taken over the course of 12 weeks. The clinic space for the study is located inside the ARH Medical Mall in Hazard.
Screening for KeY Treat began in September, and Havens says the response so far has been overwhelmingly positive.
"So far, we have screened more than 120 participants, and most tell us that they have attempted to access treatment for their hepatitis C and were turned away due to their previous or ongoing drug use," Havens said. "The response to our alternative approach in KeY Treat has been tremendous, and the vast majority of participants initiated on the medication to date have successfully navigated the treatment regimen."
Described by Havens as "a miracle drug," the treatment has cure rates up to 100%. In just the short time since Havens' study began, 55 people have initiated their first dose, and more than half already have undetectable RNA. They will be considered "cured" if the viral RNA is still undetectable 12 weeks after completing the treatment.
"Based on these early results, we are optimistic that KeY Treat will meet its goal of reducing the community viral load and eliminating hepatitis C transmission in Perry County," Havens said.
The study represents a paradigm shift in how HCV treatment is sometimes handled by clinicians, who may be deterred by a patient's continued use of injection drugs. By taking a "public health approach," Havens says they're directly targeting the population at highest risk for transmitting the disease – eradicating the problem in this population will have a positive impact on the collective health of the county.
The goal is for this "treatment as prevention" model to be adapted for other communities not just in Kentucky, but across the country.
"UK has a long history of being a research leader in the study of substance use disorders and how to address the disorders and the consequences of drug use," said Sharon Walsh, director of UK's Center on Drug and Alcohol Research. "Dr. Havens has been working in the Perry County community for several years, and this community-engaged history set the stage for us to capitalize on this history and expertise and to bring this ground-breaking study to Kentucky." 
The opioid crisis and subsequent rise in HCV infection rates may lead to another major health issue in Eastern Kentucky: liver cancer. Untreated or delayed treatment of HCV causes scarring in the liver and can lead to the development of hepatocellular carcinoma. With Kentucky already home to the highest overall rates of cancer incidence and death in the country – particularly in Appalachian Kentucky – the University of Kentucky Markey Cancer Center has made cancer prevention a top focus of its efforts.
Markey Director Dr. Mark Evers, along with Walsh, sought to bring national leaders to Kentucky to learn more about the serious issue of high cancer rates and substance use disorders in Appalachian Kentucky. In 2016, NIDA Director Dr. Nora Volkow and NCI Director Dr. Doug Lowy visited Hazard, Kentucky, and joined U.S. Rep Harold "Hal" Rogers, leaders and researchers at the University of Kentucky, the UK Center of Excellence in Rural Health, Appalachian Regional Healthcare and medical leaders from across southern and Eastern Kentucky to learn more about these issues. This connection ultimately led to the unique collaboration between NIDA and the NCI to fund Havens' work.
"This work – and the collaborative support for this work on a national scale – is crucial for Kentucky," said Evers. "Kentucky is home to the highest cancer rates in the country, and our goal is to significantly reduce the burden of cancer here in our state. Cancer prevention is a key component of Markey's mission, and this study is a prime example of how our researchers are working to develop evidence-based solutions to improve the health of Kentuckians."
There is currently no vaccine for hepatitis C, so once patients are cured, they are still at risk for reinfection if they continue to engage in injection-risk behaviors. Because many insurance companies only pay for one round of HCV medication, many HCV-infected patients who seek treatment through community providers may be turned away if they are at risk for reinfection. 
To address this, one of the major components of the KeY Treat study is focused on syringe services. To ensure that participants who are active drug users don't become reinfected after receiving treatment, the grant covers the cost of injection-related equipment and HIV/HCV testing, provided through the Kentucky River District Health Department.
"We are very excited about our partnership with UK on this project. The substance use disorder epidemic and its associated health problems have dramatically impacted our communities," said Scott Lockard, public health director for the Kentucky River District Health Department. "The local health departments have responded with increases in our harm reduction efforts with no dedicated funding streams to offset these costs. The resources provided by this partnership with UK is vital to our work in protecting the public's health."
In addition to treatment for HCV, the project is able to offer what Havens calls "the full package" of treatment for participants with substance use disorders. The three medications approved by the Food and Drug Administration – buprenorphine, naltrexone and methadone – are available through the Behavorial Health Group, and participants have access to a social worker who can help with wrap-around services, including transportation, housing and referrals to mental health services.
For Havens, who has spent her 15 years at UK studying injection drug use and has carefully followed the trend of rising HCV rates in Hazard since an initial study in 2008, the KeY Treat project is a strong push forward to improve overall health in Perry County – and hopefully beyond.
"We're really trying to improve access and design a program that removes a lot of the stigma around seeking treatment for hepatitis C," Havens said. "Studies show that even without any intervention around substance use, people who get treated for their HCV end up reducing their substance use over time. And often, it's because they're taking that important first step for their health in treating their hepatitis C."