UK Students to Present Research at NCUR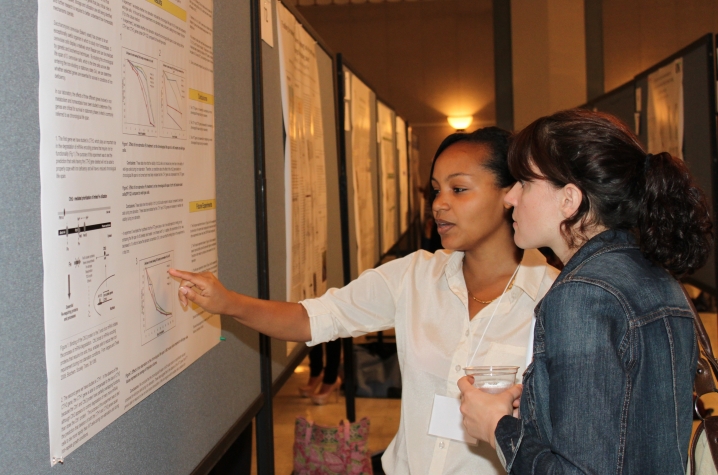 LEXINGTON, Ky. (March 27, 2012) — Twenty undergraduates have been selected by the University of Kentucky Office of Undergraduate Research to attend the National Conference on Undergraduate Research (NCUR) March 29-31 at Weber State University in Odgen, Utah.
 
NCUR is an annual conference for students dedicated to encouraging undergraduate research, scholarship and creativity in all fields of study. NCUR differs from other academic professional organization meetings in that young scholars from all institutions of higher learning and from all areas of academic curriculum can showcase their work. The conference provides models of exemplary research and scholarship and strives to improve the state of undergraduate research by celebrating and promoting undergraduate achievement.
 
Alyssa Fountain, an agricultural biotechnology major from Roswell, Ga., is one of the students who will be attending NCUR. Working with professor Luke Bradley in the UK Department of Anatomy and Neurobiology, her project focuses on investigating the protective mechanism of a small molecule that has potential interest for developing treatments for neurodegenerative disorders, including Parkinson's disease.
 
"It is exciting to have a cutting edge research project as an undergraduate student," Fountain said. "I would like to thank the AMSTEMM program, Undergraduate Research Office and Dr. Bradley for providing me with the opportunity to perform research here at UK. Research has been the best experience in my college years."
 
To be selected by NCUR, students were required to submit an abstract that stated their central research question and the purpose of their research, a brief discussion of their research methodology, and their final or anticipated conclusions.  These abstracts were reviewed by faculty across UK and the top 21 were selected for attendance.
 
The students selected and sponsored by the Office of Undergraduate Research include:
 
Natasha Barnes, psychology, advisor Melody Carswell;
Sarah Barney, ecology and organismal biology, advisor David Westneat;
Courtney Carr, art history, advisor Alice Christ;
Rebecca Douglass, environmental studies and sciences, advisor David Atwood;
Courtney Ford, biochemistry, advisor Rebecca Dutch;
Alyssa Fountain, biochemistry, advisor Luke Bradley;
Susan Gisselberg, art history, advisor Alice Christ;
Jonathan Goff, art history, advisor Alice Christ;
Lauren Ison, chemistry, advisor David Atwood;
Kristopher Karounos, ecology and organismal biology, advisor Philip Crowley;
Michael Lee, psychology, advisor Melody Carswell (Randy Huckle, a co-presenter, will present one of Lee's two posters);
Shelby Malone, cell and molecular biology, advisor Rebecca Dutch;
Katelyn McNamara, neuroscience, advisor Jonathan Lifshitz;
Jenna Noll, mathematics, advisor Benjamin Braun;
Taylor Reiter, biology, advisor Jeffrey Bewley;
Aman Shah, biology, advisor Esther Dupont-Versteegden;
Kelsey Turcotte, chemistry, advisor Nadine Kabengi;
Ilya Vinogradov, chemistry, advisor John Selegue; and
Jacob Welch, anthropology and archeology, advisor Scott Hutson.
 
"NCUR is a fantastic opportunity for our students to get well-deserved, recognition for their academic pursuits, learn from other undergraduate students outside of UK, and develop new professional networks," said Diane Snow, director of the Undergraduate Research program at UK. "All aspects of attendance at NCUR will benefit them as they progress toward and into their chosen careers."
 
UK will be the site for the 2014 National Conference on Undergraduate Research.
 
MEDIA CONTACT: Jenny Wells, (859) 257-1754 ext. 254; Jenny.Wells@uky.edu