'A Big Blue Family': Jewish Students Find Community at UK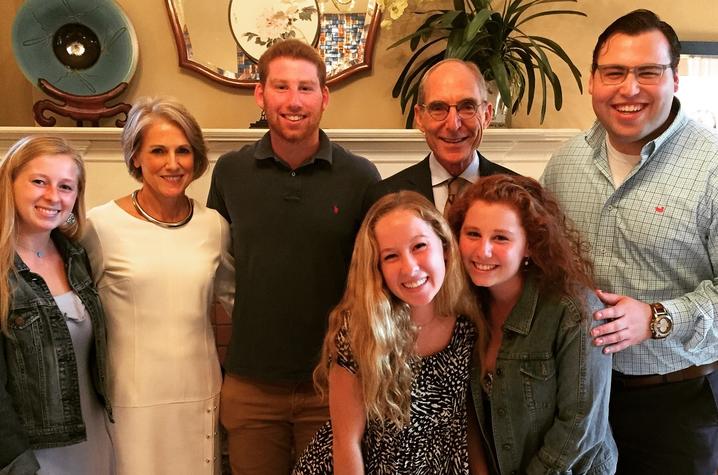 LEXINGTON, Ky. (March 5, 2019) — Alex Rosenzweig grew up in Long Island, New York, some 750 miles away from Lexington, with no links to the Bluegrass State. Now, in his final year pursuing a degree in engineering and a minor in Jewish studies at the University of Kentucky, he says he is part of a "Big Blue family."
While he began his first year alone in a new place, he is now in his senior year as part of a strong network of friends, including two siblings and two cousins. How five relatives from Long Island ended up going to UK together is a long and complicated story, but it starts and ends with community.
"We are a community driven and fulfilled by a distinctive character — a combination of unwavering determination and supportive, compassionate good will," UK President Eli Capilouto recently wrote to the campus.
That character stood out to Alex throughout his college search.
Alex noted, among the top reasons he chose UK, was President Capilouto's commitment to the cultivation of a strong, supportive community in general, and a Jewish student community in particular.
"Going so far from home to such a different place was a jarring experience, but knowing that I would have a community made up of peers from cultural and religious backgrounds similar to mine made the decision easier," he said.
Accepting the Jewish Heritage Fund for Excellence Scholarship — an award that helps students who show academic excellence, demonstrate a drive to minor in Jewish studies and strive to participate in the campus community — he packed his bags and moved to Lexington in the fall of 2014.
The Hillel house, a cultural and spiritual hub of Jewish student life in Lexington, was not everything that it could have been when Alex arrived on campus. While he was able to find a good group of peers there, they did not consistently have good enough attendance to comprise a "minyan."
"A minyan is the minimum number of Jewish people needed for public worship," Alex said. "It requires 10 people, and we were not able to reach that number consistently at first."
With the addition of his relatives and many others who have joined the organization, however, this is no longer a problem.
"Now, my family members and I can make up half a minyan on our own," he said. "Having the ability to practice my religion so far away helped to make campus feel more like home. The Hillel house allows me to continue to grow spiritually the same way UK has helped me to grow academically and socially."
While Alex was the first of the Rosenzweigs to enroll at UK, all of them are leaving their mark on the university and thoroughly enjoying the process.
Drew, a junior finance and management major and brother to Alex, has been an indispensable asset to Kentucky's Hillel house, where he served as finance chair.
"The Jewish community at UK has given me some great friends," Drew said. "It has really led me to appreciate my religion and strengthen my Jewish values while being away from home. It is very important to have my religion represented on campus as it adds a source of comfort and support. It also allows me to practice my religion at my will."
While the heart of Drew's decision to come to UK lies in what it had to offer academically and in the distance from home as an opportunity to grow, he is grateful to have gone on this journey with his family.
"Family is very important to me, and to have my brother, sister and cousins at UK is truly amazing," he said. "We don't always have to see each other, but the thought of having them there for support is a great feeling. I think having your family at college is a great advantage and very comforting knowing you always have a support system."
That support from family and Hillel also has proven crucial to Emma Rosenzweig, Drew and Alex's cousin.
This was particularly true last winter, when Emma, a sophomore majoring in hospitality management and tourism, and her cousins were the recipients of bad news.
"We all got phone calls; we learned that our grandfather was rushed to the hospital because of chest pain," Emma said. "The doctors found out that his artery was almost completely blocked and that if he had even shoveled snow he would have died. Finding out this news at all is sad and scary, but fortunately we had each other for support. We were told he was going to have surgery and were given periodic updates on his status. One of my cousins and I went to temple that morning to pray for him. We had a temple to go to because of Hillel's connections with the community. This brought a little bit of ease to us."
Thankfully, their grandfather made a full recovery, but for the period of uncertainty between his diagnosis and recovery, family and community proved extremely helpful.
"I can't imagine getting this news this far from home and dealing with it alone," she said. "I am so grateful that we had each other and our community in this situation."
While family and Hillel have given the Rosenzweigs a place to gather for prayer and to celebrate holidays like Chanukah and Yom Kippur, they represent even more than that. They represent the opportunity to unite their faith and culture, their family and their college community.
Though Lexington is almost a thousand miles from the homes they left to come here, they have found a new home away from home, aptly calling themselves a "big blue family."