Kentucky Wildcab Service Starts Thursday, Aug. 22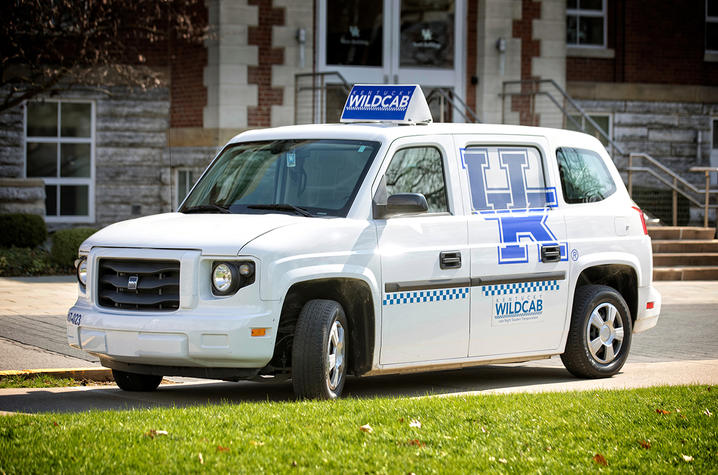 LEXINGTON, Ky. (Aug. 21, 2019)— Kentucky Wildcab, the university's free, late-night on-demand transportation service, begins its fourth year of service this Thursday, Aug. 22.
Kentucky Wildcab provides free transportation for students from 10 p.m. to 3 a.m. Thursday, Friday and Saturday nights. Wildcab rides are limited to the general campus vicinity with the service area accommodating the majority of areas adjacent to campus.
The Kentucky Wildcab service is a popular option for students and continues to grow in number of users. In its first year of service, Kentucky Wildcab provided 5,600 rides with a total of 14,348 passengers. This previous academic year, it provided 10,214 rides with a total of 22,657 passengers. An eighth vehicle was recently added to the fleet to accommodate the weekend demand.
A ride in Kentucky Wildcab is just a tap away! To make a request, follow these simple instructions:
Download the UK Wildcab app on a smartphone*.
Log-in with your university linkblue credentials*.
Enter your phone number, to be sent ride updates*.
Select "Start." 
Select a pick-up and drop-off location on the map or type in the addresses for these locations.
Select "Confirm" to confirm your ride.
*The first three steps above will only be required on the first use. Users may need to log-in periodically if they log-out of the app, or if their linkblue password changes.
Once a ride has been requested, students will be able to see an estimated time of arrival and to receive an alert when their Wildcab has arrived. To ensure the service operates efficiently and to reduce overall wait times, riders are asked to be prepared to promptly meet the Wildcab upon its arrival.
The Wildcab service has four and six passenger vehicles and is intended to promote responsible late-night transportation decisions. The service is provided by the Student Government Association, with funding assistance by the Student Transportation Council, and operated by Transportation Services. The service uses primarily student employees who have undergone background checks and been trained to drive the Wildcabs. 
Students who request rides on Wildcab must show at least one valid student ID. To learn more, visit www.uky.edu/transportation/bus/wildcab.
UK Transportation Services strives to improve the quality of life on campus by offering responsive, sustainable and reliable access to infrastructure and mobility solutions. To learn more about transportation options, follow Transportation Services on Twitter @UKParking, or visit online at www.uky.edu/transportation.