UK Competition Team Advances to the Semifinal Round of Nationals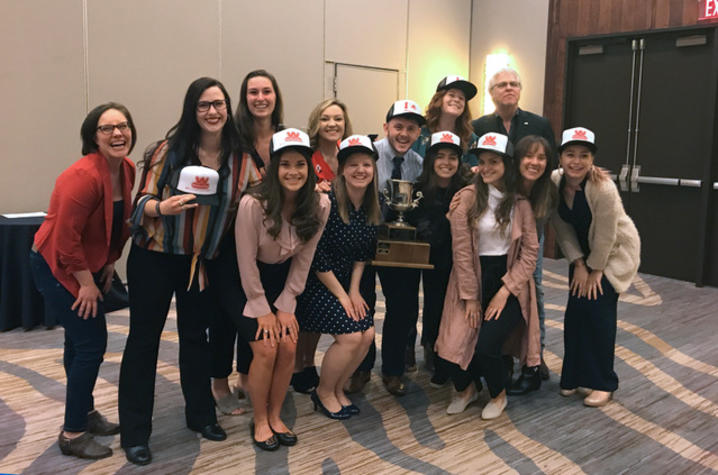 LEXINGTON, Ky. (April 22, 2019) — The University of Kentucky Department of Integrated Strategic Communication (ISC) student competition team in the College of Communication and Information has won the title of 2019 National Student Advertising Competition​ (NSAC) Fifth District champion, which qualifies the team to move on to the semifinal round. The student team also came home with the honor of Best Media Plan, as awarded by the judges.
Each year, around 200 schools participate in the American Advertising Federation's (AAF) NSAC, beginning with competition in one of 15 districts. Each team creates a comprehensive campaign for the sponsor, based on a real-world marketing challenge the sponsor presents in a case study. This year's NSAC sponsor was Wienerschnitzel, the world's largest hot dog chain.
"This year's campaign proved particularly difficult for the NSAC teams because the sponsor challenged the students to create a category campaign to improve consumer perceptions of hot dogs, regardless of brand. Our UK team conducted an immense amount of research about the hot dog product category and that obviously impressed the District 5 judges. Research-based decision making and strategic problem solving are key to our ISC curriculum," said Alyssa Eckman, ISC associate professor and team co-advisor.
This year's student team created a 21-page plans book and a 20-minute presentation to present to a panel of industry judges at the district competition to showcase its campaign.
UK is in AAF District 5, which includes schools in Ohio, West Virginia and Kentucky. The district competition was held in Louisville, Kentucky, on April 6, where the UK team placed first and qualified for the national semifinals.
Each of the 16 to 20 teams invited to semifinals will submit a video of its 20-minute presentation and will then complete a 10-minute question and answer session with the judges on May 8 or 9.
"I am so proud," said Koriana Blevins, member of the competition team. "Moving forward, we will continue to practice and work even harder but continue to believe in ourselves throughout the process. It's a long road ahead, but we are more prepared than ever." 
If the UK team becomes one of the eight national finalists, it will compete at ADMERICA, AAF's national conference June 6–7, in Hollywood, Florida.
"I am very proud of this year's NSAC team. Their long hours paid off," said Adriane Grumbein, an ISC assistant professor and team advisor. "By winning at the district level, they are now in the top 20 teams in the nation. Yes, competition team is a class, but it is more than that. These students are joining an elite group of winning teams — an honor that will follow them for years to come. Industry professionals recognize the hard work, dedication and talent required to be an NSAC alum."
The 2019 UK NSAC team members are:
Mary Ado,
Taylor Agathen,
Leah Behling,
Koriana Blevins,
Rachel Hughes,
Brock Johnson,
Annelise Meador,
Claire Monkman,
Megan Parker,
Morgan Smith, and
Ellie Wnek​.