UK Grad Seeks to Turn the 'New Normal' Into 'Brighter Successes'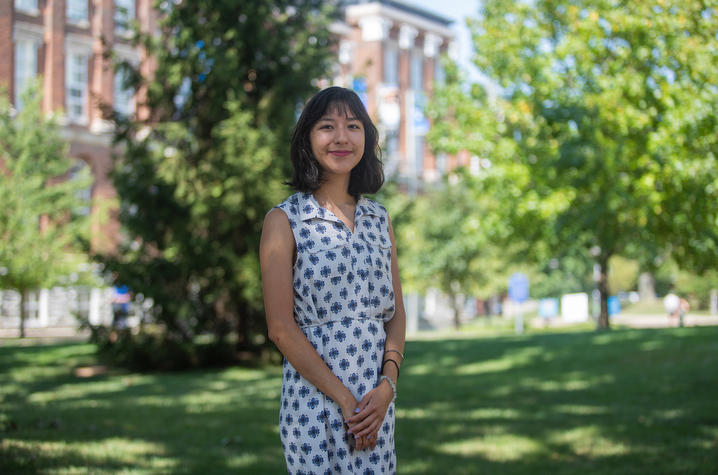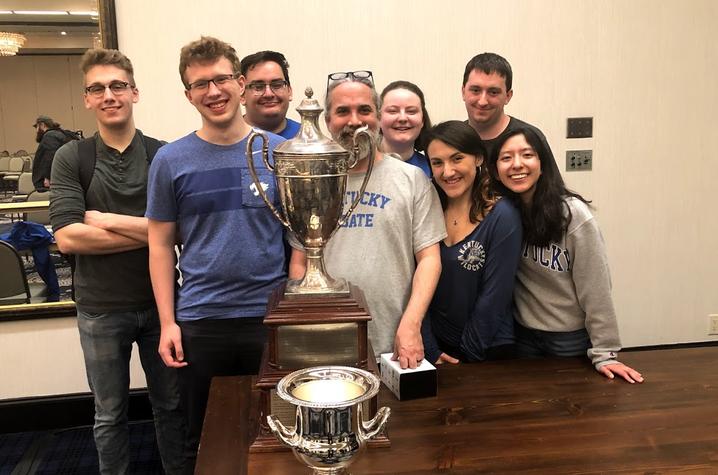 LEXINGTON, Ky. (May 27, 2020) — The COVID-19 pandemic has turned life upside down for almost everyone, and University of Kentucky students had to quickly adapt to finish out a semester that was unlike any other in UK history. Maria Sanchez, who graduated from UK this May, was no stranger to these challenges. Sanchez chose to share her personal story of family, hard work and resiliency, and how she plans to use her skills and experiences to create a better tomorrow.
From Mexico to the U.S.
Sanchez has lived in Chicago for more than half of her life and identifies as a Chicagoan. However, she was originally born in Mexico City and lived in the city's outskirts as a young child. Her father died when she was just 1 year old, leaving her mother as the only person who could care for her.
A few years later another traumatic event occurred — their home was broken into. Sanchez recalls the broken windows and their belongings scattered across the floor. 
"Just as our tables and chairs had been turned upside down, my life at the age of 7 had been ransacked," Sanchez said. "Robbed of the feeling of comfort that home was supposed to provide, my mom and I fled to the United States only a couple of weeks after the incident. Like other immigrant families, we were looking for a new home, one that felt safe."
Sanchez's mother had owned a poultry shop in Mexico, but after moving to the U.S. she worked for less than minimum wage at any job she could get. Sanchez recalls helping her mother out with these jobs throughout most of her childhood and adolescence, including babysitting and cleaning houses.
"Sometimes I was right there with her, helping her in whichever way I could — vacuuming, wiping down chairs and tables, or just telling her about my day just so we could spend time together," Sanchez said. "I learned how to bargain and translate and pay bills at the same time that I learned to write in English at school."
Despite the newly added pressures and expectations to succeed as an immigrant student, Sanchez says there was never a moment where she felt afraid of their new circumstances — a feeling she carries with her to this day.
"My mom has instilled in me the courage to persevere and to do so with confidence, humility and good humor," she said. "I am proud of the work that my mom does, but I also know that her struggle is the struggle of millions of other domestic workers in this country."
Coming to UK
Growing up, Sanchez always knew she wanted to go to college, but as a first-generation college student, the process was challenging.
"The college application process was difficult for me to navigate, and there was a point during my senior year when I didn't think we'd be able to afford it," Sanchez said.
And then, something happened that changed everything.
Sanchez, who was involved in her high school's policy debate team, was recruited by the University of Kentucky's debate team housed in the College of Communication and Information, offering a four-year, full-tuition scholarship. She visited the campus that spring of her senior year, which sealed her decision. She was going to be a Wildcat.
She began her freshman year in the fall of 2016, fully diving into the world of intercollegiate debate, which she describes as a rigorous academic activity unlike any other.
"The Kentucky Debate team is a demanding environment that sets a high bar for debaters both during multi-day competitions and in the months of preparation that occur before a tournament even begins," Sanchez said.
During her time on the team, UK was ranked as the top policy debate team in the nation in 2019 and went on to win the post-season national championship, achieving this honor over both Harvard and Berkeley.
"Debate has allowed me to obtain invaluable experience in critical and persuasive writing, public speaking and rigorous research in a wide variety of important policy issues — all while doing it in a competitive team environment," she said.
For her academic studies, Sanchez ultimately declared three majors in the UK College of Arts and Sciences: political science; environmental and sustainability studies (ENS); and international studies, with an emphasis on Latin America and comparative politics. She also participated in undergraduate research under the guidance of Lauren Cagle in the college's Department of Writing, Rhetoric and Digital Studies. Sanchez was one of the six undergraduates selected to receive an Intercollegiate Summer Research Experience Fellowship by the UK Office of Undergraduate Research, where she conducted research at the University of Delaware's Center for Experimental and Applied Economics.
"I have always been very naturally curious and, as a debater, I have learned to approach problems from multiple perspectives and disciplines," Sanchez said. "Through my time at UK and the time I've spent thinking about my own research interests, I realized that I wanted to explore transnational environmental problems and how global and local dynamics can impact ecological processes. I am a firm believer that climate change will be one of the biggest challenges of our lifetime. Having a multidisciplinary understanding of the way that it will impact every facet of our current society is not only desirable, but necessary."
Outside of debate and her studies, Sanchez was an active member of Sigma Lambda Gamma National Sorority Inc. (a Latina-based multicultural sorority on campus), and served as a student ambassador for her college, which allowed her to share her personal experience as a first-generation college student with prospective high school students. She was named the 2018-19 Student Ambassador of the year by the College of Arts and Sciences.
"It was certainly one of my favorite experiences at UK, because I wanted to be a source of help for students that were struggling through the college process like me, particularly those who are students of color, low-income or who will be the first in their family to go to college," Sanchez said. "Although I came to UK through a more unconventional path, I don't regret my decision and I have taken advantage of my time on campus to help prospective students navigate the college admissions process."
Spring 2020
Like most 2020 seniors, Sanchez was finalizing her studies and preparing for a "normal" graduation earlier this year when the global COVID-19 pandemic changed everything. Like many others, she didn't initially realize the magnitude of it.
"I had already planned to go home to Chicago for Spring Break, but once I was there, I realized that the two-week transition to online classes was not going to be just a temporary adjustment," Sanchez said. "It was a glimpse of what will continue to be a long battle against this pandemic."
Sanchez's mother, who normally cleans houses for a living, suddenly found herself without her usual stream of income, and Sanchez stepped up to help.
"My mom is significantly more at risk because of her age, and because she is an asthmatic," Sanchez said. "As the COVID-19 crisis progressed, I helped my mom apply for mutual aid funds and even filed her 2019 taxes in order to help her get a stimulus check. Thankfully I was able to continue doing my research assistant job remotely, but nonetheless, I spent a lot of time finding resources available that could be of help for our household."
She says while it may be easy for some to think that online classes gave students more free time, the reality for her and many others is that they became primary caretakers — taking on additional jobs as others in their households suddenly found themselves unemployed — while continuing to be full-time students.
Sanchez also notes she did not have internet access at home, until she filled out UK's student support survey and received a hotspot in the mail.
"Some students like me did not have reliable access to the internet, or to a computer," she said. "Some lost close relatives or friends. While we all reached the end of the semester one way or the other, we each faced unique challenges to get there."
She said many of her professors helped make the most out of the situation and gave her and her classmates a much-needed sense of community.
"In my ENS capstone class, our professor Betsy Beymer-Farris restructured the syllabus to make it as accommodating as possible for all of the students in the class," she said. "When our class met via Zoom every week, Dr. Beymer-Farris created a comforting atmosphere that allowed us to check in with each other, talk about how our lives had changed since we had last met and even encouraged us to introduce our pets to our classmates. It felt more like a family or a community. I became even closer with the people in my class and for that I am grateful."
Sanchez also credits her international studies professor, Monica Udvardy, who she describes as "incredibly compassionate and inspiring."
"When some of my classmates and I were worried about not being able to be released from our leases earlier than the stated end dates, she reached out to the dean of students to see if there was any recourse for us through the university," she said.
Udvardy was also helpful as Sanchez completed her thesis, which she says was one of the toughest writing projects she has done during her undergraduate career. Udvardy met with her via Zoom to discuss her drafts outside of their regular class meetings.
"The structure of her class and the fact that she kept us engaged in the class material through lively discussions and debates, all while mentoring us through one of the most challenging courses of our undergraduate careers, was one of the few things that made me feel normal again," Sanchez said. "Overall, I leave UK feeling inspired and grateful to have been Dr. Udvardy's student."
Graduation
Now that the semester is over, Sanchez admits she grieved not having a traditional commencement ceremony.
"As a first-generation college student, the day of Commencement was a day to celebrate an important milestone that I have worked years towards, and for which my family has supported me unconditionally through," Sanchez said. "It was a day I had always dreamed of."
However, as the COVID-19 crisis progressed, Sanchez says she realized that staying home and practicing conscious social distancing was the least she could do to keep others safe. Missing Commencement was a worthy sacrifice.
"If by staying at home I can help prevent someone's mother, father, brother, sister or close family member from potentially getting COVID-19, then I will not think twice about it," Sanchez said. "While I had been looking forward to a graduation celebration, I value the health and well-being of my friends and family much more."
Sanchez also decided the pandemic would not stop her from celebrating the Class of 2020 — safely from home, that is.
"The ENS faculty held a virtual graduation ceremony for all of the graduating seniors, where faculty, alumni and current students had a chance to say words of encouragement for our graduating class — just thinking about it is making me tear up," Sanchez said. "While I know I would have enjoyed celebrating in person, our virtual commencement felt nonetheless special, and perhaps even more intimate than it otherwise would've been, since we weren't as time-pressed and professors were able to share nice sentiments about each student that they otherwise wouldn't have been able to."
Looking Ahead
Sanchez is currently applying for jobs in Chicago and Washington, D.C., hoping to attain real-world experience with a policy advocacy organization. Though the job market is uncertain at the moment, Sanchez says UK has equipped her with the tools necessary to succeed even during these unusual circumstances. While she's taking at least one year off from school, she hopes to eventually pursue a doctorate in political science or geography, or a master's in public policy.
"We'll see what the future holds," she said.
Sanchez says the COVID-19 crisis has motivated her to use her new degrees and experiences to discover what's possible for bettering people's lives, especially for families like her own.
"Domestic workers, like my mom, are already living in precarious conditions and are now facing even more hardships during this pandemic," she said. "What drives me are those small glimpses of what could be — finding adequate housing for homeless people free of charge, creating flexible work arrangements, not just celebrating essential workers but paying them what they deserve and expanding financial assistance for those who are struggling the most.
"I want to be a part of the next generation of change makers that takes those small glimpses of hope and turns our 'new normal' into brighter successes. I hope that we take a moment to think about how we can use these circumstances to fight for an even better 'normal.' I encourage the Class of 2020 to seize this moment."
As the state's flagship, land-grant institution, the University of Kentucky exists to advance the Commonwealth. We do that by preparing the next generation of leaders — placing students at the heart of everything we do — and transforming the lives of Kentuckians through education, research and creative work, service and health care. We pride ourselves on being a catalyst for breakthroughs and a force for healing, a place where ingenuity unfolds. It's all made possible by our people — visionaries, disruptors and pioneers — who make up 200 academic programs, a $501 million research and development enterprise and a world-class medical center, all on one campus.   
In 2022, UK was ranked by Forbes as one of the "Best Employers for New Grads" and named a "Diversity Champion" by INSIGHT into Diversity, a testament to our commitment to advance Kentucky and create a community of belonging for everyone. While our mission looks different in many ways than it did in 1865, the vision of service to our Commonwealth and the world remains the same. We are the University for Kentucky.