UK Places 60 on SEC Fall Sports Academic Honor Roll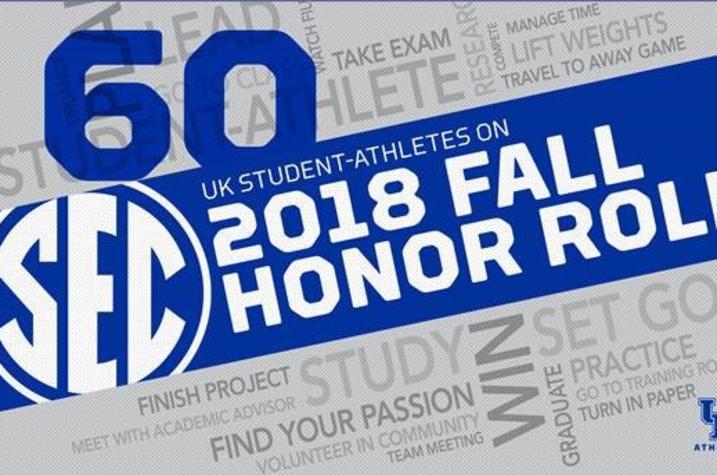 LEXINGTON, Ky. (Feb. 11, 2019) – Sixty University of Kentucky student-athletes were named to the 2018 Fall Sports Southeastern Conference Academic Honor Roll, announced Feb. 7 by SEC Commissioner Greg Sankey.
The 2018 Fall SEC Academic Honor Roll includes the sports of cross country, football, soccer and volleyball. It is based on grades from the 2018 spring, summer and fall terms. UK had four representatives from men's cross country, three from women's cross country, 23 from football, nine from men's soccer, 11 from women's soccer and 10 from volleyball.  Among other qualifications, a student-athlete must have a 3.0 grade-point average for the preceding academic year or a cumulative 3.0 GPA.
In addition to the academic success, Kentucky teams also had success on the fields of competition in the fall, highlighted by conference championships in men's soccer and volleyball, along with a 10-win season and VRBO Citrus Bowl championship by the football team.
2018 FALL SEC HONOR ROLL
Student-athlete – Sport – Major
Cole Dowdy – M Cross Country – Biology
Tanner Dowdy – M Cross Country – Political Science
Kendall Muhammad – M Cross Country – Human Health Sciences
Benjamin Young – M Cross Country – Mathematical Economics
Brooke Nohilly – W Cross Country – Family Sciences
Madisyn Peeples – W Cross Country – Elementary Education
Caitlin Shepard – W Cross Country – Nursing
Abule Abadi-Fitzgerald – Football – Communication
Elijah Barnett – Football – Communication
Brayden Berezowitz – Football – Finance
Bryan Berezowitz – Football – Finance
Blake Best – Football – Finance
David Bouvier – Football – Kinesiology
Miles Butler – Football – Finance
C.J. Conrad – Football – Communication
Jonathan Daido – Football – Political Science
Luke Fortner – Football – Mechanical Engineering
Colin Goodfellow – Football – Nursing
Jordan Griffin – Football – Community and Leadership Development
Grant McKinniss – Football – Psychology
William Nalty – Football – Business Management
Josh Paschal – Football – Family Sciences
Matthew Ruffolo – Football – Finance
Drew Schlegel – Football – Finance
Brett Slusher – Football – Marketing
Donald Smith – Football – Finance
Logan Stenberg – Football – Integrated Strategic Communication
Clevan Thomas – Football – Community and Leadership Development
Mason Wolfe – Football – Sociology
Tristan Yeomans – Football – Finance
Enrique Facusse – M Soccer – Business Management
Jackson Hawthorne – M Soccer – Communication
Luis Hernandez – M Soccer – Computer Science
Tanner Hummel – M Soccer – Community and Leadership Development
Leon Jones – M Soccer – Chemical Engineering
Aime Mabika – M Soccer – English
Keyarash Namjoupanah – M Soccer – Business Management
Bailey Rouse – M Soccer – Civil Engineering
Samuel Stockton – M Soccer – Accounting
Payton Atkins – W Soccer – Human Nutrition
Marissa Bosco – W Soccer – Journalism
Gina Crosetti – W Soccer – Integrated Strategic Communication
Taya Edwards – W Soccer – Nursing
Julia Grosso – W Soccer – Kinesiology
Foster Ignoffo – W Soccer – Elementary Education
Yuuka Kurosaki – W Soccer – Kinesiology
Caroline Newland – W Soccer – Nursing
Tanya Samarzich – W Soccer – Family Sciences
Evangeline Soucie – W Soccer – Kinesiology
Lamaya Williams – W Soccer – Marketing
Caitlyn Cooper – Volleyball – Family Sciences
Gabrielle Curry – Volleyball – Business Management
Leah Edmond – Volleyball – Elementary Education
Merideth Jewell – Volleyball – Integrated Strategic Communication
Madison Lilley – Volleyball – Integrated Strategic Communication
Anna Nyberg – Volleyball – Integrated Strategic Communication
Kendyl Paris – Volleyball – Kinesiology
Kylie Schmaltz – Volleyball – Marketing
Avery Skinner – Volleyball – Communication Sciences and Disorders
McKenzie Watson – Volleyball – Integrated Strategic Communication