Pharmacy Students Place in Top 10 of National Business Plan Competition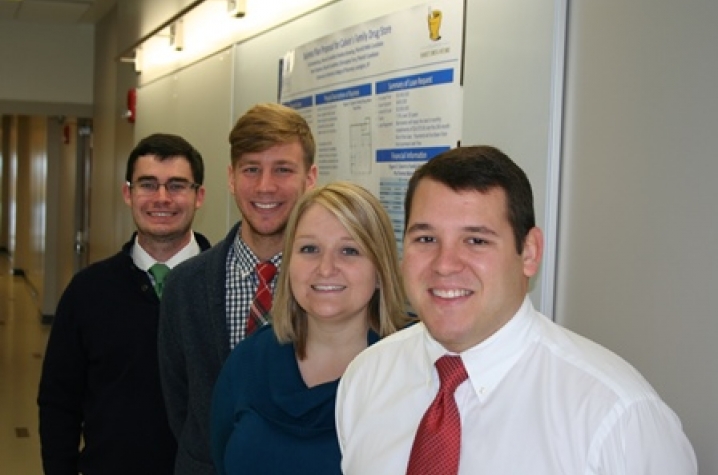 LEXINGTON, Ky. (Nov. 15, 2013) — A University of Kentucky College of Pharmacy student team placed in the top 10 in the 2013 Good Neighbor Pharmacy National Community Pharmacists Association's (NCPA) Pruitt-Schutte Student Business Plan Competition.
The student team consisted of third-year Pharm.D. students Teia Brandenburg, from Irvine; Brad Browning, of Lancaster; Brent Simpkins, of Mayfield; and Chris Terry, of Owensboro. The faculty advisor for the project was Tera McIntosh.
 
The 2013 competition drew entries from 39 schools and colleges of pharmacy. The Business Plan Competition is the first national competition of its kind in the pharmacy profession and is named to honor two great champions of independent community pharmacy, the late Neil Pruitt Sr. and the late H. Joseph Schutte, a 1956 alumnus of the UK College of Pharmacy.
The goal of the competition is to motivate pharmacy students to create a business model for buying an existing independent community pharmacy or developing a new pharmacy. Through this competition, NCPA is better able to prepare tomorrow's pharmacy entrepreneurs for a successful future. The competition is supported by Good Neighbor Pharmacy, Pharmacists Mutual Companies and the NCPA Foundation.