"see blue." #selfie: Jordan Shellhaas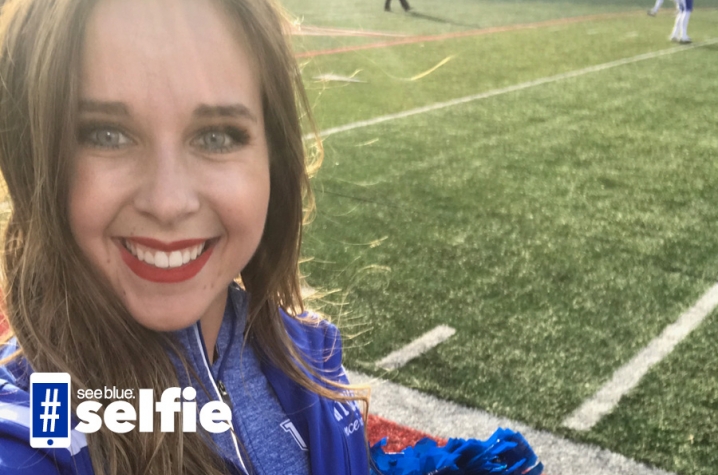 LEXINGTON, Ky. (Nov. 29, 2016) — Want to get to know the people behind some of the biggest student leadership positions on campus? We did, too! That's why we've introduced "see blue." #selfie — a series on UKNow that lets student leaders from across campus tell us a little bit more about themselves and their organizations. Up this week, senior University of Kentucky Dance Team member Jordan Shellhaas.
Meet Jordan Shellhaas, a senior integrated strategic communication major on the UK Dance Team! Shellhaas has been dancing since the age of 3 and decided that UK's dance team was a dream of hers during her junior year of high school. As she prepares for her final semester at UK, she shares what her experience has been like dancing on the sidelines of UK games and as a student, as well as offers advice to incoming freshmen in her "see blue." #selfie.
UKNow: What is your major and what year are you?
Jordan Shellhaas: Senior integrated strategic communication major.
UK: Where are you from?
JS: Louisville, Kentucky.
UK: Being a senior on the dance team, what leadership responsibilities do you have?
JS: The leadership opportunities vary from making up routines for us to perform at games, leading practices and holding everyone accountable.
UK: How many years have you been on the UK Dance Team?
JS: Four.
UK: When did you decide that being on UK's dance team was a goal for you? 
JS: My junior year in high school.
UK: What do you find most rewarding about being on the UK Dance Team?
JS: I like getting to see the progression the girls make in just over a year. It's cool to see.
UK: What else are you involved in? 
JS: I am a sister in Chi Omega sorority as well as an active member in the American Marketing Association and Public Relations Student Society of America.
UK: Do you have plans post-graduation?
JS: Either dancing for a cruise line or working for a public relations firm out of the country.
UK: What is a typical week like for you being on this team?
JS: A life in the week of Jordan on the dance team is making sure to manage my time well due to practices, games and any other events.
UK: Do you dance at football and basketball games?
JS:  Yes.
UK: What has been your favorite thing about being on the team thus far?
JS: I have liked getting to meet and get close with so many amazingly talented girls. They are more than teammates; we are a family.  
UK: Have you had any embarrassing moment during a game or competition? 
JS: The most embarrassing thing I've done was forgetting a part in a dance. But, I feel like that's something only I noticed so it wasn't that bad.
UK: How do you prepare for competitions and how many do you have a year?
JS: We have one competition a year over winter break. We stay in Lexington and practice every day. We get a four-day break for Christmas, then it's back to Lexington where we practice every day until our competition in January.
UK: Did you dance growing up?
JS: Yes, since I was 3 years old. I didn't dance competitively until middle school.
UK: When you wake up in the morning, what's the first thing you do?
JS: Brush my teeth.
UK: How long does it take you to get ready for a game or competition?
JS: About an hour.
UK: Who's your favorite artist? 
JS: I don't have one. I just love music in general.
UK: Who's your role model? 
JS: My parents because they not only taught me the importance of pushing myself to be the best version of myself, but they also embody that same characteristic.
UK: What is your biggest fear?
JS: Never getting married.
UK: What's your spirit animal?
JS: The Grinch, Tigger and Amanda Bynes in "She's the Man."
UK: What is your favorite color? 
JS: Blue.
UK: What is your most used social media channel?
JS: Instagram. Follow me @jordan_shelfort.
UK: Have you ever had a secret admirer?
JS: No, I wish I was cool enough to have one.
UK: If you could have a super power what would it be?
JS: Oh man. That is tough! Transporting. I like that. I want to be able to transport anywhere in a second.
UK: What's your favorite restaurant in Lexington?
JS: Local Taco or Planet Thai.
UK: How do you think the skills you have learned from the UK Dance Team will help lead you through life?
JS: It has taught me a great deal of time management and understanding that everyone doesn't always agree. So now, it's easier for me to accept other ideas and opinions because there will never be a time where everyone thinks the same way.
UK: If you could go back to freshman year, what advice would you give yourself?
JS: Take every moment in because before you know it, it will be time to graduate.
"see blue." #selfies will appear every other Tuesday on UKNow. Know a student leader we should feature? Contact Rebecca Stratton at rebecca.stratton@uky.edu to nominate someone.
UK is the University for Kentucky. At UK, we are educating more students, treating more patients with complex illnesses and conducting more research and service than at any time in our 150-year history. To read more about the UK story and how you can support continued investment in your university and the Commonwealth, go to: uky.edu/uk4ky. #uk4ky #seeblue