Students Partner With Kentucky Refugee Ministries to Give Family New Home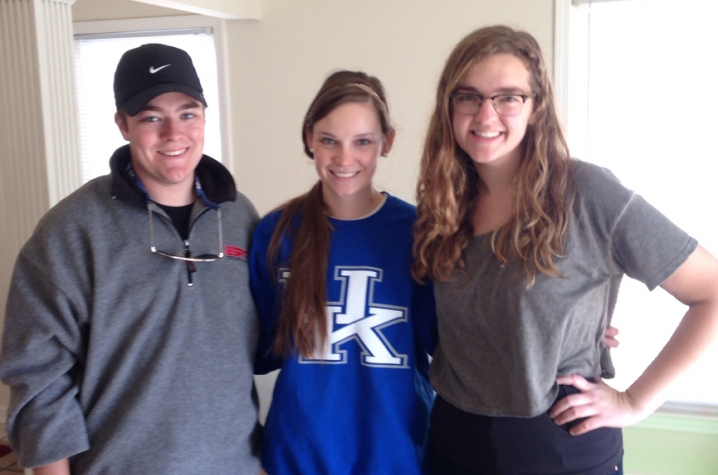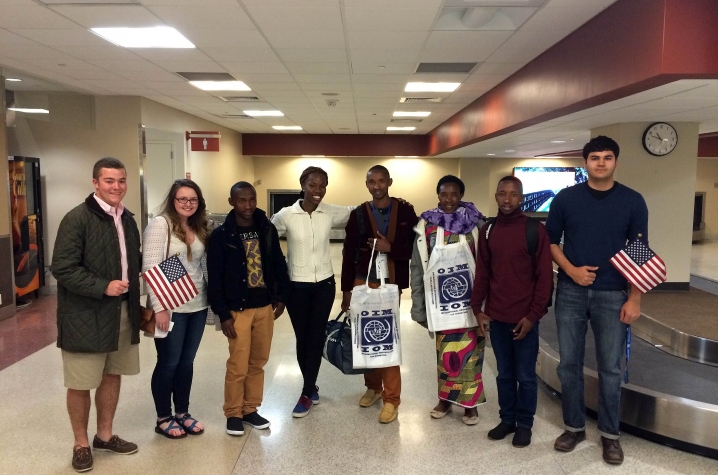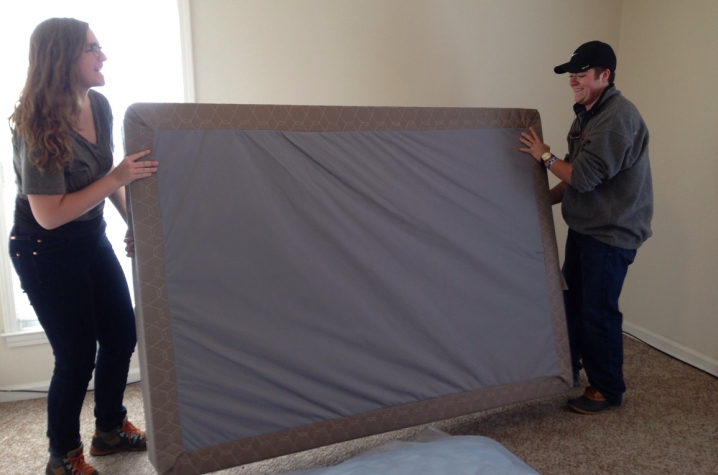 LEXINGTON, Ky. (May 6, 2015) — Students enrolled in a College of Communication and Information course worked with the Kentucky Refugee Ministries (KRM) to provide a fully furnished apartment for a refugee family from the Congo as part of their class project this semester.
Students who worked on the project are junior geography major Lindsey Funke, freshman economics major Clay Thornton, freshman chemistry major Elizabeth Woodall, freshman nursing major Kaitlin Kilcourse and freshman biology and psychology major Hamza Ashfaq. They are in Allyson Beutke DeVito's section of CIS 112, an accelerated composition and communication course that incorporates a service-learning component.
"All of our CIS 112 students complete at least 10 hours of community service around the Lexington community," DeVito said.
Students collected donations of money, furniture and other items for the home through a Facebook group.  They used the donations to furnish the home and make it comfortable for the new family.  The students even helped the family settle into their new apartment on the night they arrived in Lexington.
"The joy on the sons' faces as they saw that they each had their own beds was contagious and so humbling," Kilcourse said.
After the family, KRM staff and the students arrived at the new home, there was a knock on the front door.  A fellow refugee family from the Congo brought dinner for the family.
"I was blown away by the generosity of those who have so little," Kilcourse said.  "It was midnight by the time we arrived, and the woman who prepared the traditional meal had just given birth to a baby boy four days earlier, but she was so willing and happy to sacrifice her time to prepare this meal to welcome our family to the United States."
Students learned more about refugees and their lives.  Kilcourse noted that The United Nations High Commissioner for Refugees describes a refugee as a person who has left his or her home country because of a well-founded fear of being persecuted for reasons of race, religion, nationality or membership of a particular social group or political opinion.
"However, I think the definition should include a description of refugees as people of great strength and courage who have overcome obstacles I would only face in my nightmares," she said.  "The refugee community is one filled with stories of hope, hard work and perseverance."
The refugee family inspired the students who helped them.
"They leave everything behind, which takes tremendous courage, strength, and resilience most of us could only dream about," Thornton said.  "It is humbling and inspiring, to say the least."
For Thornton, the idea of an American 'melting pot' became personified when he met the family. 
"As Americans, we always take pride in our heritage as a 'melting pot' representative of many peoples; yet, I cannot express how much more pride I experience in that sentiment after helping the refugee family resettle in Lexington," Thorton said.
The project brought students, families and the UK community together for a common goal.
"Friends near and far contributed goods and donations to support the family," Funke said.  "I was able to take a weekend and go home to collect apartment items with my grandmother, bringing my own family closer together through the project."
The project brought people together, taught students a new perspective and helped a deserving family settle into a new home.
"The thoughtfulness and solidarity that the refugee community exudes should be an example for the rest of society on how to treat one another," Kilcourse said.
Kentucky Refugee Ministries Inc. assists refugees who have been legally admitted to the United States as victims of warfare or other forms of persecution because of their religious or political beliefs. KRM, a nonprofit organization, is dedicated to providing resettlement services to refugees through faith- and agency-based co-sponsorship in order to promote self-sufficiency and successful integration into the community.  KRM is committed to offering access to community resources and opportunities and to promoting awareness of diversity for the benefit of the whole community.
For more information on Kentucky Refugee Ministries or to learn how to volunteer, visit kyrm.org.
MEDIA CONTACT: Blair Hoover and Rebecca Stratton; 859-323-2395; blair.hoover@uky.edu, rebecca.stratton@uky.edu