Twilight Party and Blood Drive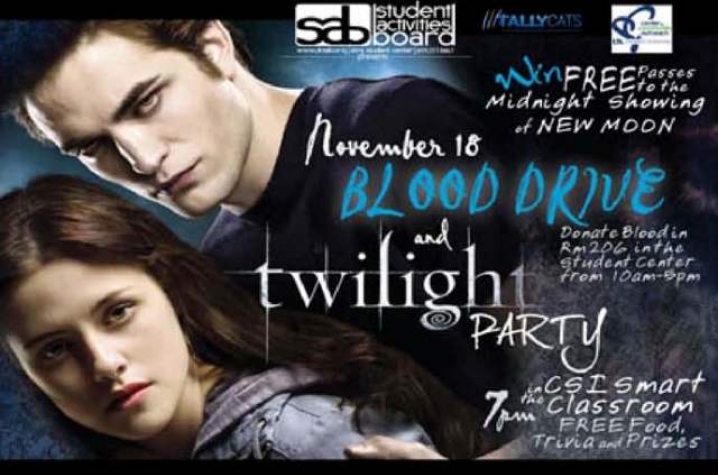 LEXINGTON, Ky. (Nov. 18, 2009) – What's more fun than riding in a car with a Cullen? Kicking off the Twilight excitement with UK's Student Activities Board (SAB) and Center for Community Outreach (CCO), of course! SAB and the CCO are teaming up to bring extra fun to this year's annual "Big Blue Crush" blood drive with a vampire-themed day of events on Nov. 18.
CCO's Project Health committee organized the daytime event, the blood drive, while SAB's Pop Culture committee planned that evening's Twilight Party, to celebrate the popularity of the Twilight book series and movies. This fun-filled themed night will be packed with tons to do and eat, as well as a great film!
Students, faculty, staff and fans can start the day by giving blood as part of Big Blue Crush. Big Blue Crush blood drive is an annual competition between UK and the University of Tennessee sponsored by the Kentucky Blood Center. The drive was established to help boost blood supplies in both states at a time of year when businesses and organizations are reluctant or unable to hold blood drives.
The blood drive is from 9 a.m. until 5 p.m. on Wednesday, Nov. 18, in room 206 in the Student Center.
The Twilight Party will be celebrating the release of the second movie in the Twilight Saga, "New Moon." The Student Center's Center for Student Involvement (CSI) smart classroom will be transformed into a haven for Twilight fans. There will be themed games, food, trivia and giveaways, such as free midnight passes in time to see "New Moon!" The sequel to the extremely popular movie, "Twilight," is set to release on Nov. 20.
"I am a huge Twilight fan and love the opportunity to meet other fans and talk about the books and movies," said UK Junior Laura Burks.
The Twilight Party begins at 7 p.m. in room 106 Student Center and is a TallyCats event.
For more information on this event or on the Student Activities Board, visit its Web site at www.uksab.org.