UK ISC Students Collaborate With Lexington Philharmonic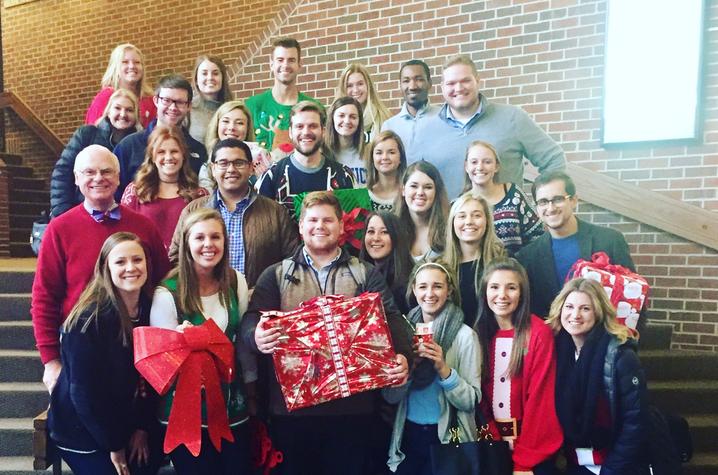 LEXINGTON, Ky. (Dec. 14, 2016) — A semester-long collaboration between University of Kentucky integrated strategic communication majors in the College of Communication and Information and the Lexington Philharmonic Orchestra (LexPhil) culminated in a successful Candy Cane Concert enjoyed by local families on Nov. 27, at the Singletary Center for the Arts.  
Marc Whitt's ISC 471 event management class dedicated its entire semester's worth of work to promotion and execution of the Lexington Philharmonic Orchestra's Candy Cane Concert through a variety of integrated strategic communication campaigns. As director of philanthropy communications for the UK Office of Philanthropy, Whitt was especially invested in assigning this project to his students due to LexPhil's status as a nonprofit organization.
"I'm a big believer in service-learning projects for upperclassmen," he said.
The class assignment was a "win-win" for both parties involved; students gained hands-on experience with public relations efforts and the Lexington Philharmonic benefited from an increase in concert engagement from families due to the students' creative event strategies. 
"I think it was very rewarding to see the happiness from the families," said Lexington Philharmonic's Marketing Manager Vince Dominguez, when asked about the major successes of the event. "The patrons were really grateful and excited to see a lot of positivity and good feelings surrounding this event and I hope the memories taken away from the Candy Cane Concert were really enhanced by this whole collaboration."
One of the main focuses of the students in producing this event was generating creative ways to engage attendees in an enhanced experience that would create memories outside of just listening to the music. Students designed interactive pre-concert activities for attendees to participate in before the concert itself began.
"Working for a nonprofit organization taught us a lot about budgeting and how to make the most of what we have," explained ISC senior Meredith Trent, who co-chaired the project's Design Team and organized the craft/photo room at the event. "Getting creative and designing simple crafts that kids could put their touch on with markers, stickers and so on, made for great pre-concert activities. Overall, it was a great experience that our class and our instructor, Marc Whitt, had a lot of fun planning. We learned and worked together as we truly took part in the public relations field for a day."
Another student in the class, senior ISC major Conner Mackowiak, also had the opportunity to play an instrumental role for this project as a co-chair for the group's Communication and Promotion Team.
"Without a doubt, the most rewarding aspect of the experience was seeing the whole event come together. While there were some hiccups along the way, all groups were able to come together and cohesively work as a team, which resulted in a wonderful performance, and many happy families," he said.
The ISC 471 event management course is designed each year so that students have the opportunity to engage in a semester-long project with a local business, but this year's collaboration with LexPhil stands out as an especially positive campaign that resulted not only in a successful event, but also in a close relationship between UK and a local nonprofit that is likely to continue for event management efforts in the years to come.
Allison Kaiser, executive director of the Lexington Philharmonic, summed up the students' involvement by saying, "Thank you and your amazing students for an excellent job on developing and executing public relations strategies and special fun activities for the children and families who attended the Lexington Philharmonic's Candy Cane Concert! The future of communications is in great shape with these fine students!"
UK is the University for Kentucky. At UK, we are educating more students, treating more patients with complex illnesses and conducting more research and service than at any time in our 150-year history. To read more about the UK story and how you can support continued investment in your university and the Commonwealth, go to: uky.edu/uk4ky. #uk4ky #seeblue