UK Student to Swim in Deaflympics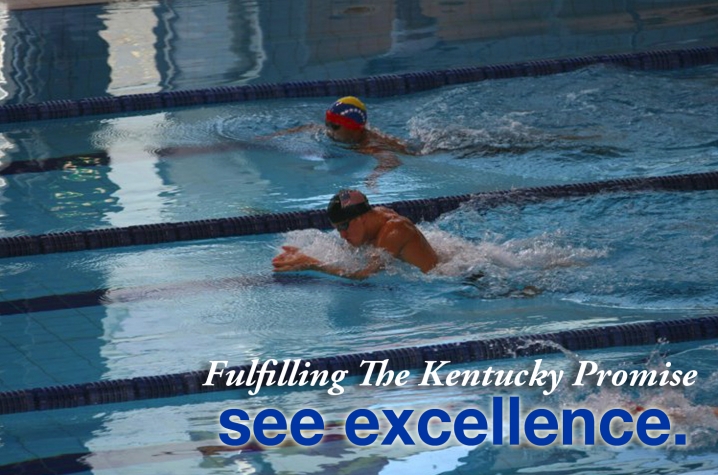 LEXINGTON, Ky. (June 21, 2013) — Kenneth Freeman appreciates the breadth of specialties available within his major of mechanical engineering at the University of Kentucky.
While the aerospace industry has piqued his interest, Freeman is also drawn to the idea of eventually pursuing graduate studies in biomedical engineering in order to design and innovate cochlear implants. Why cochlear implants? Perhaps because Freeman's own implant allows him to hear — something which otherwise would be impossible.
Kenneth Freeman is deaf.
"Profoundly deaf in both ears," Freeman says. "When I was 2 or 3, my parents noticed I was not responding to them. When my younger brother, Edward, came along, he had the same symptoms. The doctors diagnosed a shared genetic condition that resulted in deafness."
After wearing hearing aids for several years, at age 6, Freeman received the cochlear implant that enables him to hear almost as well as anyone with normal hearing. Because he has an implant in only one ear, he cannot localize sound easily and hearing in noisy environments is a challenge.
His speech hasn't been adversely affected, and he just finished his first year as a mechanical engineering major with a 3.7 GPA. In fact, handling the rigor of an engineering education might not even be Freeman's biggest challenge — that could be swimming.
"I began swimming competitively at age 10," he said. "Since then, I have been able to travel to several different places within the U.S. and abroad."
In 2011, Freeman earned a spot on the U.S. Deaf Swim Team and competed in the World Deaf Swimming Championships, which were held in Coimbra, Portugal. This summer, he and his brother, Edward, will head to Sofia, Bulgaria, to participate in the 22nd Summer Deaflympics.
Most comfortable as a sprinter, Freeman's best events are the 50 and 100 meter breaststroke and the 50 and 100 meter freestyle.
"I am looking forward to meeting people and taking in the Bulgarian culture. I think it will be a great experience," he says.
To prepare for the Deaflympics, Freeman has trained two to three hours a day for the past year—while taking a full load of classes.
"Balancing swimming and school work hasn't been easy," he says, smiling. "But I hope to medal in the breaststroke events. Whether I do is up to me and my training."
Given Freeman's penchant for displaying determined effort, a medal — and a successful career within the disciplines of mechanical engineering — are well within his reach. 
Freeman's mother, Trish Freeman, is a faculty member in the UK College of Pharmacy. She received a Sullivan Medallion in 2009 for her work in lobbying for a state mandate for health insurance coverage for hearing aids for all Kentucky children.