Wildcat Cook-off Final "Fall Harvest"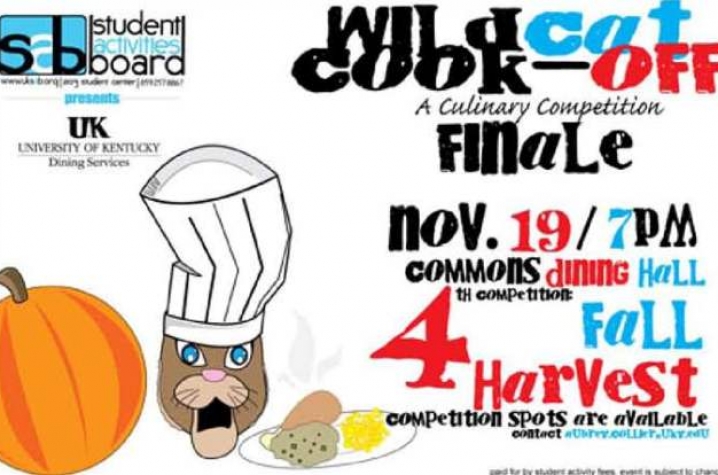 LEXINGTON, Ky. (Nov. 19, 2009) – The fourth and final Wildcat Cook-off competition, sponsored by the Student Activities Board (SAB) and UK Dining Services, is at 7 p.m. Thursday, Nov. 19, at Commons Dining Hall.
Contestants are getting their skillets hot and pulling out their culinary "A" game to tantalize the judge's pallet, but of course, there is a little twist. Instead of one secret ingredient, contestants competing in this avant-garde style cook-off are given a list of ingredients that they will cook with, giving them more flavors to consider and a better chance at walking away with the first-place prize of $200 in cookware.
"This event always brings a huge crowd to the Commons and it'll probably be our largest one yet," said Aubrey Collier, director of SAB's cultural arts committee.
The whole competition will take about an hour, with 10 minutes of prep-time, 30 minutes to cook and plate the food and 20 minutes to judge and declare the winner. Chefs from the UK Dining Services will sample the cuisine the competitors create and they will determine the winner.
The Wildcat Cook-off "Fall Harvest" is the last of four themed cook-off competitions held throughout this semester. Admission is the price of a dinner at Commons or use of the UK Dining Meal Plan. Cooking materials are provided for all contestants.
For more information on this event or the Student Activities Board, please visit the Web site at www.uksab.org.