A&S Hosts Symposium on War and Gender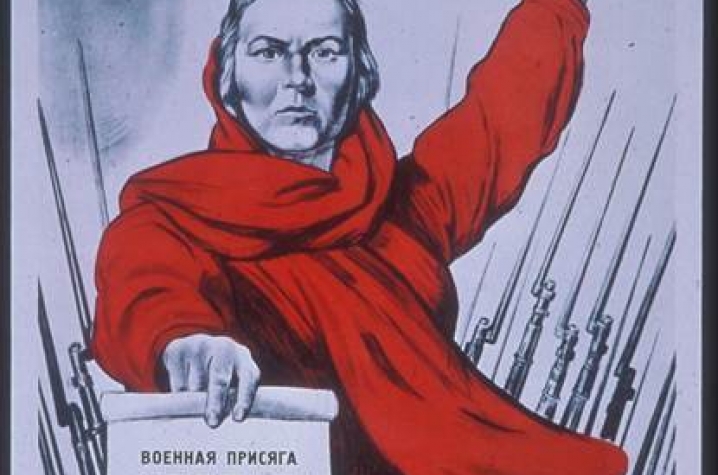 LEXINGTON, Ky. (Sept. 7, 2011) – The College of Arts & Sciences at the University of Kentucky will host two of the country's leading scholars on war and gender this week with a two-day seminar on campus. The Symposium on War and Gender will begin Thursday evening, Sept. 8 and continue Friday, Sept. 9 in 230 Student Center.
"Both guest professors are top in the field, and many of our UK professors are sharing their work as well," said history professor Francie Chassen-López. "This is a great opportunity for our faculty, staff, students and the community."
The symposium is sponsored by the interdisciplinary Working Group on War and Gender, which is made up of scholars from across the university, including Anthropology, English, Family Sciences, Gender and Women's Studies, Hispanic Studies and History.
"Such interdisciplinary collaborations provide inspiration for advancing research and building a strong scholarly community at the University of Kentucky," said history professor and department chair Karen Petrone.
The two days will cover aspects of gender and war, beginning in the 19th century and ending with the 21st.
University of North Carolina James G. Kenan Distinguished Professor of history Karen Hagemann will deliver the first Keynote Lecture, titled "War and Gender in the Age of the World Wars: Reflections on the History and Memory of German Women's War Service in the Third Reich" from 7-8:30 p.m. on Sept. 8.
Hagemann's research includes studies in the fields of social and population policy, labor history, family history and the history of everyday lives, as well as the history of the women's movement.
Her more recent studies focus on the history of military, war and the nation, the history of masculinity and citizenship and on a comparative gender history of post-1945 welfare and education systems.
"During the first World War, most world powers, including the U.S., were forced to begin mobilizing women for auxilary services," Hagemann explained. "This changed dramatically with Hitler's mandate of national conscription, which was against the Versailles Treaty. This is not very well-known, but by the second World War, of the 18 million mobilized German soldiers, five hundred thousand were women. They weren't on the front lines, but by the end of the war, they were visible in a lot of functions."
Pearl James and Colleen Glenn, both from UK's Department of English, will join Chassen-López in a panel on "War and Gender in the Nineteenth and Early Twentieth Century" from 9-10:30 a.m. on Friday, Sept. 9. Chassen-López will speak from a Mexican perspective, while James and Glenn will look at the U.S.
UK anthropology Professor Diane King, UK history Professor Lien-Hang Nguyen and Petrone will take part in a second panel from 11 a.m.-12:30 p.m. on Friday, presenting their research and discussing "War and Gender in the Late Twentieth and Early Twenty-First Century" from the regional views of Iraq, Vietnam and Russia/Soviet Union, respectively.
University of Notre Dame anthropology professor Carolyn Nordstrom will present the final Keynote Lecture, titled "Tomorrow's War and Gender Violence in the 21st Century," from 2-3:30 p.m. Friday, Sept. 9.
Nordstrom is an anthropologist at home in lecture hall and war zone alike, according to her university Web page, studying wars, the illegal drug trade, gender relationships and war profiteering. Her research has made her an eyewitness and scholar of worldwide urban and rural battlefields as well as of the shadowy worlds of diamond, drug, and arms and smuggling.
"I have studied the ways in which people gain the necessities to wage war and create peace, and how people pay for these services," she once said. "Drugs, precious gems, human labor and sex are routinely used in international black markets to purchase everything from guns and computer-based weapons systems to antibiotics and food. The integrity of my ethnographic research and the safety of those among whom I work have rested on having to delete basic data, which erases the extra-legal from public discourse. I want to develop a form of creative nonfiction that explores the lives of real people working in this complex, extra-legal network without revealing their locations."
The two-day conference, coordinated by the Working Group on War and Gender at UK and sponsored by the departments of Anthropology, English, Gender and Women's Studies, Hispanic Studies, History and the College of Arts and Sciences Enrichment Fund, promises to be a lively and wholly international discussion of men, women and warfare.
For more information, please contact Petrone at petrone@email.uky.edu.
MEDIA CONTACT:  Erin Holaday Ziegler, (859) 257-5365, erin.holaday@uky.edu