VIP Center recognizes Sexual Assault Awareness Month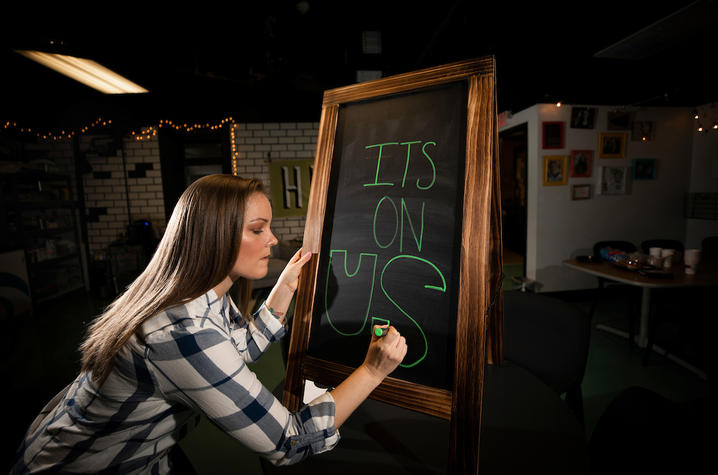 LEXINGTON, Ky. (April 13, 2023) — April is Sexual Assault Awareness Month (SAAM). During this month, people across the United States raise awareness about sexual violence, how to prevent it and how to support those who are affected by it.
The University of Kentucky Violence, Intervention and Prevention (VIP) Center, housed in the Office for Student Success, leads the charge in this area. 
The VIP Center supports and advocates for individuals impacted by interpersonal violence while engaging the university and surrounding community in interpersonal violence education and prevention. 
"Sexual Assault Awareness Month allows survivors and those who love them to come together and stand in solidarity. We're ready to acknowledge that sexual assault is a problem, and we want survivors to know they aren't alone," said Lenzi Dodgen, VIP Center survivor advocate. "I think sexual assault is often a topic that people shy away from because it's not pleasant, and it brings forward a myriad of feelings for people that aren't comfortable. But how are we supposed to address the problem or issue if we can't even say the words 'sexual assault' much less have a full and robust conversation about it? Sexual Assault Awareness and Prevention Month aims to do just that. It can make us uncomfortable, but in the discomfort is where we make forward progress."
The theme of this year's SAAM is "Drawing Connections: Prevention Demands Equity." This April's campaign calls on all individuals, communities, organizations and institutions to change ourselves and the systems surrounding us to build racial equity and respect.
During the month of April, the VIP Center is hosting a number of events to recognize SAAM. 
Clothesline Project 2023 | Monday, April 17 through Thursday, April 20
The Clothesline Project is a visual display of the pervasiveness of interpersonal violence and a tribute to survivors. People who would like to make a shirt to be included in the display can stop by the VIP Center starting April 3 and pick up a shirt and art supplies. Finished shirts can be returned to the VIP Center by April 17. The VIP Center will also provide note cards for everyone to write a supportive message of hope to survivors that will be on display with the shirts.
Survivor Resource Fair | Monday, April 17 
Empower Women Leadership Program and the VIP Center are collaborating to host a resource fair for the campus community with on-campus and off-campus resources for survivors and everyone who wants to learn how to better support survivors. Please join us in Gatton Student Center Ballroom C from 11 a.m.-2 p.m. to learn more about resources in our community.   

Wake Up Lex 2023 | Friday, April 21
Wake Up Lex is a collaboration and partnership across the Lexington community to raise awareness of interpersonal violence. The VIP Center will be in the Gatton Student Center Starbucks atrium with free coffee and pastries on 9-11 a.m. Friday, April 21. Stop by, grab a free coffee and pastry, take the pledge to play your part in ending interpersonal violence and snap a photo for social media using the hashtag #WakeUpLex and tag VIP Center.

International Denim Day | Wednesday, April 26
Show your solidarity and stand with survivors by wearing denim and posting a photo of yourself on social media with the hash tag #denimday and tag VIP Center. Stop by the VIP Center anytime in April to pick up a Denim Day button.
"The VIP Center will continue to host events and collaborate with offices on and off campus to mark Domestic Violence Awareness Month which happens every October and Stalking Awareness Month every January," said Dodgen. "The VIP Center also offers education and outreach. We have education related to consent with a program titled #ConsentCulture, and we offer other education opportunities that focus on information and resources when supporting survivors. Feel welcome to follow us on Instagram to get updates on any future events @vipcenter."
The VIP Center is happy to answer any questions you may have. You can contact the center at 859-257-3574, email at vipcenter@uky.edu, or feel free to just drop by the office located in the Gatton Student Center. Keep an eye on our Facebook, Twitter and Instagram pages for announcements of VIP or Green Team programs, events, trainings and more.
At the University of Kentucky, students are at the center of all that we do. From the moment you become a Wildcat through graduation and beyond, the Office for Student Success is committed to supporting you. Comprised of five areas and 25 units, together, they have one vision — to help students live a life of meaning. Student Success works through an equitable, holistic and inclusive lens to design and deliver unparalleled services and support a diverse community of learners in achieving their wildest ambitions. In the Office for Student Success this is what we do — this is who we are. You can explore resources available to you here. If you have additional questions, you can reach a Student Success team member by calling the helpline 859-218-YouK (9685).