Dr. Robert Straus "Roasted" at Charity Event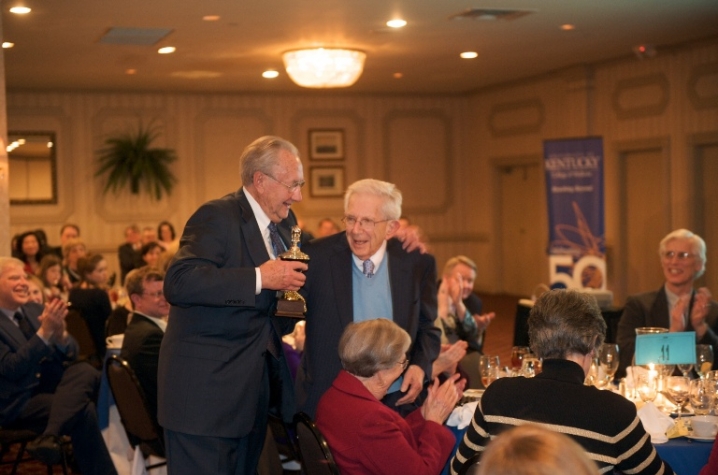 LEXINGTON, Ky. (March 2, 2011) − University of Kentucky medical students, faculty, staff and friends of Robert Straus, Ph.D., gathered together for this year's charity roast, hosted by the University of Kentucky College of Medicine Class of 2012, in February at the Crowne Plaza Hotel's Campbell House. Straus, one of the UK College of Medicine's founding fathers, was this year's honoree.
"Dr. Straus has significantly contributed to our college community and the field of behavioral science, as a whole, over the past 50 years," said Dr. Emery A. Wilson, interim dean and vice president for clinical academic affairs. "While many humorous anecdotes were shared with the audience, it was the recognition of his many accomplishments that served as the true highlight of the evening. As proud as Dr. Straus is of this place, there are countless individuals who are far more proud of having known, learned from and worked for Dr. Straus."
This is the eleventh roast by medical students, with monies designated to benefit The Hope Center, Dr. Straus' charity of choice, and the College's Medical Alumni Scholarship Fund.
"I considered the Charity Roast as an opportunity for good fun in support of good causes," Straus said. "I enjoyed being the roastee." 
Straus' association with the College began in 1956 when he came to Lexington with Dr. William R. Willard as a member of a four person planning staff. They admitted the first classes in the Colleges of Medicine and Nursing. Later, Straus served as the chair for the UK Department of Behavioral Science for 30 years.
"Although long retired now, I still enjoy being professionally active," Straus said. "I am in awe of, and a cheerleader for, the planning for the UK HealthCare of the future."  
The late Dr. Ben Roach, former Markey Cancer Foundation Board chairman, was the College's first roastee by the Class of 2003 to benefit the Markey Cancer Center, the Salvation Army Clinic, and the class community service fund. 
In the last five years alone, the College has raised more than $30,000 for many UK and community organizations, including: Markey Cancer Center, Salvation Army Clinic, Adolescent Medicine program "Stop Youth Suicide", MacKenna Foundation, Med Alumni Scholarship Fund, Jared's Joy Cart, Children's Camps/Programs for medically at risk children, the Noonan Syndrome Foundation, and the Children's Garden at the UK Arboretum.
Previous roastees include: Dr. Ben Roach (2000); Dr. Emery Wilson (2001); Nelda Barton Collins (2002); UK President Lee T. Todd, Jr., Ph.D. (2003); Dr. Jackie Noonan (2004); Dr. Ward O. Griffin (2005); Dr. Art Lieber (2007); Sue and Abe Fosson (2008); Dr. Chipper Griffith (2009); Dr. Kay Clawson and Robert Straus, Ph.D. (2011).
To read more about Straus' achievements, click here: http://uknow.uky.edu/content/founding-father-played-key-role-medical-education.