Kentucky Cancer Registry Awarded Multimillion-dollar Contract from NCI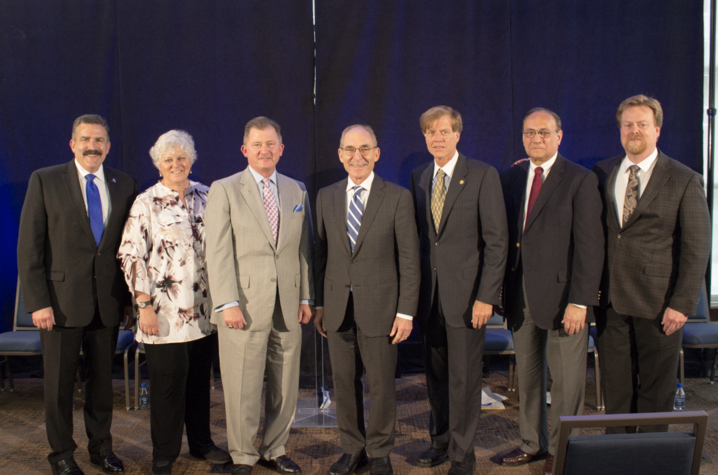 LEXINGTON, Ky. (June 22, 2018) – The Kentucky Cancer Registry (KCR) has received a $2.6 million contract from the National Cancer Institute (NCI) to continue its participation in the NCI's Surveillance Epidemiology and End Results (SEER) program. If the NCI exercises all contract options, the contract could be worth up to $31 million over 10 years. Housed within the University of Kentucky's Markey Cancer Control Program, KCR serves the entire state, including investigators at other state institutions and across the country.
"Data is the key to unlocking new knowledge and creating new understanding about myriad complex questions of our day. For too long, Kentucky families have known the scourge of cancer, and our ability to reverse the darkest trends in high incidence rates is incumbent on clear and accurate data collection and analysis," said UK President Eli Capilouto. "Renewed support from the National Cancer Institute for the Kentucky Cancer Registry is an important part of that effort. Though UK is home to the Registry, it is a tool for all researchers, clinicians, and policymakers united in a shared fight to bring hope to those we serve. The Registry and the collaborative work resulting from this important resource exemplify of our role as the University for Kentucky."
The NCI's SEER program is an authoritative source of information on cancer incidence and survival in the United States. SEER currently collects and publishes cancer incidence and survival data from population-based cancer registries covering approximately 34 percent of the U.S. population. These data are used by thousands of researchers, clinicians, public health officials, legislators, policymakers, community groups, and the public.
Though each state has a cancer registry, not all participate in the SEER program. KCR has been a part of the NCI's SEER program since 2000 and is now one of only 16 SEER registries in the country. 
The new award was the result of a highly competitive application process led by Eric B. Durbin, DrPH, who has served as director of KCR since 2017. A faculty member in the UK Institute of Biomedical informatics, Durbin joined the Registry in 1989 and previously served as KCR's Director of Cancer Informatics.
"The nature of cancer surveillance is evolving rapidly towards an informatics-driven enterprise that assimilates data from a complex array of electronic sources," Durbin said. "We are witnessing a staggering growth in the depth and complexity of cancer information, such as next generation sequencing that details the molecular changes unique to each patient's tumor. This opportunity secures KCR's future to lead the nation with innovative approaches that are delivering the best possible data and technologies to the research community and to support evidence-based cancer prevention and control initiatives."
Thomas C. Tucker, Ph.D., associate director for Cancer Prevention and Control at Markey, previously served as director for the Registry for nearly 30 years.
"The SEER cancer registries are considered to be among the most complete, accurate and timely population-based cancer surveillance programs in the world, and this award is a tangible recognition of the outstanding work being done by the dedicated staff at KCR," Tucker said. "The Registry serves as the eyes of our cancer control efforts. In other words, without the registry, it would not be possible to determine where our limited cancer prevention and control resources should be directed and it would not be possible to measure the impact of our cancer control intervention programs."
Each year, the registry catalogs uniform data on nearly 30,000 new cases of cancer occurring in Kentucky citizens, and this data is invaluable. For example, thanks in large part to information provided by the registry, the Kentucky Cancer Consortium launched a major public health campaign 17 years ago to encourage colorectal cancer screening in Kentuckians.
As a result, Kentucky rose from 49th to 17th in the country for age-eligible citizens receiving colorectal screenings.  Along with the increase in colorectal cancer screening has been a 25 percent decrease in incidence and a 30 percent decrease in mortality.
"To put this in perspective, this means that more than 390 Kentuckians no longer develop colorectal cancer each year and approximately 220 fewer Kentuckians die from the disease each year," Tucker said. "This is a major public health success and the Registry was the key to both recognizing the problem and measuring the impact of our interventions."
For years, KCR has been considered a leader in cancer registries in the country. In 2012, a team at the registry created the nation's first working model for electronic health record (EHR) reporting of cancer cases, laying the groundwork for electronic reporting not only in Kentucky, but across the U.S.
Using a sophisticated informatics method called Natural Language Processing, KCR receives pathology reports in real time from all of the pathology labs that see histologic material from Kentucky cancer patients. These real-time pathology reports become especially important for patients who have no time to waste in pursuing their best option for treatment.
For example, using KCR data along with other UK resources, a KCR team developed an innovative electronic informatics system to automatically identify lung cancer patients treated at UK who are eligible for clinical trials.
Though KCR data are used across the country, having access to the resources and technology of the Registry is especially important for researchers and clinicians here in Kentucky, notes Dr. Mark Evers, director of the UK Markey Cancer Center.
"Kentucky is home to the highest incidence and mortality rates in the country, and the burden of lung cancer is especially great," Evers said. "The Kentucky Cancer Registry provides us with priceless data that allows our investigators to work with our colleagues across the state to develop and implement strategies to improve cancer care for Kentucky and beyond. The Registry has already helped us make great progress in our mission to conquer cancer in the Commonwealth, and will continue to help us make even bigger strides toward this goal in the future."
The SEER award totals $31 million plus KCR's cost share contribution of $6 million over the 10-year period. This project has been funded in whole or in part with Federal funds from the National Cancer Institute, National Institutes of Health, Department of Health and Human Services, under Contract No. HHSN261201800013. It will primarily be used to fund technical infrastructure and staff who collect data about all cancers diagnosed in Kentucky as the registry continues to grow.
One future goal for the KCR is to expand its dataset to become the first precision medicine surveillance cancer registry. In 2016, Markey launched its own Molecular Tumor Board, a precision medicine initiative that uses genetic testing to find mutations associated with the patient's cancer and to determine the best course of action for the patient's treatment. This information – along with other molecular data collected from other cancer centers across the state – is now also entered into the registry.
Enhancing KCR's dataset to include results for all cancers genetically tested in Kentucky patients is likely to reveal unique features that will improve personalized treatment and cancer prevention and control strategies for all Kentuckians.
"I firmly believe that advances in biomedical informatics and data science greatly increases KCR's potential to facilitate a sustained reduction in Kentucky's cancer burden," Durbin said. "We must reject a future in which Kentucky continues to lead the nation in cancer incidence and mortality. With this award, we have a renewed opportunity to strengthen our data and partnerships in order to chart a new course for our state."
KCR began as a voluntary reporting system in 1986. In April of 1990, the State General Assembly passed legislation that formally established KCR as the population-based central cancer registry for the Commonwealth. All Kentucky healthcare facilities that either diagnose or treat cancer patients are required to report each case of cancer using the Cancer Patient Data Management System (CPDMS) developed by KCR. Cancer incidence and mortality data are available on KCR's website.