Kentucky Children's Hospital's Latest Accolade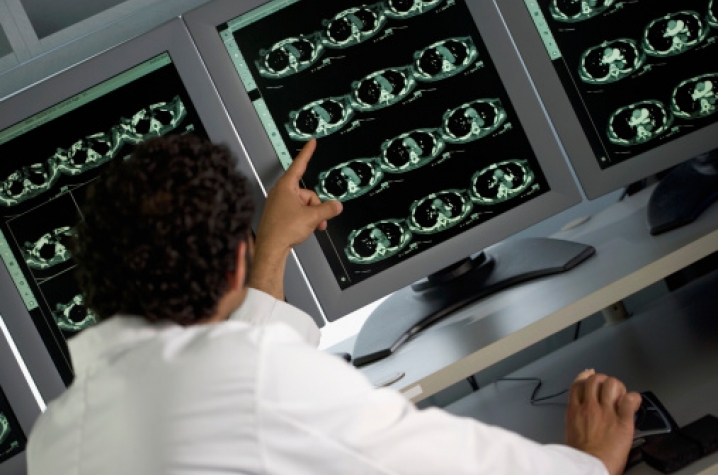 LEXINGTON, Ky. (Dec. 10, 2010) -The Kentucky Children's Hospital Pediatric/Fetal Echocardiography Laboratory has been granted accreditation by the Intersocietal Commission for the Accreditation of Echo cardiography Laboratories (ICAEL) in transthoracic, transesophageal and fetal echocardiography. Kentucky Children's Hospital is the only hospital in the state to have achieved this accreditation in all three areas of pediatric echocardiography.
The UK pediatric laboratory is one of a growing number of echocardiography laboratories in the United States, Canada and Puerto Rico to be so recognized for its commitment to high quality patient care and its provision of quality diagnostic testing.
"The sonographers and nurses and doctors of the Kentucky Children's Heart Center sincerely believe that Kentucky's children deserve the very best," said Dr. J.Timothy Bricker, the Jacqueline A. Noonan, M.D. Children's Miracle Network Endowed Professor and chair, Department of Pediatrics at the UK College of Medicine, and physician-in-chief of Kentucky Children's Hospital. "They back it up every step of the way.  My five grandchildren live in states with famous pediatric cardiac centers, but if one of them had a heart problem I would have them in Lexington the next day. I am so very proud of our echocardiography team and their dedication to the children of the Commonwealth."
What is an Echocardiogram?
According to ICAEL, an echocardiogram is a safe, non-invasive procedure used to examine your heart and potentially diagnose problems. It uses high-frequency sound waves (ultrasound) to literally see all four chambers of the heart, the heart valves, the great vessels entering and leaving the heart, as well as the sac around the heart. There are many reasons that a physician may request that an infant or child have an echocardiographic examination.
Physicians use echocardiography to look for abnormalities in the physical structure of the heart, including the heart chambers and valves, and to evaluate the heart's pump function. An echocardiogram may sometimes be used to look for the cause of an abnormal heart sound (a murmur), to check the size of the heart chambers, to check for fluid around the heart, or to inspect the pumping capability of the heart if a patient is short of breath or has complained of certain symptoms at rest or during exertion.
"Echocardiography is a well-established imaging technique we use every single day to diagnose and treat children with heart disease of all types.", said Dr. Louis Bezold, Associate Professor of Pediatrics and chief of pediatric cardiology, University of Kentucky College of Medicine, and co-director of the Kentucky Children's Heart Center at Kentucky Children's Hospital. "Our echocardiography lab team prides itself on providing the absolute highest quality diagnostic studies for the children and families we care for, and it is very satisfying to receive recognition from a national organization committed to ensuring quality and safety like the ICAEL."
Congenital heart disease is the most common birth defect. Accurate, timely diagnosis, including prenatal identification of heart disease by fetal echocardiography, is an essential component of ensuring the best possible outcomes for patients. Kentucky Children's Hospital is the only hospital in the state to be accredited in fetal echocardiography by the ICAEL.
"Echocardiography is a vital part of our congenital heart surgery program, said Dr. Mark Plunkett, the Frank C. Spencer Associate Professor of Surgery and chief of cardiothoracic surgery, UK College of Medicine, and co-director of the Kentucky Children's Heart Center."Our ECHO laboratory at UK is outstanding and I am delighted that they have received this recognition of excellence."
Echocardiographic evaluation of a fetus or child is quite complex and relies heavily on the training and experience of both the physician and sonographer. Jason W. Grabhamis the technical director of the Pediatric/Fetal Echocardiography Laboratory at UK and leads the team of sonographers caring for patients.
"I'm very proud of what we've accomplished thus far," said Grabham. "Achieving ICAEL accreditation in every diagnostic modality we perform speaks to our program's commitment for excellence. Kentucky Children's Heart Center is the only program in the state to hold ICAEL accreditation in fetal echocardiography. This distinction was only possible through the dedication of our sonographers, who have also distinguished themselves on an individual basis. Four of our sonographers are registered in fetal echocardiography – the only four cardiac sonographers in Kentucky to have passed the ARDMS certifying examinations. Additionally, we have the only three cardiac sonographers in Kentucky (less than 200 worldwide) to have passed the ARDMS examinations in all three cardiac modalities (pediatric, fetal and adult echocardiography). I'm very fortunate to be surrounded by such a talented group, in a field we are all passionate about."
For more information about pediatric and fetal ultrasound, visit
www.asecho.org/i4a/pages/index.cfm?pageid=3329.
For more information about the Kentucky Children's Hospital and its Kentucky Children's Heart Center, visit to Kentucky Children's Hospital and Kentucky Children's Heart Center.