Kentucky Health Care Providers Awarded for Electronic Health Record Success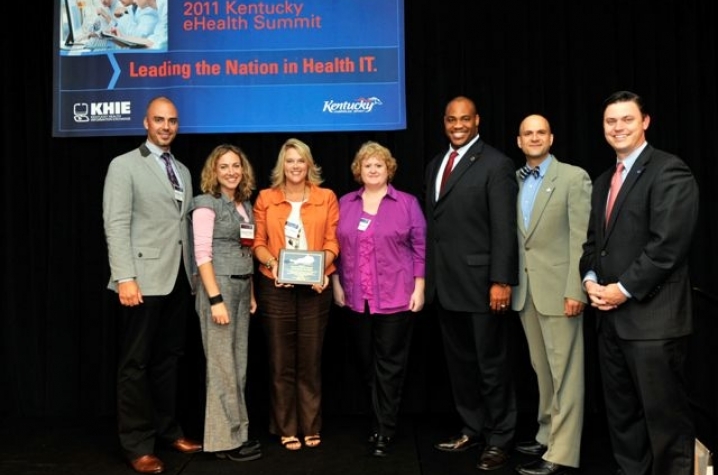 LEXINGTON, Ky. (Sept. 20, 2011) — Kentucky Regional Extension Center (KY-REC) presented awards to Kentucky's health care providers with proven success in the adoption of Electronic Health Records (EHR) and a demonstration of diligence towards Meaningful Use (MU). Awards were presented earlier this month at the e-Health Summit in Erlanger, Ky., sponsored by the Cabinet for Health and Family Services and the Kentucky Health Information Exchange.
Electronic health records (EHRs) enable health care providers to have access to information about a patient's medical history in order to diagnose health problems earlier, provide proactive treatments and improve clinical decision-making through care coordination. 
The federal government has developed a program to incentivize health care providers to use EHRs. This program, developed by the Office of National Coordinator for Health Information Technology (ONC), outlines a strict set of guidelines healthcare providers must reach in order to claim monetary incentives. These guidelines are referred to as 'Meaningful Use (MU).' For a health care provider to reach MU he or she must use the EHR to capture health information, communicate clinical information and report clinical quality measures.
"We are so proud to be working with these health care providers throughout Kentucky to improve the health care quality and service to patients," said Dr. Carol Steltenkamp, UK HealthCare's Chief Medical Information Officer and the primary investigator for the Kentucky Regional Extension Center.
Award winners include:
·         Dr. Carl E. Smith of Harlan, Ky.
·         Dr. Scott Graham and staff of Family Practice Care in Fredonia, Ky.
·         Juniper Health, Inc. in Beattyville, Ky.
·         Health First Community Health Center of Regional Healthcare Affiliates in Providence, Ky.
·         Quantum Healthcare of Hazard, Ky.
·         Mountain After Hours Clinic of Hazard, Ky.
·         Bluegrass Medical Clinic of Paris, Ky.
·         Amin's Family Practice Associates of Louisville, Ky.
·         Clinton County Hospital of Albany, Ky.
·         Rockcastle Regional Hospital and Respiratory Care Center of Mt. Vernon, Ky.
The Kentucky Regional Extension Center (KY-REC) is assisting participating hospitals and clinics with information and assistance on how to attest and qualify for incentive payments. As a resource for local physicians with partnerships with area hospitals, the KY-REC's implementation specialists and staff are committed to helping areas around the state increase health care quality and better patient care through the use of electronic health records. For more information visit www.ky-rec.org, or contact KY-REC at KYREC@UKY.EDU or (859) 323-3090.
MEDIA CONTACT:   Julie Meador, (859) 323-2395 or Julie.Meador@uky.edu