Lake Cumberland Regional Hospital Joins UK Markey Affiliate Network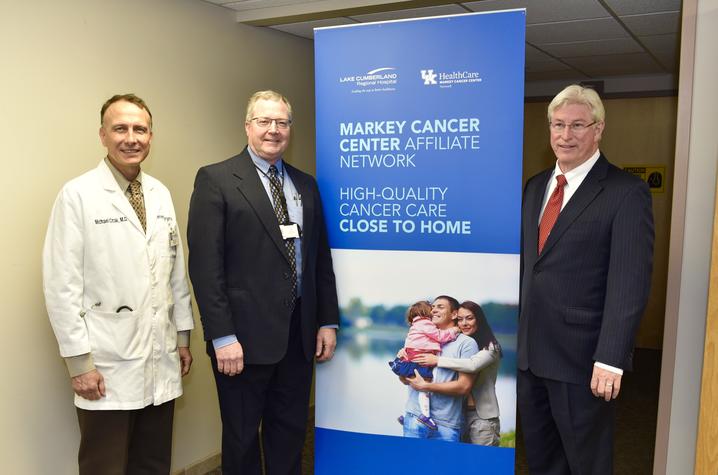 LEXINGTON, Ky. (May 3, 2017) – Lake Cumberland Regional Hospital (LCRH) in Somerset, Kentucky, has announced a new affiliation with the University of Kentucky Markey Cancer Center, the state's only National Cancer Institute-designated cancer center.
"As we work toward fulfilling our mission of 'Making Communities Healthier,' it is clear to me that the relationship between Lake Cumberland Regional Hospital and the Markey Cancer Center will go a long way in achieving that goal," said Tim Bess, LCRH chief executive officer. "Our community will benefit greatly from this relationship. We are honored to partner with the UK Markey Cancer Center."
The UK Markey Cancer Center Affiliate Network was created to provide high-quality cancer care closer to home for patients across the region and to minimize the effects of cancer through prevention and education programs, exceptional clinical care and access to research.
Established in 1976, Lake Cumberland Regional Hospital is a 295-bed acute care facility, providing health care services for an 11-county service area in south central Kentucky. With more than 40 physician specialties and nearly 200 physicians on staff, LCRH offers the most comprehensive services in the region.
By becoming a UK Markey Cancer Center Affiliate, Lake Cumberland Regional Hospital will now be able to offer their patients access to additional specialty and subspecialty physicians and care, including clinical trials and advanced technology, while allowing them to stay in south central Kentucky for most treatments.
The Markey Cancer Center Affiliate Network supports UK HealthCare's overall mission of ensuring no Kentuckian will have to leave the state to get access to top-of-the-line health care.
"UK HealthCare doesn't just serve Lexington and Central Kentucky – our mission is to provide all Kentuckians with the best possible care right here in the state," said Dr. Michael Karpf, UK executive vice president for health affairs. "The Markey Cancer Center Affiliate Network allows us to collaborate with community hospitals to provide top-notch cancer care much closer to home — saving both travel expenses and time for the patients, in addition to keeping them close to their personal support system."
Markey is one of only 69 medical centers in the country to earn an NCI cancer center designation. Because of the designation, Markey patients have access to new drugs, treatment options and clinical trials offered only at NCI centers.
Moving forward, the Markey Cancer Center is working toward the next tier of designation – an NCI-designated Comprehensive Cancer Center. Currently, 47 of the 69 NCI-designated cancer centers in the country hold a comprehensive cancer center status. The Markey Cancer Center Affiliate Network will play a large role in bringing that next level of cancer funding to Kentucky.
"The burden of cancer in Kentucky is huge, and unfortunately we have some of the worst cancer rates in the country," said Dr. Tim Mullett, medical director of the UK Markey Cancer Center Affiliate Network. "By collaborating with our affiliate hospitals across the state, we have the potential to make a serious impact on cancer care here in the Commonwealth."
The UK Markey Cancer Center Affiliate Network began in 2006 and is comprised of 17 hospitals across the state of Kentucky:
Clark Regional Medical Center, Winchester
Frankfort Regional Medical Center
Georgetown Community Hospital
Hardin Memorial Hospital, Elizabethtown
Harlan ARH Hospital
Harrison Memorial Hospital, Cynthiana
Hazard ARH Regional Medical Center
Highlands Regional Medical Center, Prestonsburg
Lake Cumberland Regional Hospital, Somerset
Methodist Hospital, Henderson
Norton Cancer Institute, Louisville (Norton Healthcare-UK HealthCare partnership)
Our Lady of Bellefonte Hospital, Ashland
Rockcastle Regional Hospital, Mt. Vernon
St. Claire Regional Medical Center, Morehead
The Medical Center at Bowling Green
TJ Samson Community Hospital, Glasgow
Tug Valley ARH Regional Medical Center, South Williamson