Dr. Dennie Jones Joins Markey Leadership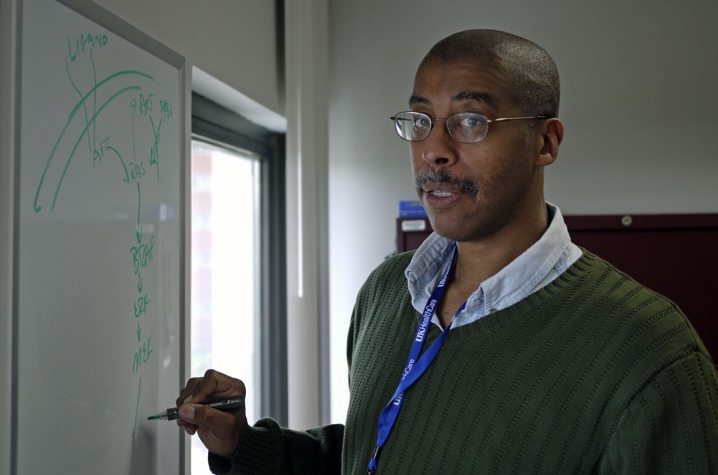 LEXINGTON, Ky. (April 25, 2011) — The University of Kentucky Markey Cancer Center has appointed medical oncologist Dr. Dennie V. Jones Jr. as its deputy director, responsible for the center's clinical outreach, research and education programs.
Jones will also serve as the medical director of the Markey Cancer Center Affiliate Network and professor of internal medicine in the UK College of Medicine. Previously, Jones held cancer center leadership positions at the University of New Mexico and the University of Texas Medical Branch in Galveston.
As the affiliate network's medical director, Jones will provide leadership to the network of hospitals in Central and Eastern Kentucky that collaborate to provide state-of-the-art oncology care and associated programs in close partnership with the Markey Cancer Center.
Priorities include increasing the availability of clinical trials and novel treatments in smaller communities and improving patient education on cancer prevention, treatments and resources. Jones says he was thrilled when offered the chance help the affiliate network further grow and prosper.
"I came here and loved what I saw," Jones said. "With the affiliate network, we have a chance to do more across the region, to create a health system that will make a huge impact on Kentuckians who need cancer care."
Markey Cancer Center Director Dr. Mark Evers, who previously worked with Jones in Texas, says Jones brings with him expertise and experience that will help the Markey Cancer Center as it strives for designation by the National Cancer Institute (NCI).
"Demonstrating excellence in behavioral and population-based research is a huge component of earning the NCI designation," Evers said. "Jones will help us do just that by growing the affiliate network and including more Kentuckians in our innovative clinical trials."
NCI-designated cancer centers are a major source of discovery and development of more effective approaches to cancer prevention, diagnosis and treatment. In addition to providing cancer centers with funding and other support, NCI designation also confers recognition as a world-class cancer treatment and research facility.
There are currently only 66 NCI-designated cancer centers nationwide, and the designation process is extremely rigorous and selective. Jones has already had some firsthand experience with this process, arriving at the University of New Mexico Cancer Center when it first received NCI designation in 2005. Jones was also part of the team that helped the center renew its designation last year.
"Markey is right on track to apply for designation in 2012, and I am very excited to be a part of that process," Jones said.
In addition to his executive duties for the cancer center and affiliate network, Jones will continue his own research into cancers of the lung and gut, as well in the development of novel drugs and treatment strategies. He will also see lung and gastrointestinal cancer patients in the clinic on a regular basis. 
MEDIA CONTACT: Keith Hautala, (859) 257-1754, ext. 231; keith.hautala@uky.edu