New UK HealthCare Sculpture Offers Hope and Healing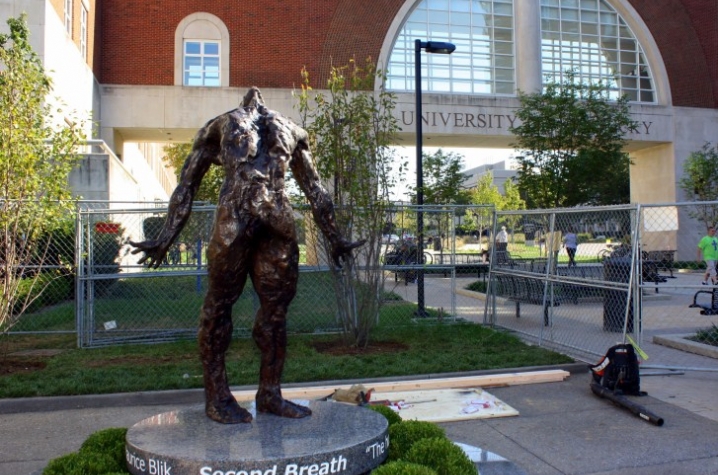 LEXINGTON, Ky. (Oct. 12, 2011) — UK HealthCare recently installed Second Breath, a bronze sculpture created by Holocaust and cancer survivor Maurice Blik. This sculpture, part of the UK Arts in HealthCare program, represents the moment after escaping death and awakening to a second chance at life.
"I am delighted that Second Breath is situated in a health care environment," said Blik. "The work is informed by the feeling of having had a second chance of life and I believe many people who are hospitalized will recognize this and the elation that the work expresses. I could not ask for a more suitable location."
Below the statue, the base is inscribed with the words, "The human spirit will always endure," signifying the source of hope and healing the statue is intended to provide.
"This sculpture is an iconic piece for our hospital because it speaks directly to our purpose here at UK and offers hope and healing to patients and their families," said Dr. Michael Karpf, UK vice president for health affairs.
The sculpture was donated by Turner Construction Co.
MEDIA CONTACT: Julia Meador (859) 323-2395 or Julie.Meador@uky.edu