No tricks, just treats for KCH patients at 'Reverse Trick-or-Treat'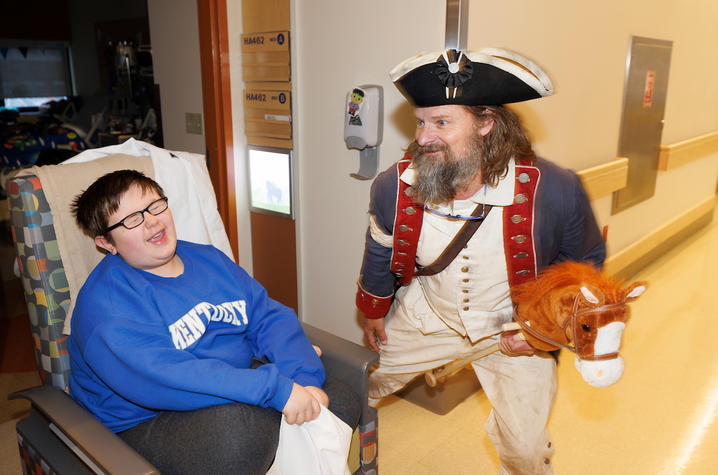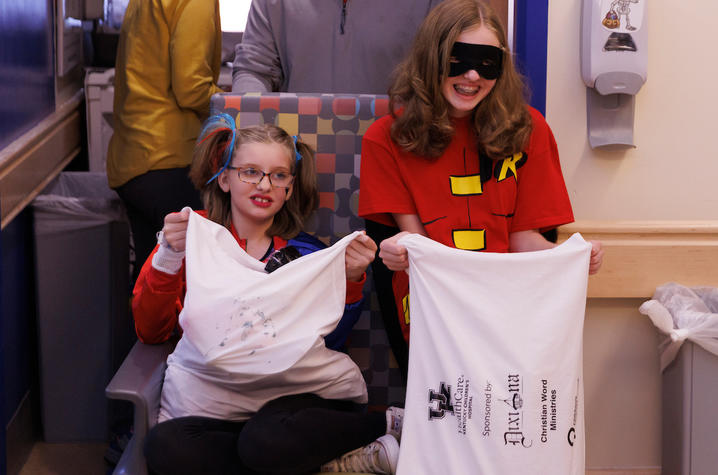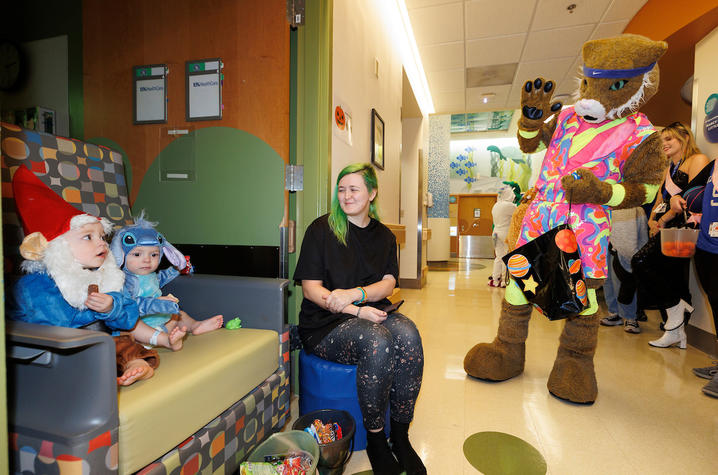 LEXINGTON, Ky. (Nov. 1, 2023) — For young kids, being in the hospital can be scary. But for one day only, it's not so scary – just spooky.
"Reverse Trick-or-Treat" is an annual event at Kentucky Children's Hospital (KCH). Rather than the kids making the rounds and demanding treats under the threat of tricks, staff from all over UK HealthCare go door-to-door throughout the inpatient unit, handing out goodies to patients sitting outside their rooms. Patients who don't feel well enough to participate hang a bag on their closed door. 
"Every kid looks forward to Halloween – from the parties at school to trick-or-treating with their friends," said Jennifer Guilliams, manager of Child and Family Life at KCH. "Being in the hospital doesn't mean they have to miss out on their favorite traditions; we bring the fun to them."
Transformers, princesses and superheroes fist-bumped Wildcat while witches, gnomes and puppies pushed carts and hauled wagons filled with treats and toys. There were smiles all around as kids struggled to lift their overflowing bags, filled with enough candy to last them for months.
In the last few years, the COVID-19 pandemic and last year's surge of RSV admissions resulted in a  scaled-down event, but this year, groups from across campus and the medical center signed up in droves, excited to bring a little bit of spooky fun to kids who need it the most.
"It is so important to make sure the kids have a sense of normalcy even during the most challenging times," said Guilliams. "Even if we can put a smile on just one of those faces, it makes it all worth it."
UK HealthCare is the hospitals and clinics of the University of Kentucky. But it is so much more. It is more than 10,000 dedicated health care professionals committed to providing advanced subspecialty care for the most critically injured and ill patients from the Commonwealth and beyond. It also is the home of the state's only National Cancer Institute (NCI)-designated cancer center, a Level IV Neonatal Intensive Care Unit that cares for the tiniest and sickest newborns, the region's only Level 1 trauma center and Kentucky's top hospital ranked by U.S. News & World Report.  
As an academic research institution, we are continuously pursuing the next generation of cures, treatments, protocols and policies. Our discoveries have the potential to change what's medically possible within our lifetimes. Our educators and thought leaders are transforming the health care landscape as our six health professions colleges teach the next generation of doctors, nurses, pharmacists and other health care professionals, spreading the highest standards of care. UK HealthCare is the power of advanced medicine committed to creating a healthier Kentucky, now and for generations to come.