Orthopaedic Research Helps Patient Regain Mobility and Grow as a Nurse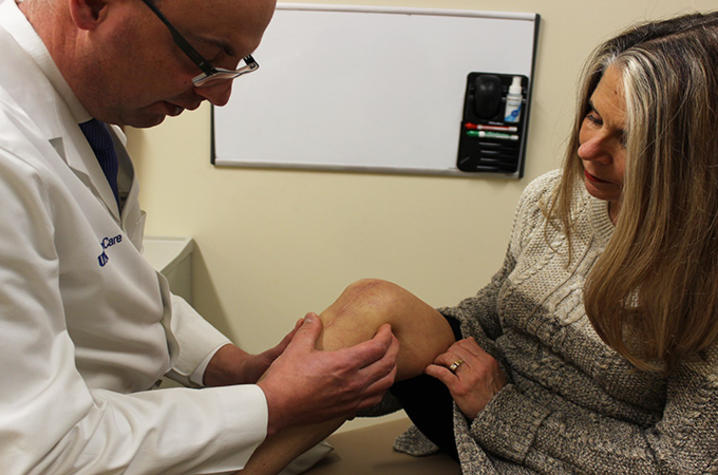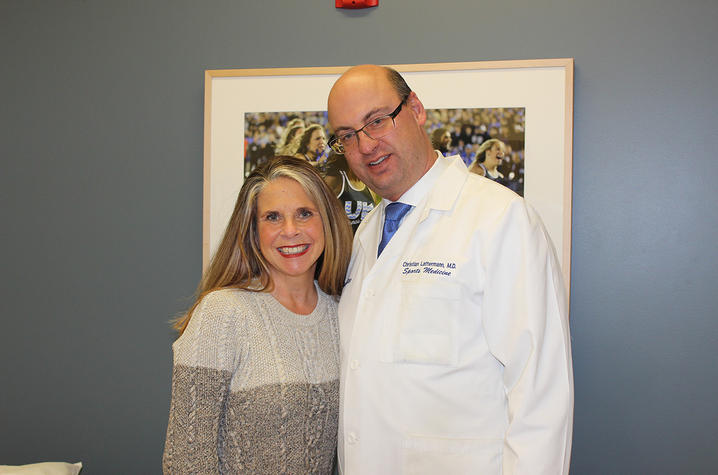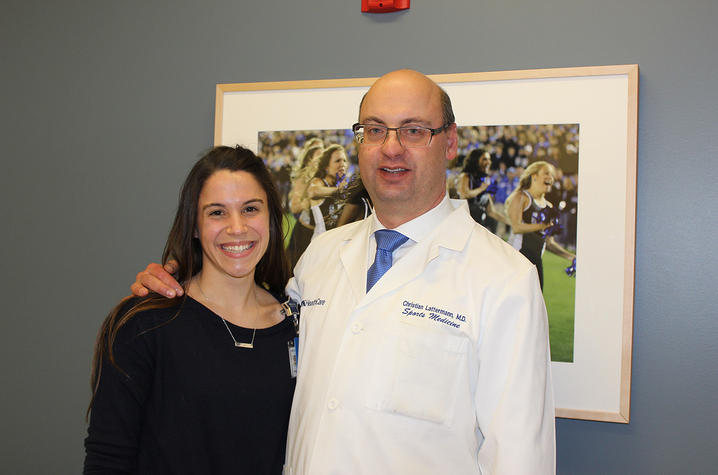 LEXINGTON, Ky. (Jan. 26, 2017) – Working as a bedside nurse requires extensive physical effort — pushing wheelchairs and beds, twisting and lifting, and long periods on your feet. Jennifer Thomas, who's been a nurse at UK HealthCare for six years, can attest to this. In fact, it was while assisting a patient from a wheelchair that she badly injured the cartilage in her knee.
"The pain was excruciating — a sharp, stabbing, burn," Thomas said. "It was constant regardless of sitting or walking. My sleep was interrupted due to the discomfort, stairs were next to impossible to navigate and playing with my newborn grandbabies — be it pushing a stroller or carrying them from room to room — was difficult at best."
The injury also made it difficult and painful to do her job as a pre-op nurse. Sometimes she'd be walking into a patient's room when her knee would give out and she'd fall. She had trouble standing for the long durations required to assist with epidurals and nerve blocks, and her knee would swell after long days on her feet.
Thomas cycled through the standard treatment options, including cortisone shots, physical therapy and two surgeries. These treatments, though, required time off work and extended periods of rest, only to provide no relief. The only way to reduce the pain was to stay off her knee and keep her feet elevated.
In November 2015, a year after her original injury, Thomas was referred to Dr. Christian Lattermann, director of UK's Center for Cartilage Repair and Restoration in the University of Kentucky Department of Orthopaedic Surgery and Sports Medicine. In order to fix Thomas' injury, a cartilage transplant needed to be performed by Lattermann. He and Caitlin Whale, co-principal investigators for the Phoenix Study, have been investigating how muscle stimulation, using the Phoenix Device, could improve muscle strength following surgery.
"Weakness in the thigh musculature after this procedure is a big problem that we have not been able to improve," he said. "This study is a way to find better techniques to treat this weakness."
Thomas was eligible to participate in the clinical trial. First, Thomas' strength and functional performance were measured so there would be a baseline for comparison. She then underwent an osteochondral allograft, a surgical procedure where a living piece of cartilage and bone from a cadaver is implanted in the knee. After surgery, Thomas had nine weeks of rest, during this time she could not bear weight on the injured leg. Within days of surgery she began a home treatment program and a couple weeks after surgery, she began participating in physical therapy. After completing the 12-week home treatment therapy, Thomas' strength and function were measured and then taken again at six months and one year.
Lattermann, Whale and their team are still collecting data for this study, which will help them evaluate post-surgical treatment programs and better understand how muscle stimulation can improve strength and aid in recovery.
"The basis for any clinical treatment has to be evidence-based research and that's what we're doing here," Lattermann said. "Our goal is for every patient being seen clinically to be enrolled into a research study or register as a research participant."
For Thomas her personal results are in. After 12 months of treatment, she feels she's achieved the goals set out at her first appointment even if she's not exactly where she was before the injury.
"I am not 100 percent, but I understand Dr. Lattermann never promised or expected 100 percent. I believe we met the goals he had hoped we would achieve," she said. "There are still some things I can't do and some things I will never be able to do again. Aside from those few downfalls, I can walk, play with my grandchildren, stroll in a park or mall, get around my house, wear normal shoes and boots. I can live my live without falling to the ground, limping and enduring horrid pain."
This was Thomas' first time participating in research, an experience she describes as wholly positive. She felt comforted by the fact that she would leave each appointment with a plan of care and established treatment goals.
"I've had a lot of experiences with a lot of surgeons and there's no one like Dr. Lattermann. I can't begin to express the gratitude I have for him and his team," she said.
Thomas now works as a nurse case manager, which is less strenuous for her knee. She says her own experience as both a patient and research participant have made her better at her job.
"I'm thrilled to be in the position I am and honored to be able to continue nursing. I have yet another experience I can share with my patients. Understanding and personal knowledge are among the best gifts a nurse can share with her patients."
You can make a difference through participating in research and discovery. For more information about getting involved, including a list of current studies at UK and access to studies nationwide, you can visit UKclinicalresearch.com, call (859) 257-7856, or go to https://www.researchmatch.org/uky.