Pharmacy Faculty Member is APhA-APRS President-Elect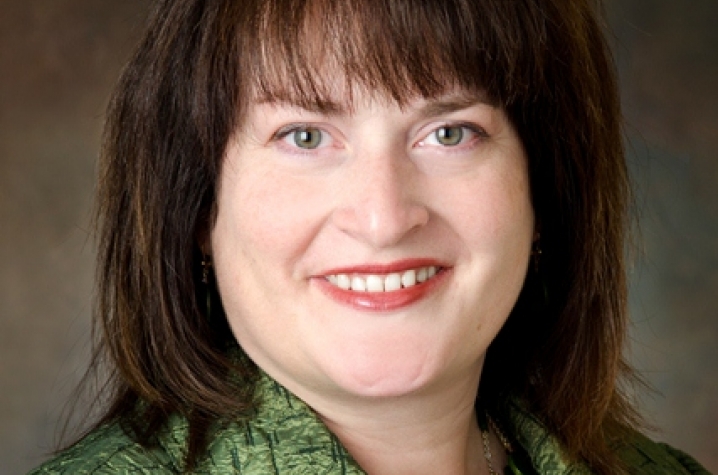 LEXINGTON, Ky. (Aug. 10, 2012) − Melody Ryan, a University of Kentucky College of Pharmacy faculty member and alumnus, has been voted president-elect of the American Pharmacists Association Academy of Pharmaceutical Research and Science (APhA-APRS). As a unit of APhA, APRS "stimulates the discovery, dissemination and application of research to improve patient health and serves pharmacists and those members who are involved in the pharmaceutical sciences."
"I am delighted with this news," said Ryan. "I've been fortunate to remain active in the American Pharmacists Association over the years, and it is an honor to serve that organization in this capacity. I have a great deal of respect for this profession, and I look forward to working alongside my fellow pharmacists to make our profession even stronger in the years ahead."
Ryan will be inducted as APhA-APRS President-elect at the 2013 APhA Annual Meeting in Los Angeles.  At the 2014 APhA Annual Meeting, she will become APhA-APRS President and will concurrently serve on the APhA Board of Trustees for two years.  Following her role as president, she will serve for one year as the APhA-APRS Immediate Past-President. 
Ryan's practice site is the Neurology Ambulatory Care Clinic at the Lexington Veteran Affairs Medical Center. She teaches throughout the curriculum and precepts pharmacy practice, ambulatory care, and psychiatry specialty residents on the neurology ambulatory care and neurology in-patient services. She also is the director of international professional student education for the College of Pharmacy. She received a PharmD and a Master's of Public Health from UK. She completed a pharmacy practice residency at Duke University and a neurosciences fellowship at UK.  She also serves on the Medicare Model Guidelines Expert Panel for the United States Pharmacopeia.
Ryan is an APhA Fellow and is past Chair of the Clinical Services section of APhA-APRS. At UK, she served as Rho Chi advisor for 10 years, before recently stepping down from that post. Under her guidance, UK's Rho Chi chapter won chapter proposal awards for five consecutive years and was named chapter-of-the-year two consecutive years. She was named national Rho Chi Advisor of the year in 2006.
Media Contact: Ann Blackford at (859) 323-6442 or ann.blackford@uky.edu