Preventing Falls in Older Adults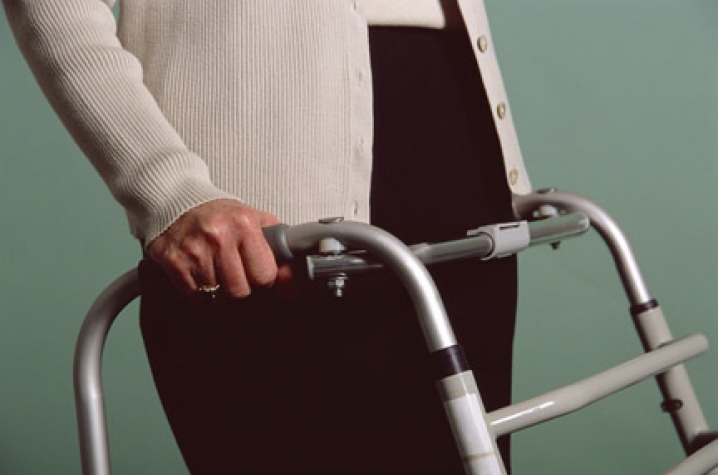 LEXINGTON, Ky. (Aug. 27, 2009) – Gov. Steve Beshear officially proclaimed Sept. 22, 2009 as Fall Prevention Awareness Day.
"Aging presents new challenges and health issues of which we must be aware," said Beshear. "We are particularly focused on the prevention of falls and injuries among the elderly population. This type of incident is a major health concern among our senior citizens and is damaging quality of life for many Kentucky residents."
 
Falls are a serious health concern for older adults that can lead to life-altering complications and sometimes death, and Kentuckians can do more to prevent them, according to the Kentucky Safe Aging Coalition.
 
The coalition is working to promote Falls Prevention Awareness Day on Sept. 22. The coalition includes the Kentucky Injury Prevention and Research Center (KIPRC), Kentucky Department for Public Health (DPH), University of Kentucky College of Public Health, UK Cooperative Extension, UK College of Health Sciences Division of Physical Therapy, Kentucky Department for Community Based Services (DCBS), Kentucky Pharmacists Association, Kentucky Department for Aging and Independent Living (DAIL), AARP, Cardinal Hill Rehabilitation Hospital, Brain Injury Alliance of Kentucky, Health Care Excel, Body Recall Inc., Kentucky Association of Health Care Facilities and Hospice of the Bluegrass.
 
According to state and national findings, falls are the leading cause of death from unintentional injuries among older adults. It is estimated that one-third of seniors over the age of 65 fall each year, resulting in more than 33,000 Kentuckians being treated for fall-related injuries in Kentucky hospitals in 2008. 
 
"Falls are a serious public health concern, though many may not consider them so," said DPH Commissioner Dr. William Hacker. "It is imperative that we do more to prevent falls, especially for the elderly who are so much more susceptible to developing complications after a fall. Often, this can mean extended hospital stays or even death."
 
"We know elderly people who have osteoporosis or arthritis are more at-risk of severe complications for a fall," said DAIL Commissioner Deborah Anderson. "We want to let our residents know that there are steps that can be taken to reduce these risks."
 
Injuries from falls are largely a preventable community health problem. The coalition strongly advises taking steps to reduce safety hazards in the home and being aware of causes of falls such as lack of leg muscle strength, reactions to medications, reduced vision, chronic health problems and unsafe home conditions. To minimize risk of falling, the coalition recommends that individuals:
 
Exercise regularly to increase strength and improve balance.
Ask a pharmacist or physician to review medications to reduce the risk of harmful side effects.
Have a vision check at least once a year.
Improve lighting in the home.
Reduce hazards in the home that can lead to falls, install grab bars in bathroom areas and ensure adequate hand rails for stairs.
 
"For older adults, lowering the risk of falling is essential to preserve health and independence," said KIPRC Director Julia Costich. "Simple steps can lead to a safer environment and greater self-confidence." Costich also is chair and associate professor, Department of Health Management, UK College of Public Health.
 
"An optimal approach to falls prevention involves the identification of fall risk factors in older individuals," said Anne Harrison, director of professional studies and associate professor, division of physical therapy, UK College of Health Sciences. "This allows interventions to be targeted appropriately and efficiently. Some risk factors such as vision problems, reduced balance and strength, dizziness, home hazards, and taking of multiple medications are partially or completely modifiable. If an individual has minimal risk factors, then accessing community group exercise classes and receiving appropriate falls prevention education are excellent approaches to preventing falls. Older adults with more extensive risk factors can be referred by his/her physician to a physical therapist to address strength, balance and home safety, and an ophthalmologist to address issues related to vision. Even vulnerable older adults who are home bound can access appropriate services through one of the many high quality home health agencies located throughout the state."
 
Costs of Falls
 
Total hospital charges for fall related hospitalizations involving Kentucky residents ages 65 and older were $142 million in 2006 and $158 million  in 2007-. Approximately 93 percent of the costs were billed to Medicare. The average hospital charges for fall related hospitalizations involving Kentucky residents aged 65 and older for 2007 were $24,380.61.
 
On a typical day in 2007, falls involving Kentuckians aged 65 or older resulted in 60 outpatient visits, 16 hospitalizations and eight to nine hip fractures.
 
In addition, 83 percent of younger patients hospitalized for a fall are able to return home from the hospital compared to only 25 percent of older adults; older Kentuckians are six times more likely to be discharged from the hospital to a nursing home.
 
"If we can effectively educate people we can decrease their risk of falling," said Kenelle Patterson, trauma outreach coordinator, UK Chandler Hospital. "By making people aware of the internal and external factors that may cause them to fall we can hopefully intervene before anyone else gets seriously injured."
 
"Extension is committed to improving the quality of life for Kentuckians," said Amy F. Hosier, assistant professor of family studies and family life extension specialist, UK School of Human Environmental Sciences. "We accomplish this goal by being an educational resource and by serving as a catalyst between the counties of the Commonwealth and the university to build better communities. It is important to Family Consumer Sciences to be a collaborator in a state-wide effort that considers the health status of the older adult population so that we can work together to identify the issues and solutions to improve the health of Kentucky's older adults."   
 
For data on falls specific to your county, visit www.kspan.uky.edu/data.htm.