Salvation Army Clinic Gets Smoking Cessation Grant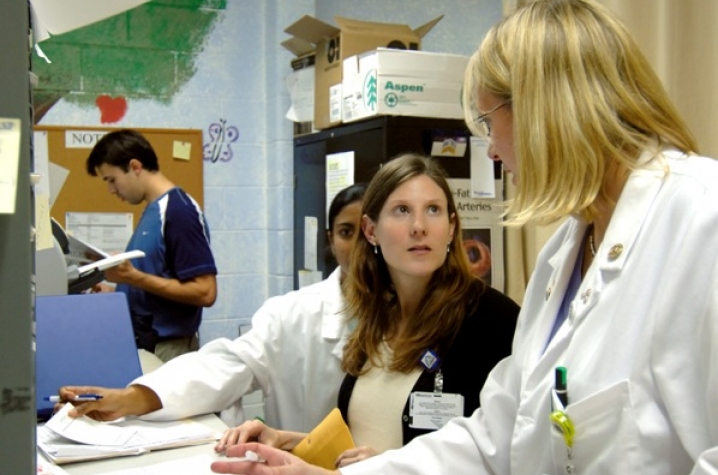 LEXINGTON, Ky. (Sept. 3, 2009)  --  After realizing 57 percent of the University of Kentucky  Salvation Army Clinic patients were smokers, Dr. Don Hayes, UK pulmonologist, came up with the idea of developing a pulmonary clinic to help these patients with their symptoms and provide resources for tobacco-cessation to this underserved population.
Respiratory complaints including coughing and wheezing are the most common problems seen at the UK Salvation Army Clinic, which is open on Tuesday and Thursday evenings. 
"After I established myself in the clinic, it was obvious smoking was a major problem in the patient population," Hayes said.
The smoking rate for the patient population at the UK Salvation Army Clinic is more than double the state rate for Kentucky, which is 27 percent. A significant number of these patients are women who have children.
Realizing the opportunity to not only treat these patients, but also educate them and provide them with resources, Hayes was awarded an American College of Chest Physicians (ACCP) and The Chest Foundation 2009 C. Robert McCaffree, MD, Master FCCP Humanitarian Award. The $5,000 award will help the UK Salvation Army Clinic develop a smoking cessation program. The provided funds will enable the purchase of smoking cessation products, nicotine replacement products and educational materials.
As an alumnus of UK College of Medicine and former volunteer of the UK Salvation Army Clinic as a medical student, Hayes has a special connection to this program and to helping to make a difference through community-based health projects.
For more than 20 years, UK medical students have cared for Fayette County's homeless and indigent adult community at this free clinic on Lexington's north side. By providing free medical services, students are able to improve the health and well-being of an underserved population and increase awareness of local health care issues. 
Second-year medical students are responsible for the clinic's operations serving in administrative roles ranging from floor manager to finance and public relations to social services. First-year students interview patients who visit the clinic and conduct basic examinations prior to the patient being seen by an attending. Faculty physicians from UK dedicate their time to the humanitarian effort, supplying at least one physician per night to the clinic.
"The Salvation Army Clinic is a longstanding, outreach initiative benefiting Lexington's underserved, uninsured population. It is something that both students and faculty of UK College of Medicine, and other health-related colleges, have been a part of for more than 20 years," said Dr. Jay Perman, dean of the UK College of Medicine and vice president for clinical affairs. "We are proud to offer this new service to the members of the community and we hope it will provide long-term benefit to the participants, greatly impacting many lives."
Hayes also received the award "Teacher Who Made a Difference" on April 25, 2009, from the UK College of Education.