UK Ag, Markey Team Up for Podcast Miniseries on Cancer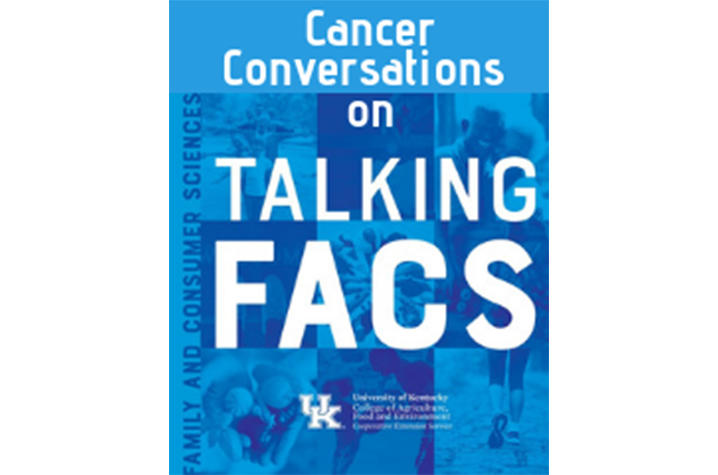 LEXINGTON, Ky. (May 2, 2019) – In honor of National Cancer Research Month, the University of Kentucky College of Agriculture, Food and Environment and the UK Markey Cancer Center have teamed up for "Cancer Conversations on Talking FACS," a weekly podcast special edition series focused on various cancer topics throughout May.
The special edition series will air via the Kentucky Cooperative Extension Service's successful Talking FACS (Family and Consumer Sciences) podcast, hosted by Jennifer Hunter, UK assistant director for family and consumer science extension. Nathan Vanderford, Markey's assistant director for research, joins Hunter as the UK featured expert for all five episodes of Cancer Conversations.
"The Talking FACS podcast was designed to bring practical consumer information into the lives of Kentuckians and beyond," Hunter said.  "Our goal with the podcast is to answer everyday questions that consumers may have on the topics of nutrition, health, personal finance and family development.  Partnering with the UK Markey Cancer Center to develop and deliver the Cancer Conversations on Talking FACS is a logical fit with the mission of the Kentucky Cooperative Extension Service to share the research-based knowledge of the university with the people of the Commonwealth."   
A new episode of Cancer Conversations will be released every Thursday in May, covering the following topics:
May 2: Cancer in Kentucky
May 9: Reducing Your Cancer Risk
May 16: Research at the UK Markey Cancer Center
May 23: Education and Oncology Training
May 31: The Importance of Community Outreach
"Our main goal in creating these podcasts is to improve cancer literacy in Kentucky," Vanderford said. "With extension agents in all 120 counties, our partnership with UK Cooperative Extension will allow us to distribute information about cancer risk factors, cancer research and cancer education opportunities to community members across the entire Commonwealth. Enhanced cancer literacy could have a measurable impact on reducing the significant cancer burden in Kentucky."
Through the Talking FACS podcast, UK Cooperative Extension specialists are positively impacting thousands and reaching beyond the state's borders. Since the specialists began hosting the Talking FACS podcasts in June, they have had more than 115,000 hits and nearly 4,700 regular followers from 41 states and 21 countries.
Talking FACS: Cancer Conversations is downloadable on the Talking FACS host site and is also available through Apple Podcasts, Google Podcasts, and Spotify.