UK cardiac, cancer specialists collaborate to prevent heart problems in cancer patients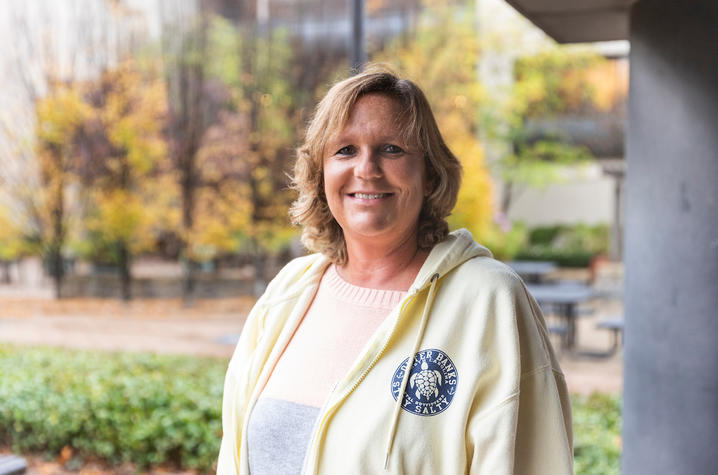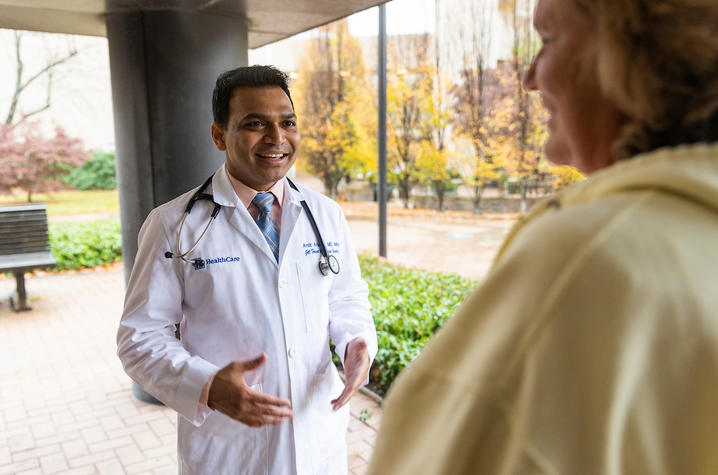 LEXINGTON, Ky, (Jan. 26, 2023) – Ever since she was 12 years old, Barbie Johnson has been a Kentucky girl at heart. Raised in the Bluegrass, Barbie has worked at UK HealthCare for 18 years, first in gynecologic oncology and now in surgery scheduling. But she had no idea that while working with patients she would eventually become one herself.  
In July 2020, while performing a self-breast exam, she found a lump. That was when her entire world turned upside down.  
Barbie was diagnosed with ER+/PR+ breast cancer. ER (estrogen receptor) positive breast cancers are dependent upon the hormone estrogen to grow.  About 80% of breast cancers are ER positive. Barbie had no family history of breast cancer, and genetic testing revealed no mutations or predisposition for the disease.   
"This diagnosis was a total shocker," she said. "It did not seem real." 
It was not long after the diagnosis that Barbie began treatment for breast cancer at the University of Kentucky Markey Cancer Center. Her medical oncologist, Jessica Moss, M.D., started her on a standard regimen of neoadjuvant chemotherapy,  which is given prior to surgery to shrink cancers.  
Barbie's regimen included the drugs doxorubicin – known by the brand name Adriamycin – f and paclitaxel, more commonly known as Taxol. These two chemotherapy drugs are frequently used to treat breast cancer. Following chemotherapy, surgical oncologist Erin Burke, M.D., removed what remained of the mass by performing a lumpectomy, a surgery in which the cancer is removed while preserving the majority of the breast.  
After surgery, Moss retested Barbie's tumor and discovered that her cancer was classified as HER2+, not HER2- as it had been on the initial biopsy. Breast cancers that are ER+ and HER2+ are more aggressive than ER+ and HER2- breast cancers. In addition to chemotherapy, HER2+ breast cancers require targeted therapies against the HER2 protein that is over-expressed on the surface of the cancer cells to keep them from dividing and spreading to other areas of the body.   
This new information led Moss to adjust Barbie's treatment plan, which included an injection of the drug trastuzumab – name brand Herceptin – every three weeks for a year.  Barbie received a routine echocardiogram (echo) to ensure her heart was strong enough for the shot. It was at this moment that the toughest journey of Barbie Johnson's life got even tougher.  
The echo revealed chemo-induced cardiomyopathy, a disease of the heart muscle that makes it harder for the heart to pump blood to the rest of the body. Cardiomyopathy can lead to heart failure. Barbie was referred to Amit Arbune, M.D., director of the cardio-oncology program at UK HealthCare, and had to postpone continuing the shot, which prolonged her treatment even more. 
"I think this was more upsetting than the actual diagnosis," she said. 
"Cardio-oncology is not about stopping your chemotherapy that affects the heart, rather it's making sure your heart remains strong while you get the potentially cardiotoxic chemotherapy," said Arbune. "We work in collaboration with oncologists to monitor your heart and make sure you are getting the best treatment for your cancer. We have developed protocols so you can continue chemotherapy while keeping your heart going strong if you have developed cardiotoxic side effects from chemotherapy." 
Cancer-induced heart problems affect nearly 10% of cancer patients. These problems, including cardiomyopathy and congestive heart failure, can be caused by cancer treatments such as chemotherapy, immunotherapy or radiation therapy. Symptoms of these health issues can develop immediately during treatment, or they can develop decades after cancer survivors complete treatment. 
"We've known since the 1960s that Adriamycin can affect the heart," said Arbune. "It can cause cardiotoxicity including cardiomyopathy and subsequently congestive heart failure. If not diagnosed early, the cardiotoxicity is irreversible and the heart function does not go back to normal despite treatment with cardiac medications. Herceptin, in combination with Adriamycin increases the risk of cardiomyopathy and heart failure." 
Echocardiograms are required when starting certain chemotherapy treatments, including Herceptin. While chemotherapy was effective at treating Barbie's cancer, without intervention from Arbune and his team, she would have been at high risk for heart disease as a result. 
"In Barbie's case, she developed cardiomyopathy, and her Herceptin treatment was postponed for a few weeks until we got her on good meds," said Arbune. "We were able to restart Herceptin after her heart function improved." 
Barbie made a vow that she would not let the disease beat her. She was determined to get her heart healthy so that she could get back on her treatment plan and beat cancer. She took full control of her health and began exercising regularly and eating better. With her lifestyle changes combined with Arbune's interventions, her heart was healthier, and she was able to resume her cancer treatment.   
"Her post-chemotherapy completion echocardiogram showed normal heart function and she continues to do well and remain symptom-free," said Arbune. 
Though Barbie says today she feels healthy, she is still scared of the uncertainties that come with being a cancer survivor. She continues to follow up regularly with Arbune as well as her oncologists.  
"Although ringing that bell at my last treatment felt amazing, it is also super scary," she said. "But if one in eight women have to get breast cancer, I was glad it was me and not my daughter, sister or mom. No one ever thinks it will happen to them."  
UK HealthCare is the hospitals and clinics of the University of Kentucky. But it is so much more. It is more than 10,000 dedicated health care professionals committed to providing advanced subspecialty care for the most critically injured and ill patients from the Commonwealth and beyond. It also is the home of the state's only National Cancer Institute (NCI)-designated cancer center, a Level IV Neonatal Intensive Care Unit that cares for the tiniest and sickest newborns, the region's only Level 1 trauma center and Kentucky's top hospital ranked by U.S. News & World Report.  
As an academic research institution, we are continuously pursuing the next generation of cures, treatments, protocols and policies. Our discoveries have the potential to change what's medically possible within our lifetimes. Our educators and thought leaders are transforming the health care landscape as our six health professions colleges teach the next generation of doctors, nurses, pharmacists and other health care professionals, spreading the highest standards of care. UK HealthCare is the power of advanced medicine committed to creating a healthier Kentucky, now and for generations to come.