UK College of Medicine Joins National Initiative Committing to Health Care Needs of Veterans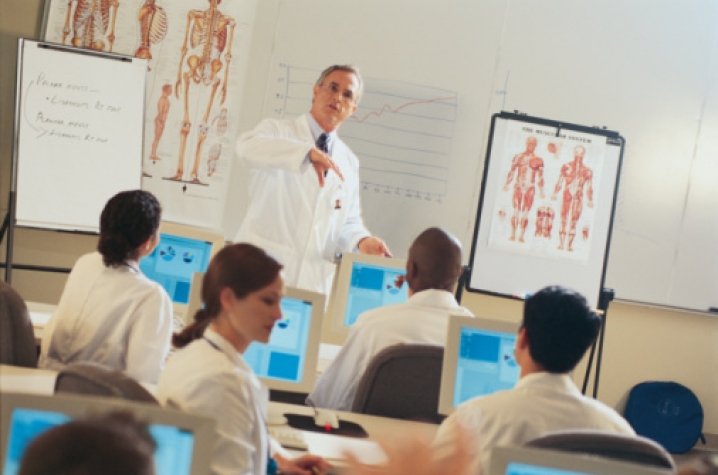 LEXINGTON, Ky. (Jan. 12, 2012) —The University of Kentucky College of Medicine has joined the Association of American Medical Colleges (AAMC), and the American Association of Colleges of Osteopathic Medicine (AACOM) as part of First Lady Michelle Obama's Joining Forces initiative. Together they have committed to creating a new generation of doctors, medical schools, and research facilities that will make sure our military heroes receive the care worthy of their service.
As part of Joining Forces, more than 100 medical schools around the country, including the UK College of Medicine, have signed a pledge recognizing the sacrifice and commitment of our military service members, veterans, and their families, and have committed to utilize their integrated missions in education, research, and clinical care to train the nation's physicians to meet veterans and their families' unique health care needs, including Post Traumatic Stress Disorder (PTSD) and Traumatic Brain Injury (TBI).
"We are honored to participate in the White House Joining Forces initiative to address the health care needs of military service members and veterans and their families," said Dr. Fred de Beer, dean of the UK College of Medicine and vice president for clinical academic affairs. "The UK College of Medicine and UK HealthCare have a longstanding clinical, educational, and research partnership with the Lexington VA Medical Center and are strongly committed to the care of military veterans."
Together, the UK College of Medicine, the AAMC and AACOM are committing to enriching medical education along its continuum to ensure that physicians are aware of the unique clinical challenges and best practices associated with caring for this group; develop new research and clinical trials on PTSD and TBI so that we can better understand and treat these conditions; share their information and best practices with each other through a collaborative web forum created by the AAMC; and grow the body of knowledge leading to improvements in health care and wellness for our military service members, veterans, and their families.
More information is available at: www.JoiningForces.gov.